50 Years of Brac: An education legacy lighting the way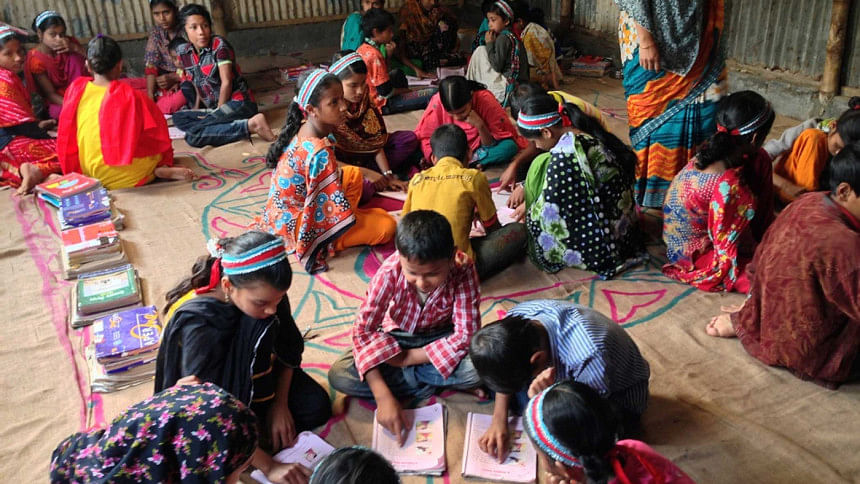 It hardly needs saying that the towering personality of Sir Fazle Hasan Abed left its indelible mark on Brac's vision, mission and programmes in all the areas of development in which the organisation has been engaged. Education, in its institutional forms as well as in a generic sense, was seen by Abed as the key to empowerment and capacity-building of people, so that they can exercise choices and make decisions in shaping their own lives.
In September 2019, I approached Abed Bhai with a request to write the foreword of a book on education in South Asia, which two of my colleagues and I had been writing. I handed him some notes with great hesitation, hoping that he would read these at his leisure and give his observations and guidance for a final text. I knew by then about his serious and potentially terminal illness.
On that September morning, he seemed to be in good spirits. The 2019 Yidan Prize for Education, arguably the most prestigious and certainly the largest in monetary terms (valued at USD 4 million), had been announced the previous day. He took a look at the first few pages of the notes, and beyond all my expectations, started to glance through the pages, making occasional comments and sometimes asking questions. He spent almost an hour on the notes, making observations and offering suggestions.
The substantive foreword of the book, titled "Political Economy of Education in South Asia," published by the University of Toronto Press in January 2022, was the last piece of writing on education by Abed Bhai. Some of his thoughts and concerns are expressed in this piece.
As Abed put it:
In our corner of South Asia, in the aftermath of the Bangladesh Liberation War in 1971, the Bangladesh Rural Advancement Committee (Brac) transformed its post-conflict relief and rehabilitation operation into a rebuilding and development programme. Education was seen as a key component of our nation-building mission. Drawing inspiration from Paulo Freire's "Pedagogy of the Oppressed" (1970), we launched a literacy and adult education campaign as a means to raise people's awareness of their situation and encourage them to read the world, not just the word. At that time, 80 percent of adults could not read or write. Interestingly, Brac's participants, those in poverty-stricken communities, told us firmly that their priority was educational opportunity for their children, because existing primary education was not serving their children well. Almost half the children had no access to primary education, and most of those who did enrol did not complete that stage.
Seeking to design a response, in the 1980s, Brac pioneered innovative community-based one-room centres for children aged 8–14 years, two-thirds of them girls, who had not entered a regular primary school. The teachers, mostly women, were from the community, trained and supervised by Brac and provided with textbooks and teachers' guides. This came to be known as non-formal primary education (NFPE), but its objective was the same as that of primary schools: to equip children with literacy and numeracy skills and prepare them for secondary school. At its peak, it served more than a million children at a time, becoming the largest successful non-formal primary education programme in the world. In stark contrast to the formal schools, over 95 percent completed the equivalent of primary education, and over 80 percent moved on to a secondary school.
Abed lamented that there was still the need for such a programme in spite of the progress made in expanding formal primary education, but Brac had to curtail the programme because donor funding dried up when bilateral and multilateral contributors began channelling all their funds directly to the government. A new programme approach in the changed circumstances could be more of a partnership between Brac—and other education NGOs with demonstrated capabilities—and the government to ensure inclusive, equitable and quality education for all children, as promised in the SDG4 education agenda.
I first met Abed Bhai and Bahar Bhabi (Ayesha Abed) in 1973, when I had the task of examining creative rural rehabilitation and development initiatives in post-liberation Bangladesh for the International Council for Educational Development in the US. I visited the projects at Shalla upazila in Sunamganj and Manikganj, which I wrote up as a case study, perhaps the first exposure of Brac in development literature, published in a book edited by Philip Coombs in 1980.
With Abed Bhai's encouragement, an international team from Unicef (of which I was then the senior education adviser), USAID and the Rockefeller Foundation undertook an assessment of the NFPE programme in 1992, and looked at its potential for a major expansion. The assessment report was presented at an international donors' conference at the idyllic setting of the Rockefeller Foundation's conference centre in Bellagio, Italy. Faruque Chowdhury, the then adviser of Brac, represented the organisation. Major bilateral agencies that were in attendance readily pledged the necessary support for a major expansion of NFPE in Bangladesh. Thus, more than 30,000 centres enrolling over a million children came into being by 1996.
The establishment of Brac University in 2001 is a testimony to Abed's abiding faith in education. He often spoke about institutions that endured for centuries are the universities, such as Bologna in Italy, Oxford in the UK or Harvard in the US. Brac University's undergraduate programmes and its graduate schools and institutes, including the Brac Institute of Educational Development, strive to offer an academic programme appropriate for an emerging middle-income country. Abed wrote:
We in Brac University have set goals for ourselves concerning the kind of persons our graduates should be. We want them to possess a few essential attributes. They should have good written and verbal communication skills. They should be able to think critically and apply scientific reasoning in solving problems… They should be sensitive to the changing global world. They should accept and respect diversity and the plural identities of human beings, which would serve as a moral compass for them.
In his last written piece on education, Abed Bhai sounded a sober note:
Today, in this era of post-truth and alternative reality, amplified exponentially by social media powered by digital technology algorithms, the idea of progress itself is under challenge. In South Asia and elsewhere, the upsurge of ultra-nationalism, rejection of pluralism and secular humanism, self-serving populism, xenophobic trends, and majoritarian subversion of democratic institutions and values have emerged as new threats to human progress. Education itself is in danger of being misappropriated to serve these retrograde forces. The role of quality education—and of the larger education community, including teachers, parents, and students—in reclaiming the idea of progress itself is more important than ever.
The words of caution and the spirit and the philosophy underlying them are particularly relevant in the world today. Let Brac's legacy continue to light the way.
Dr Manzoor Ahmed is professor emeritus at Brac University.