Worsening flood situation in the north, thousands marooned
Govt must evacuate and rehabilitate them promptly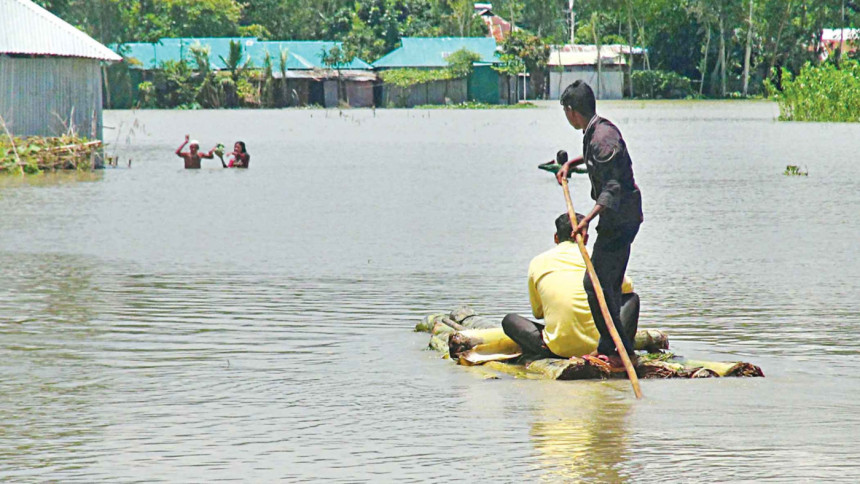 We are deeply concerned regarding the worsening floods in Sirajganj and Lalmonirhat districts, due to the rising water levels of Jamuna and Teesta rivers. Though low-lying areas of Sirajganj, Sherpur and Kurigram districts have been flooded since July 4 (due to a combination of heavy rainfall and an onrush of hill water), the water levels of rivers such as Teesta, Dharla and Brahmaputra had been below danger levels. Now, according to a report by this newspaper, over 30,000 people are marooned in the two districts and the Teesta river's water is flowing at least 10cm above the danger level. As of Friday, the water level of the Jamuna river was still below the danger mark, though increasing.
While some have managed to move to safer places (many sans their belongings), others have had to remain where they were, as the floodwater entered people's houses and drowned roads, vegetables, croplands, and the paddy seedlings for Aman rice in the villages.
Last year, the country suffered its longest and worst flood since 1998, which lasted for over 40 days, according to sources at BUET's Institute of Water and Flood Management. The chief engineer of the Water Development Board's north-western zone told this daily earlier this year how one flood would flow into the previous one before the water had a chance to recede like it usually would. If that is the case this year as well, then we may again witness children drowning in the floodwaters or people becoming severely ill due to various waterborne diseases.
It goes without mentioning how devastating floods, especially prolonged ones, can be for our farmers. Last year's flood caused the crop schedule for Aman rice and root vegetables to go completely haywire. According to government sources, by the end of July 2020, at least USD 42 million worth of crops had been destroyed. 
   Given the current situation, we would urge government authorities to prioritise the safety of the people in both the flood-stricken areas and in areas which are in danger of becoming flooded. Adequate shelters must be built to house the flood victims. The affected population must also be provided with cash aid (and not just dry food) as relief. It is also important to direct healthcare resources to these areas. While strengthening methods of forecasting and preventing floods and improving our overall response to these situations should be a general priority for the government, it is important to focus on saving the lives and livelihoods of the affected at this very moment—and in the weeks to come.