Why is our out-of-pocket healthcare expense rising?
Govt must take measures to bring down OOP expenditure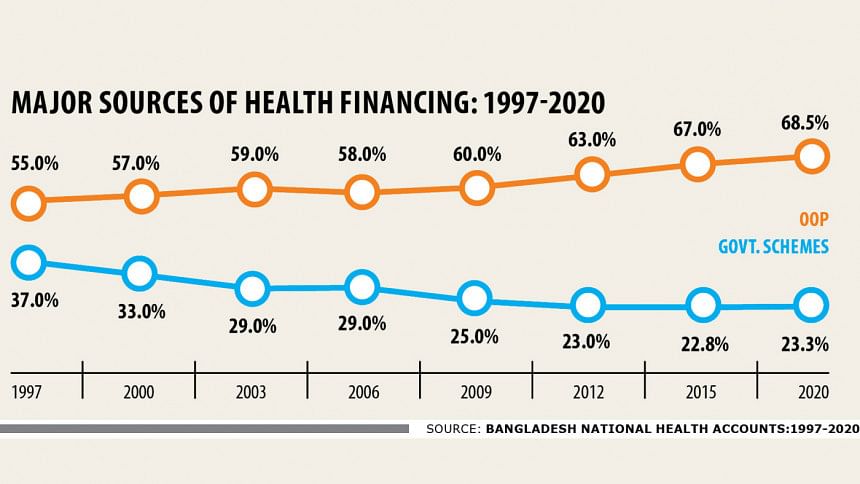 A recent study conducted by the health ministry has found that Bangladesh's out-of-pocket (OOP) healthcare expenditure has been rising steadily, instead of falling. According to the study, our OOP expenses have increased to 68.5 percent in 2020 from 67 percent in 2015, which is the highest in South Asia. While about 64 percent of the OOP expenditure goes towards medicine, disease diagnosis accounts for eight percent, and inpatient and outpatient services account for 12 percent and 11 percent, respectively. Due to such high healthcare expenditure, 4.5 percent of people are pushed into poverty every year, the study found. The findings are indeed alarming, and we need to find out the underlying reasons and address them in order to bring down our healthcare costs.
It is particularly shocking to know that 64 percent of our OOP expenditure goes towards medicine, while it is only 28 percent in India. Our patients have to spend more on medicine because of irrational prescriptions and aggressive marketing by pharmaceutical companies. And, in the absence of any rules and proper monitoring mechanisms, the private diagnostic centres are charging patients exorbitantly for medical tests. The result is that a majority of our patients avoid going to the doctors when they really need medical assistance, and take over-the-counter drugs instead. According to the Health Financing Strategy 2012-2032, we need to halve our OOP expenditure to 32 percent by 2032 to meet the target of Universal Health Coverage (UHC).
Healthcare experts suggest that we should revise and expand the list of emergency medicines and follow the treatment protocols prescribed by physicians, as well as reduce the diagnosis costs to bring down our overall healthcare costs. In addition, the aggressive marketing strategies by pharmaceutical companies have to be stopped. It should be made mandatory for our physicians to write down the generic names of medicines in their prescriptions, instead of promoting the medicines of any particular company, which would help reduce competition among pharmaceutical companies.
Additionally, our primary healthcare systems in rural and urban areas need to be strengthened so that patients don't have to seek treatment in private healthcare facilities. Moreover, coordination between community clinics and upazila health complexes through the introduction of e-health services, ensuring efficiency of the public healthcare facilities, and introducing a social health insurance system are some of the main areas where we must make improvements.