The worst place to live in Dhaka?
DSCC must solve the problems facing East Jurain's residents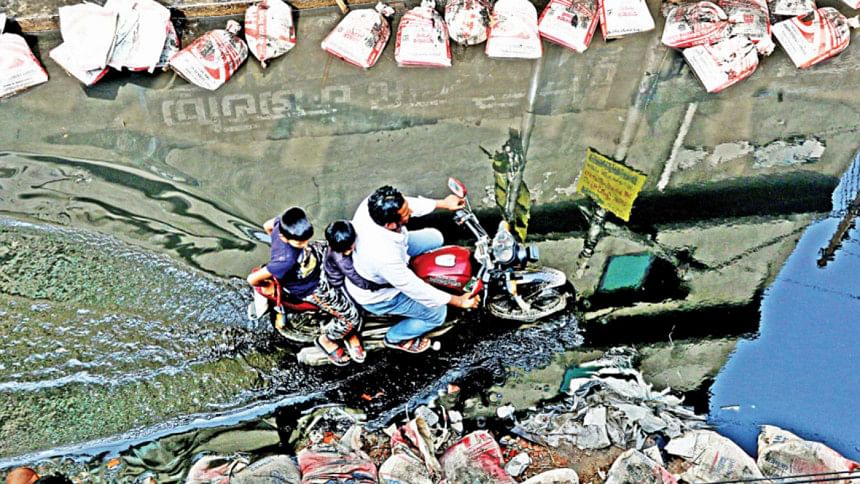 The condition which the residents of East Jurain, under Dhaka South City Corporation (DSCC), have been living in for years is unbelievable. According to a report by this daily, round the year, waterlogging, mosquito infestation, dust pollution during dry season, unplanned urbanisation and the lack of a waste management system have made this area literally unliveable for its residents.
While many roads and houses of East Jurain remain submerged under filthy sewage water throughout the year—even without rain—dengue fever never leaves the neighbourhood as the waterlogged streets and abandoned homes have become the breeding ground of Aedes mosquitos. And while thick bouts of dust from uncontrolled construction works have made the air of the area unbreathable, the open drains have made it particularly risky for children, who have to play in the streets for lack of an open space or playground.
Reportedly, the waterlogging problem in the area started more than 20 years ago, but the authorities concerned did nothing to solve the problem. Rather, unplanned road construction and clogged sewerage systems have made the situation worse. According to East Jurain residents, DSCC has regularly been increasing the heights of the roads without considering the heights of the adjacent houses. While the residents believe that this is causing more waterlogging, the DSCC authorities claim that they have to do this to prevent runoff water from the nearby highways from flooding the area, as the main roads in the area are much higher than the roads going through this particular neighbourhood.
East Jurain is a classic example of what happens when unplanned urbanisation overtakes an area. Apparently, the entire neighbourhood has been developed by filling up many canals and low-lying floodplains adjacent to the DND embankment, which is the main reason for such persistent waterlogging. Without well-thought-out measures, these longstanding problems cannot be solved. And the responsibility to solve them falls primarily on DSCC authorities.
The DSCC, with help from other relevant authorities, must find a sustainable solution to the problems facing East Jurain. If the waterlogging problem can be solved, it will naturally eradicate the mosquito menace. And if the unnecessary road restoration work can be stopped, it will definitely lessen the air pollution in the area. Additionally, the DSCC must develop a proper waste management system and cover up the open drains. The residents of East Jurain are paying regular taxes to the DSCC; they definitely deserve a liveable neighbourhood in return.