Ramp up relief efforts in flood-hit areas
Victims are being let down by insufficient aid, slow pace of relief efforts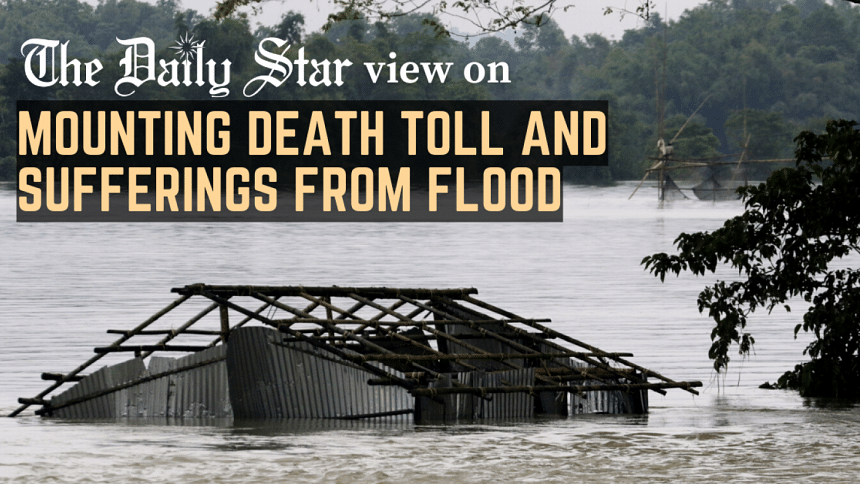 We're alarmed by dire reports coming from the flooded north where cries for emergency relief are getting louder amid insufficient aid and slow relief efforts. People in many villages are still stranded, without access to relief, and living in a state of near-starvation. Many, desperate for food, reached out to nearby shelter centres and Union Parishad offices; some got help, some were turned away. The desperation for relief is such that a man in Sylhet died on Tuesday after being injured while jostling for airdropped relief supplies. In Sunamganj, an elderly woman said her family has been drinking floodwater, because of the scarcity of fresh water.
The situation is said to be equally bad across the region. Around 45 lakh people, in all the flood-hit areas combined, have been reportedly affected, and at least 4.04 lakh of them have taken refuge in 1,474 shelters. So far, a total of Tk 2.95 crore, 1,952 tonnes of rice and around 30,000 packets of dry food have been allocated for them. Data shows that, upon distribution, each victim will receive only 0.44 kg rice and Tk 6.55. If the relief is for only those in the shelters, each person will get 4.88 kg rice and Tk 73.75. Even if the Tk 1.2 crore fund added by the PM is counted, this is still a ridiculously small allocation for such a vast number of victims.
Reaching the hardest hit remains an issue, especially in remote areas, but the bigger problem right now is of the lack of preparedness, which is inexcusable at this stage. This is a many-faced disaster, and nothing short of judicious planning coupled with proper allocation of cash and resources will be enough to tackle it. Already, some 41 individuals have been reported to have died in the flood-hit areas, due to drowning, landslides, electrocution and snake bites. As well as the crisis of food and water, survivors, who are mostly farmers or labourers, have to deal with the loss of crops, damage to their property and even water-borne diseases.
We need to prepare better, and quickly, for these problems. But we must first build up a hefty emergency relief fund that will cover all the areas affected, including the northern, north-eastern and north-western districts where flooding still continues or is about to get worse. Not enough money for emergency relief? The government must know that the cost of it will be borne by the people in one way or another. So it must allocate more money and relief goods and ensure their quick and efficient use. It must also prepare for the coming days, when water recedes, because post-flood recovery can be equally daunting.