Relief not reaching those who need it most
Sylhet admin data shows government efforts inadequate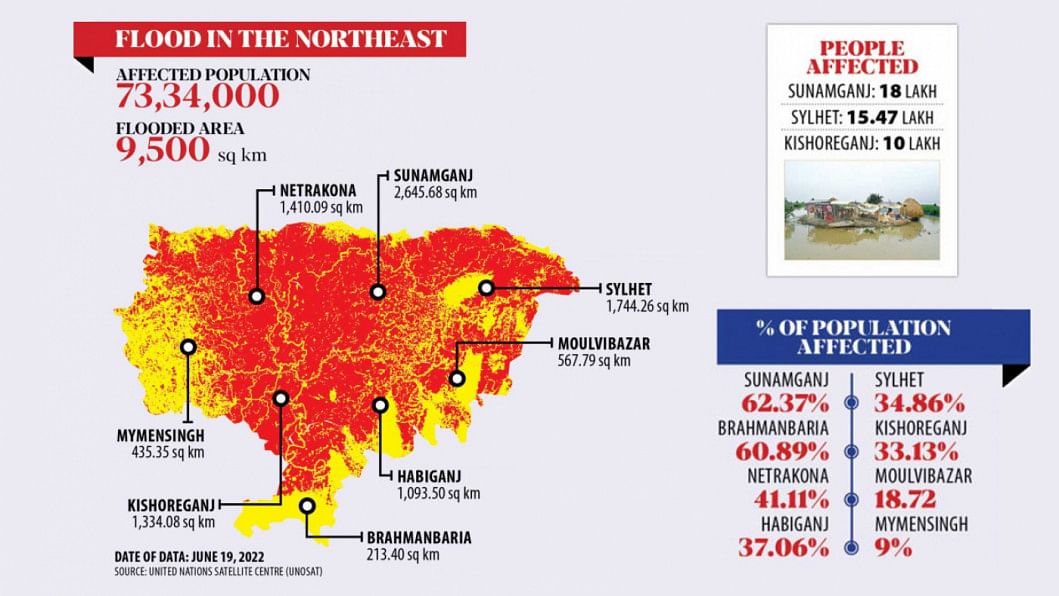 Shamim Ahmed, a young resident of Eklimnagar village in Sunamganj's Chhatak upazila, has been stranded with no relief since the flood hit his home six days ago.
"I have now come to the Bangladesh Army's Coordination Centre here to request them to help the people of my village."
He was later escorted back by army officials with some relief materials.
Like Eklimnagar, thousands of villages in the flood-affected areas in the north-eastern region are left on their own in these moments of crisis.
District administrations in Sylhet division admitted they were struggling to reach the remote villages and shelter centres, but claimed they had sufficient relief at hand.
Local administrations' data on relief allocation shows the government's efforts are yet to be adequate.
The desperation for relief among the victims is such that a man died after being injured in a jostle while trying to collect relief materials dropped from an Air Force helicopter yesterday.
According to the administrations, all 13 upazilas in Sylhet, all 12 in Sunamganj, seven in Moulvibazar and six in Habiganj have been fighting the floods.
Around 45 lakh people, in all flood-hit areas combined, have been affected. At least 4.04 lakh of them have taken refuge in 1,474 shelters.
A total of 2.95 crore taka, 1,952 tonnes of rice and around 30,000 packets of dry foods were allocated for such a vast number of victims.
Data shows that, upon distribution, each victim will receive only 0.44 kg rice and 6.55 taka.
If the relief is for only those in the shelters, each person will get 4.88 kg rice and 73.75 taka. The 30,000 packets of dry food can only be distributed to the same number of people.
However, Md Mosharrof Hossain, divisional commissioner of Sylhet, said relief stocks are not insufficient but it requires collective effort by the government, different organisations and individuals to ensure the flood victims get them.
"More relief will be allotted when needed. We are now working on distributing what we already have."
He also added that Prime Minister Sheikh Hasina, during her visit to Sylhet, sanctioned another Tk 1.2 crore from the PM's funds for the victims in Sylhet and Sunamganj.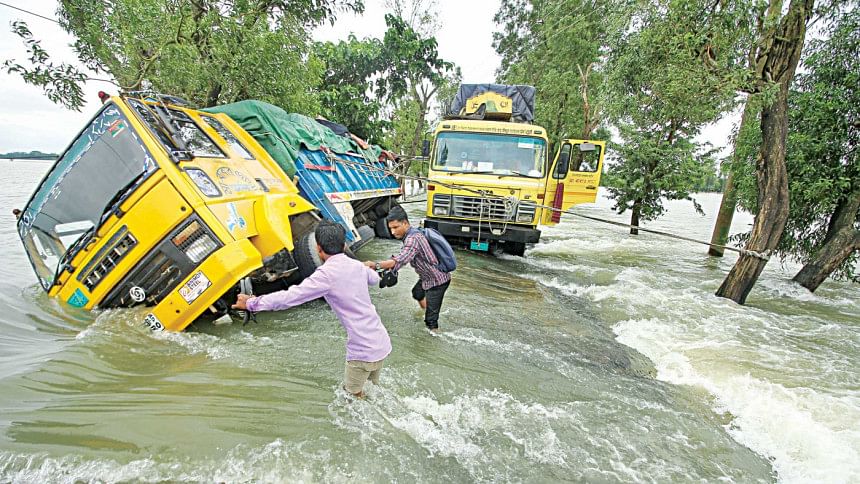 However, while the administration is relying on private efforts, the cry of those affected is getting louder.
Abdullah Al Mamun, a banker in Sunamganj's Shantiganj upazila, said, "Many people are in dire need of relief but the supply is too little compared to the demand. An all-out relief attempt should be initiated."
Bina Banu, of Sunamganj Sadar upazila's Iqbalnagar village, said, "Many of us have taken shelter in a building owned by an expatriate. We survived the first couple of days with the food we brought with us. But since then, we have been starving."
Besides, the demand for fresh water is also shooting up, as there have been no substantial efforts from the administration to provide drinking water.
An elderly woman in Mahmudnagar of Sunamganj Sadar told our correspondent they have been drinking rainwater and floodwater since taking shelter on the Sylhet-Sunamganj highway.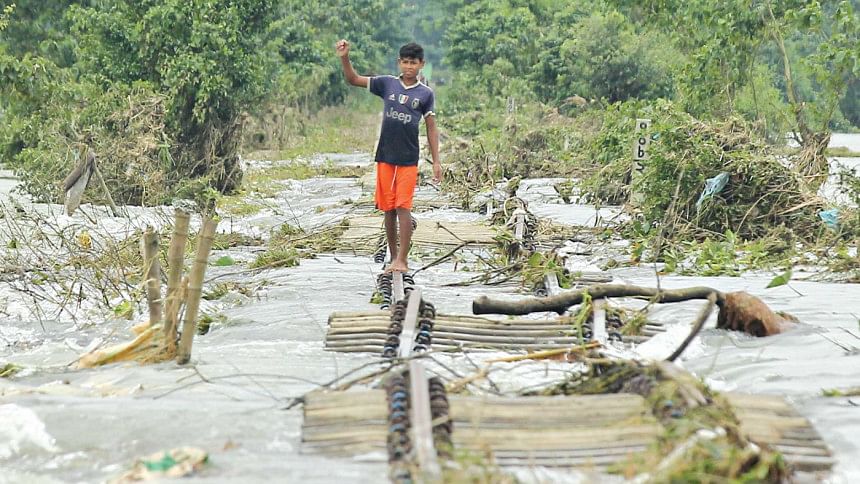 While the government is not being able to reach the people in the remote areas, volunteers from different organisations have been working round the clock to reach those stranded.
Pritam Das, a relief volunteer, said, "We distributed relief to 600 people in three villages in Alirgaon union in Sylhet's Gowainghat upazila. In the six days after the flood hit, this is the first time they received relief."
Faruque Mahmud Chowdhury, president of Sylhet's Shushashoner Jonno Nagorik, said, "We have a ministry to manage disasters. However, it is frustrating to see that they have no plan of action for dire situations such as this.
"The relief work must be extended to all the flood-affected people, and every responsible citizen should be involved in the relief work."