How are banned hospitals still operating?
DGHS drive must not be yet another failure of implementation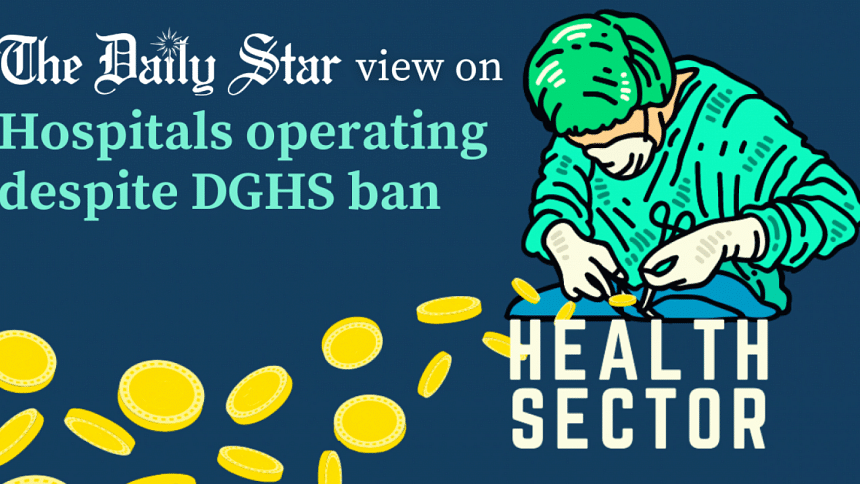 In yet another show of how rotten the roots of our health sector is, a 13-year-old child died on Sunday after she underwent an appendix removal surgery at Al-Hera Clinic and Hospital in Khulna's Shalikha upazila. The claim from Nirjala Khatun's uncle is that, after hospitalising her the night before, the clinic informed them that the surgery had been completed, but also "forced" the deteriorating young patient to be taken to Jashore Sadar Hospital, where she was declared dead upon arrival. Apparently, the surgeon left right after the surgery, without ensuring if the patient had been brought back to consciousness by the assigned anaesthesiologist. All this aside, what is perhaps most contemptible is the fact that the Al-Hera Clinic and Hospital was sealed by district health authorities eight days prior. So, the question is: How was this clinic still operating openly?
Despite the DGHS' rocky track record regarding the regulation of healthcare facilities – fully demonstrated during the peak of the pandemic – we had been slightly hopeful about this much-needed large-scale drive against illegal establishments. But we wonder what the point is of making such a fuss about quickly shutting down 882 facilities countrywide for being unauthorised, if the authorities will not follow up to ensure that these facilities remain closed until they have obtained a proper licence. Even more concerning is the Magura civil surgeon's query to this newspaper: "If anyone runs the hospital ignoring our ban, what can we do?" If this is the response of someone who is in a position to actually prevent unauthorised facilities from operating, we cannot help feeling hopeless regarding the outcome of the DGHS drive.
In another incident on May 29, doctors and nurses reportedly abandoned a mother and her newborn on the operating table at a Narayanganj hospital upon hearing that DGHS officials were raiding unauthorised hospitals in the area. Paperwork and licences aside, how is it that those in charge of ensuring the health of citizens do not possess the least amount of humanity?
While we believe that some good will certainly come out of the DGHS' drive to only allow licensed healthcare facilities to operate, we urge the Directorate to also ensure that this does not turn into just another government step failing at the implementation stage. If successful, this could also lead to less exploitation of patients by private hospitals, and also allow only authorised medical professionals to practise. A country which had to deal with the overwhelming effects of the Covid pandemic just last year must realise the value of a properly-regulated health sector.