Drives against oil hoarders alone will not work
Greater scrutiny and control essential to keep oil prices stable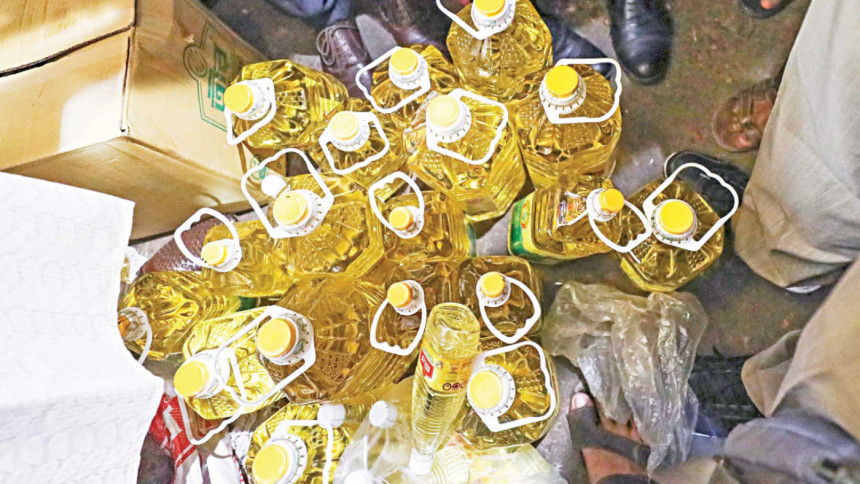 We appreciate the government's ongoing drives against illegal hoarders who continue to sell edible oils at prices much higher than what's printed on the bottles. Reportedly, cooking oil almost disappeared from the retail shops across the country before Eid-ul-Fitr, even before the government hiked their prices. Having created an artificial crisis in the market, the hoarders then started selling the oils—bought way before the new prices were imposed—at much higher prices. This has created immense sufferings for the ordinary people who are already struggling to buy essential food items due to increased prices.
Amid such a situation, the government started drives against the hoarders, and between Monday and Thursday last week, seized over 6,34,000 litres of edible oil from warehouses and shops across the country. The Directorate of National Consumer Rights Protection (DNCRP), an agency of the commerce ministry which is conducting the drives, has also fined the hoarders for such illegal activities. While conducting such drives is no doubt important, the question remains as to whether this would be enough to stop the illegal hoarders and bring down prices in the retail market.
Reportedly, over the past year, the prices of edible oils have gone up eight times. And after the latest increase in prices, many consumers have turned to alternative sources such as mustard oil, as it is comparatively cheaper than soybean and other oils, given that mustard oil is produced locally with locally produced ingredients. But shockingly, the companies have now also increased the price of this oil to make extra profits. Reportedly, mustard oil prices of different brands have increased by Tk 70 to 80 per litre in the local market.
The situation is really concerning and the government must do everything to keep the cooking oil market stable. While the DNCRP must conduct regular drives in all districts of the country to prevent the hoarders from exploiting consumers, strict directives must be given to the companies producing oils to not increase prices at will violating the rules.
Simultaneously, the government needs to identify the syndicates responsible for creating such artificial crises, and make sure the masterminds behind them are brought to book—as by the amount of hoarded oil that is being discovered, it is apparent that there is some sort of coordination going on between well-connected traders, dealers and importers, leading to this scenario. Additionally, the government should sell edible oils at subsidised prices to the poor through its open market sales (OMS) programmes, and look for alternative markets to buy the product from at cheaper prices.