Oilseed cultivation spreading quickly
Farmers look to profit from growing edible oil prices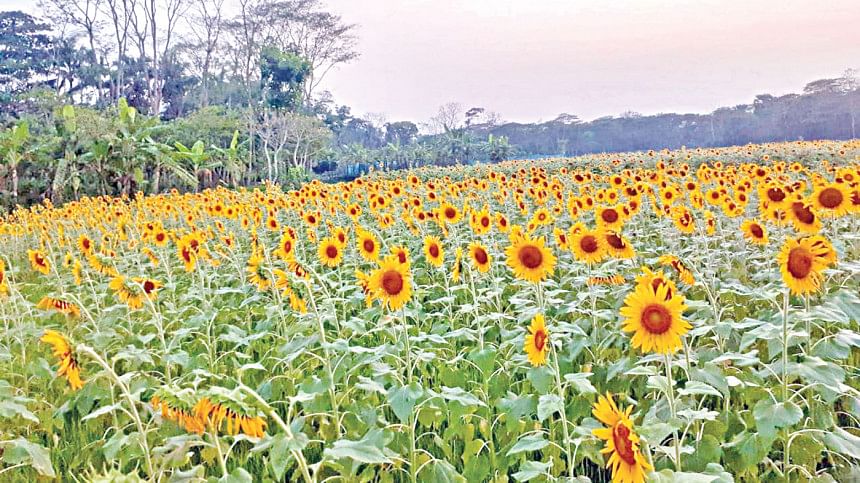 Farmers across two coastal districts of Bangladesh, namely Patuakhali and Barguna, as well as Tangail are increasingly growing oilseed crops in a bid to profit from the ever-higher prices of edible oil.
Some 5,035 hectares of land in Barguna were used to grow oilseeds this year, up 65 per cent from 3,043 hectares in 2022, according to the Department of Agricultural Extension (DAE).
Of the total acreage, sunflowers were grown on around 4,000 hectares while peanuts took up 890 hectares, mustard 168 hectares, sesame 46 hectares and soybean 3 hectares, said Badrul Alam, additional deputy director of the Barguna DAE.
In Patuakhali, oilseeds were planted on 7,811 hectares this year, up 19 per cent from 6,891 hectares the year before.
Of the land brought under cultivation, 6,252 hectares were for ground nuts, 1,078 hectares for sunflowers, 352 hectares for mustard, 116 hectares for sesame and 13.50 hectares for soybean, said Md Nazrul Islam, deputy director of the Patuakhali DAE.
Many farmers are becoming interested in oilseed cultivation to take advantage of the demand for edible oil.
"Many farmers are becoming interested in oilseed cultivation to take advantage of the demand for edible oil," he added.
Elsewhere in Tangail, oilseed cultivation has grown by about 6 per cent year-on-year to 242 hectares.
Local farmers mainly planted sunflowers across 12 upazilas of the district under government incentive programme and got good yields at a low cost thanks to favourable weather.
Mahmudul Hasan, additional deputy director of the Tangail DAE, said they provided farmers with sunflower seeds and fertiliser for free under the incentive programme.
"Following a yield of 435 tonnes last year, we expect to harvest 442 tonnes of sunflower seeds this year," he added.
At present, about 90 per cent of the edible oil consumed in Bangladesh has to be imported as local production is scant at best.
However, edible oil prices recently spiked in the international market due to dry weather in Argentina and Brazil, two of the biggest exporting countries, making the key cooking ingredient costlier for local consumers.
Meanwhile, the ongoing Russia-Ukraine war has raised concerns of potential disruptions to the supply chain, leading to stockpiling at home and abroad.
With this backdrop, Prime Minister Sheikh Hasina has called upon the country to achieve self-sufficiency.
"So, we are working in Tangail under the direction of the agriculture minister to increase the cultivation of healthy oil type sunflowers and mustard," Hasan said.
Md Babul Mia, assistant agricultural officer of Amtali upazila in Barguna, said each acre of land yields up to eight maunds (one maund equals roughly 37 kilogrammes) of sunflower.
Around 4,000 grams of edible oil can be extracted from each kilogramme of the crop, which is relatively cheap to cultivate, he added.
Mohammad Nazrul Islam, deputy director of the Patuakhali DAE, said farmers are becoming more interested in growing oilseeds thanks to increased demand in the local markets.
"Even various processing companies are contacting us. We connect them with farmers so that they can easily sell their produce and make profit," he added.
Islam went on to say that the government has taken up a roughly Tk 3,000 crore project to increase oilseed cultivation in coastal areas.
Under the project, sunflower seeding machines, crushing machines and irrigation equipment will be provided so that farmers are more motivated to produce oilseeds.
Work on the project is expected to start this year, he said.
Shamima Akter, agriculture officer of Gopalpur upazila in Tangail, said they are providing the necessary support to farmers for increasing oilseed cultivation. 
Mushfiqur Rahman, a farmer in Garabari village of ​​the adjacent Bhuanpur upazila, said he cultivated sunflowers on 10 decimals of land this year.
"Seeing my good yields, other farmers in the area have expressed interest in growing the crop," he added.