Ban on notebooks must not be a paper promise
Govt should take the new act as a stepping stone to wider education reforms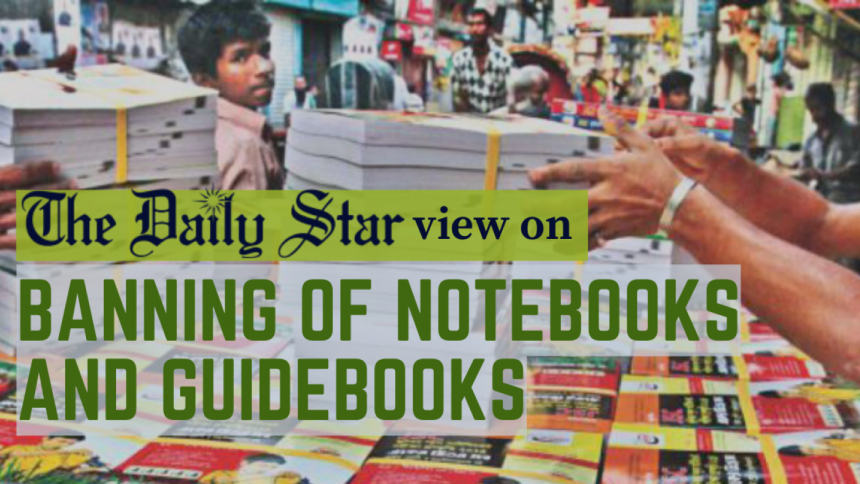 We're glad to know that the country's first education act is no longer a distant reality as a draft, based on inputs from the Cabinet Division, has been finalised by the education ministry. It will be sent to the division next week and hopefully approved sooner than later. The draft law, notably, issues a ban on printing, publishing and marketing notebooks and guidebooks, but allows publishing "supplementary books and education aid books" upon securing permission. It also forbids teachers from giving private tuition to students of their own institution. Schools, however, can arrange additional classes for weaker students subject to the written consent of parents.
Experts have, justifiably, lauded the new direction of the law – moving away from legitimising the culture of "coaching" and private tuition. If properly implemented, it will improve the quality of classroom education and drastically reduce out-of-pocket expenditure on education. But a few potential issues remain, not so much in the letter of the law as in the spirit in which it may be taken. For example, the approval of additional classes for weaker students opens up a quagmire: Will students be forced to attend them? Will this be a new model of business replacing the coaching culture? While students do need additional help recovering from the learning loss suffered during school closures, this should be done in a way that doesn't nullify the objective of the act, and the government must financially help schools, especially non-MPO schools, incur extra costs.
Also, care should be taken so that no one takes advantage of the often-thin line between guidebooks and supplementary reading materials. But perhaps the biggest concern about the act, like any other act in Bangladesh, to be frank, is its implementation once passed into law. The fact that the draft has been on the drawing board for over 11 years paints a disturbing picture of our priorities as a nation. It would be a travesty if we fail to properly implement it after going through all that trouble and the excruciatingly long wait.
That said, the act is just one of the many changes we need after two years of the pandemic during which many students dropped out of school, many turned child brides or child labourers, and many fell behind in terms of basic literary and numeracy. We drastically need a recovery and remedial plan for the education sector. We also need the proposed budget to reflect the need for recovery through improved allocations. Therefore, the authorities – including the two ministries and three divisions in the sector – must take the new act as a stepping stone to the wider reforms needed for education to get back on its track.