'Hair to Help' cancer patients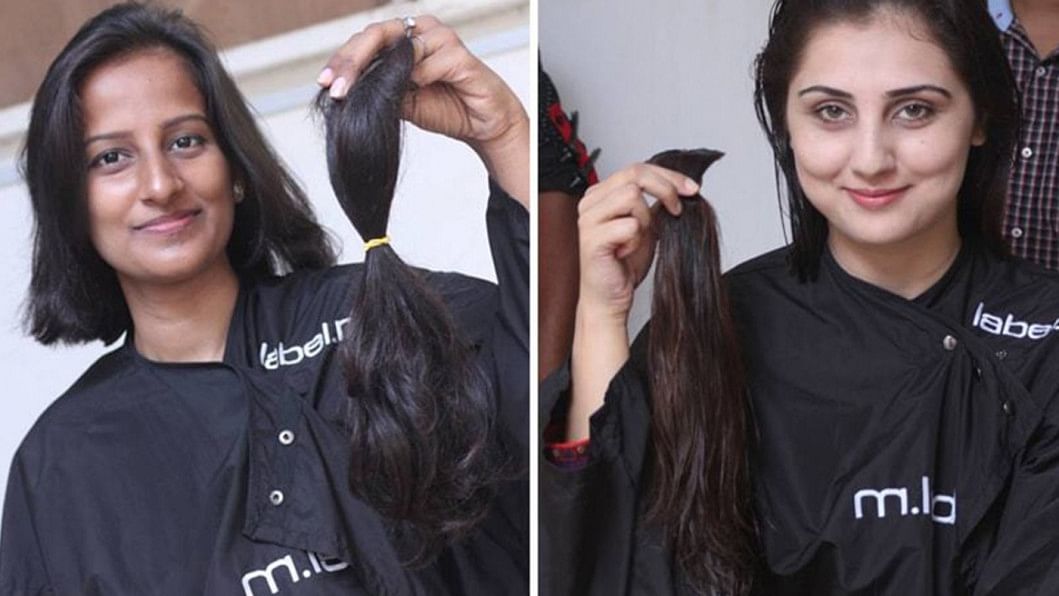 The onset of summer promises many new looks, but how many people can say that they switched up their style for a cause?
More than a few, actually. Around 30 young girls cheerily came for a small hair donation drive titled 'Hair to Help' at the KMC Sports Complex which was arranged by Pakistan Youth Forum (PYF).
The charity organisation pledges to make wigs out of the donated hair and give them for free to cancer patients.
Two stylists from Peng's Hair And Beauty Clinic were present to do the cutting, so all the volunteers were at ease that their hair were in good hands.
Although the heads-up for the event was given on Facebook weeks ago, not many people showed up to donate their hair on the breezy afternoon.
Syed Fahad Ali from PYF explained the idea behind the initiative and said that one major reason behind the drive was to combat lack of awareness: "We started 'Hair to Help' in 2012 because this practice, which is quite common in other countries, is unheard of in Pakistan."
"There is no setup or support programme of this nature. This is the third hair donation drive we've organised, after drives in Karachi and Islamabad in 2012."
He further expanded on the need of the drive: "Synthetic wigs are available at cheaper prices [than natural hair wigs], but they can cause rashes on the scalp and also look unnatural. Wigs made out of human hair are really expensive, ranging from Rs 15,000 to Rs 20,000."
Unfortunately, despite their good intentions, the PYF has to battle misperceptions about the hair donation drive:
"When we started off, we did not get a positive response and some people were critical of the practice because there is a prevalent belief that hair donation is unacceptable in religion," Fahad tells Dawn.com
"Nevertheless, there are also many of those who are passionate about the cause and never fail to disappoint. We have provided wigs free of cost to about 25 people, most of whom are women above 30 as well as girls under 12."
Given that such causes normally draw a large number of volunteers, especially from medical colleges, Fahad's next revelation was a shocker: Many medical colleges did not allow promotion of the event because they didn't deem it acceptable.
Therefore, PYF is on the lookout for a fatwa (Islamic ruling) and have consulted one cleric regarding the Islamic position on hair donation. They hope this will help them get more donors in future drives.
In addition to the misperception about hair donation, another problem encountered by PYF is the high cost of producing the wigs.
A single wig is usually made with hair given by at least six people and the production takes around two to three days.
"There are no companies that make original wigs in Pakistan. There used to be one years ago, but it closed down due to unknown reasons," shared Fahad.
Fahad then searched for neighbouring countries that would assist him and found a company in Chennai that agreed to make it for Rs1000 per wig. "It was all going well till the customs started charging us an exorbitant amount on each wig and started stopping our deliveries."
The team then found a vendor in China who agreed to make it at the same cost. "There were no custom charges, so we have been dealing with them alone."
Hair stylists Shahid and Inder Gori, who have trained at Toni and Guy and currently work for Peng's Salon, said that they signed up for the hair donation drives for free because of the cause.
"I feel this is the best way to help someone because we are healthy beings and we need to feel their pain too," said Shahid.
It was interesting to notice that a mother who came with her daughter and niece voluntarily did the cutting for many of the young girls because she was a beautician herself.
"I feel extremely happy when I voluntarily cut hair. The reason I got up voluntarily was because of the cause. All of us deserve to smile. It's not like only healthy people have the right to smile and feel happy. I think one should help others in their own capacity and share happiness," she said.
Given that people were keen to know more about hair donation, will they hold another drive anytime soon? Fahad said they might: "The ideal time is March or April because the summers have just begun and people usually go for a haircut."
Most of the volunteers were young girls, who were happy to give away at least 12 inches of their hair for the noteworthy cause. "Guys normally don't have long hair here but some shave their heads to show support to the patients," Fahad shared with a laugh.
The young girls playfully sported their short bobs in turn:
"When you cut your hair short, people usually question why. So when they'd ask me, I'll tell about this cause and thus raise awareness," said Rutaba Tariq, who is currently a student.
"I found out through Facebook about this initiative. As soon as I learned about it, I just knew I had to do this," said 16-year-old Maria Yousuf.
But not everyone in her circle shared the same sentiments, "I sent the invite to my friends and they made excuses, saying they loved their hair too much. One even declined to come outright," said Maria, shaking her head in disbelief.
Her mother stands over her, smiling as her daughter excitedly gets her hair cut. "My only concern was where the hair would be sent. We hear so often about hair being used for magic and other illegal purposes like hair extensions, it makes us parents worry."
Overlooking the proceedings is another volunteer who has been actively taking part in the cause since the past two years. Thirty-one-year-old Eleen Fernandes confidently answers parents' queries and assures those who still had some last minute doubts.
"I gave my hair for the first time two years ago. When I came back home my mother-in-law looked at me and said 'Haye beta!'. It took some time for everyone to get used to it," said a grinning Eleen. "But when you see pictures of happy women wearing the wig made from your hair, that feeling is incomparable."
For many of the participants, the best part of the drive is to receive pictures of those who had been helped.
"We send the patient's pictures with their wigs to all the donors but it is done privately to protect their privacy," said Fahad. "We are strictly against making it viral, this isn't a business but an honorary cause."