Ghanaian teacher uses blackboard to explain software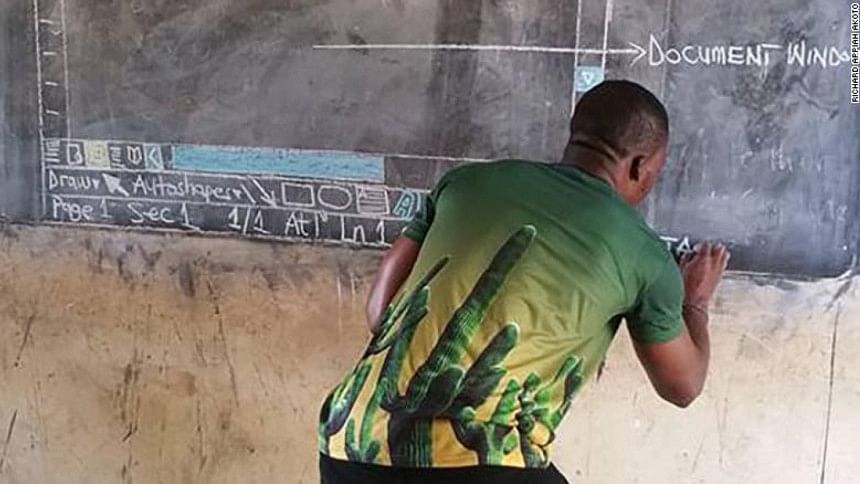 Richard Appiah Akoto is a Ghanaian teacher who faces a pretty discouraging dilemma. His students need to pass a national exam that includes questions on information and communication technology (ICT) -- but the school hasn't had a computer since 2011, reports CNN.
So Akoto had an ingeniously simple idea: he drew computer features and software on his blackboard, using multicolored chalk.
"I wanted them to know or see how the window will appear if they were to be behind a computer," CNN quotes Akoto as saying. "Always wanted them to have interest in the subject so I always do my possible best for them" said the teacher.
Images of Akoto -- who on social media uses the nickname "Owura Kwadwo Hottish" -- drawing a diagram of Microsoft Word for his pupils at Betenase M/A Junior High School in the town of Sekyedomase went viral after he posted them on Facebook.
"Teaching of ICT in Ghana's school is very funny," he says on the caption accompanying the post.
Among the hundreds of people who shared the post and helped popularise it is Rebecca Enonchong, an entrepreneur who urged Microsoft Africa on Twitter to provide Akoto with some proper devices so he can leave the chalkboard behind.
"Surely you can get him some proper resources," she twitted.
On Tuesday, Microsoft Africa replied to the tweet, promising Akoto a computer and access to educational material.
Akoto's 100-plus students were happy about the drawing because it made the explanation about launching Word simple for them, he said. And this is not the first time he has illustrated IT technology on the board, CNN reports.
"I have been doing this every time the lesson I'm teaching demands it," he said. "I've drawn monitors, system units, keyboards, mouse, formatting toolbar, drawing toolbar, save as dialog box and so on."
Quartz, which first reported on the teacher's story, says the written exam is a requisite for 14- and 15-year-olds in Ghana to progress to high school -- but only one of Akoto's students managed to get an A last year.



Source: CNN