Death Valley, driest place in North America, now sea of yellow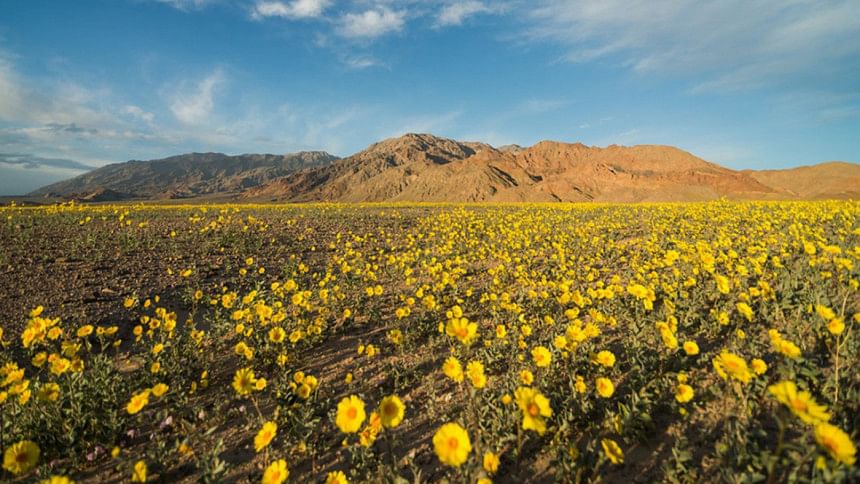 A record-breaking rainfall last October has turned the Death Valley, one of the driest and hottest places on Earth, into a sea of yellow.
The national park, which occupies parts of California and Nevada, has more than 20 different types of wildflowers blooming there now, in what people have taken to calling a "superbloom," reports Mashable.
The dry earth saw flowers breaking through in November, but come February, the landscape has been totally transformed, according to the National Park Service.
Usually the park averages just two inches rain per year, but last fall, the area picked up twice that in a matter of a few weeks, setting a monthly rainfall record and causing damaging flooding, reports Mashable.
In one area of the park, more than 3 inches of rain fell in a matter of a few hours, according to the Park Service. 
According to Mashable, the heavy rains were related to the Southwest Monsoon season, rather than El Niño. However, El Niño-related rains this winter helped set off the bloom.
During the monsoon season, warm, moist air sneaks northward from the Gulf of California, triggering showers and thunderstorms across the desert Southwest, from California to Arizona.
The heavy rain that fell provided the impetus for millions of seeds that had been dormant in the ground to bloom several months later, which is what is happening now. 
"If trends continue, there will be a ton of wildflowers here in 2016," park spokeswoman Linda Slater told the Los Angeles Times in November of last year.
Death Valley hasn't seen a phenomenon like this since the early 2000's. 
"When I first came to work here in the early 1990s I kept hearing the old timers talk about super blooms as a near mythical thing – the ultimate possibility of what a desert wildflower bloom could be," Death Valley National Park Ranger Alan Van Valkenburg said in a press release.
"I saw several impressive displays of wildflowers over the years and always wondered how anything could beat them, until I saw my first super bloom in 1998. Then I understood," Van Valkenburg said. 
"I never imagined that so much life could exist here in such staggering abundance and intense beauty."
By scattering seeds throughout the park, this bloom will lay the groundwork for the next one, be it one or several years from now.