Match highlights: Argentina vs Poland — as it happened
Argentina and Poland both advance to round of 16.
Argentina advances to face Australia on Saturday. Poland, on their edge over fair-play, also advances to face France in the last 16.
Here are the confirmed fixtures for this weekend.
Saturday
Netherlands v USA – 9:00pm 
Argentina v Australia – 1:00am 
Sunday
France v Poland – 9:00pm 
England v Senegal – 1:00am 
And here are the match highlights — as it happened: 
Full-time: And it's Argentina, with a rocky start, through smoothly. Poland also celebrates as they crawl their way out of the group stage. They have Szczesny and Mexico to thank. Mexico is eliminated in the World Cup group stage for the first time in 44 years. 
90:00 mins+3: Argentina's retreated from the attacking front a bit as Poland desperately tries to not concede another goal to qualify. DRAMA! Tagliafico kicks it over Szczesny but Kiwior races to deflect the ball off-the-line. Polish fans are seen on their phones, probably checking the updates on Mexico and Saudi Arabia. Poland banks on a fair-play tie-breaker 
85:00 mins: A poor miss for Poland, whose manager is now seen yelling. L Martinez makes a charge, the crowd's volume increases, but he misses off the far post. It's Mexico's loss though — as another goal from Argentina would see them through. 
71:00 mins:  Yellow card for Krychowiak, who grinds down De Paul. Poland's at 5 bookings now, while Mexico — winning 2-0 against Saudi Arabia — at the moment is at 7 bookings. Poland's fair play is the only edge, and hope they have to qualify tonight. 
67:00 mins: SECOND GOAL! Alvarez rakes a strike into the top corner with a stellar finish. It's Argentina 2-0 Poland. 
59:00 mins: Argentina brings out Paredes on for Di Marina. Tagliafico for Acuna. Mac Allister aims a shot at a second goal. While Mexico just scored a second goal against Saudi Arabia. Mexico might just make it to last 16, if Poland concedes one more goal.  
51:00 mins: The first real opportunity for Poland — chance for Glik. Chance though, only a chance. 
46:19 mins: What a start to the second half. 60 seconds into it. Poland loses control, low cross into the box and Mac Allister grabs it into the goal post. It's Argentina 1-0 Poland. As deserved. 
ALEXIS MAC ALLISTER PUTS ARGENTINA AHEAD!!! pic.twitter.com/QB0FqI5DS7

— ESPN FC (@ESPNFC) November 30, 2022
Half-time: Messi becomes the first player in history to miss two penalties in the World Cup. Aside from the penalty, Argentina had many — maybe way too many for Poland's taste — chances. Argentina with 66% possession, 12 shots, seven on target, seven corners. If we see the same lackluster performance from Poland in the second-half, they're going to concede at least one goal if luck is on their side today. 
42:00 mins: Messi into the box, drifting past the challenges as he tries to make up for the miss. Another save. It's Argentina vs Szczesny. Poland's defense is awfully weak. It's all Argentina so far. 
39:00 mins: Messi takes. AND IT'S SAVED!! Szczesny! A pivotal moment in the game. 
MESSI MISSES THE PENALTY! pic.twitter.com/nYkCH7Z56o

— ESPN FC (@ESPNFC) November 30, 2022
37:00 mins: The referee deems it a penalty — pretty controversial decision. Argentine crowd cheers loudly. 
34:00 mins: Sixth corner for Argentina. Fernandez tries another shot. Messi flattened by Szczesny. Argentina looks for a possible penalty. 
31:00 mins: Argentina's playing well. A goal is coming — we'll call it now. A fantastic corner from Di Maria, even Szczesny shows him a thumb up. Acuna's looking comfortably ready on the left. Lewandowski struggles to get a touch. 
26:00 mins: Di Maria swings back in and Acuna comes in with another shot, flies just wide off the far post. Looking close. Possession watch: Argentina's at 57, and Poland at 43. 
21: 00 mins: Corner for Poland, their first of the match. Glik goes for a goal, comfortably landing into Martinez. 
15:00 mins: Messi is getting a lot of room towards the box — a gap in Poland's defense. He hooks the ball in toward Acuna — a decent chance though missed. 
10:00 mins: Brilliant attempts from Messi. He's moving fast, finds Di Maria, and cuts inside with his right foot, his weaker foot. Szczesny saves easily. 
2:00 mins: Argentina grips the opening minutes, Di Maria drives into the box, Messi takes it but doesn't beat to it. 
0:00 mins: It's starting. Lionel Messi looking fresh in the purple kit on his 21st World Cup appearance. Poland's wearing white. The referee is dutchman, Danny Makkelie.
Poland opened its World Cup with a scoreless draw against Mexico, before smashing a hopeful Saudi Arabia in a 2-0 victory on Saturday. Argentina rebounded from the world-shaking Saudi Arabia loss with a resounding 2-0 victory over Mexico Saturday. Poland has a couple of high-octane offensive players like Barcelona attacker Robert Lewandowski to keep pace with Messi's Argentina, which makes this one of the most anticipated games in the World Cup so far. 
Stakes:
If they win: Argentina will go through. In the case of a draw: Argentina will also go through, if Saudi Arabia loses to Mexico. If Argentina loses, they have a high chance of being eliminated tonight. 
Line-ups: 
Argentina: Emiliano Martinez, Cristian Romero, Nicolas Otamendi, Nahuel Molina, Rodrigo De Paul, Marcos Acuna, Alexis Mac Allister, Enzo Fernandez, Angel Di Maria, Julian Alvarez, Lionel Messi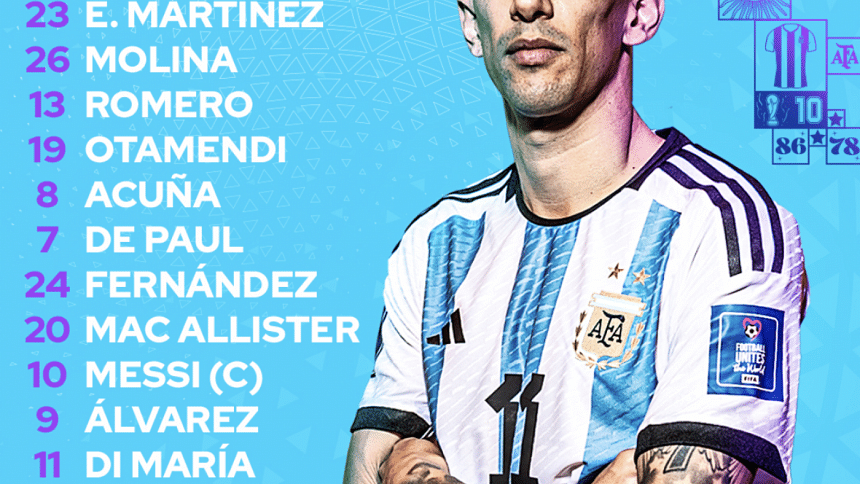 Poland: Wojciech Szczesny, Kamil Glik, Jakub Kiwior, Matty Cash, Bartosz Bereszynski, Grzegorz Krychowiak, Piotr Zielinski, Krystian Bielik, Przemyslaw Frankowski, Karol Swiderski, Robert Lewandowski.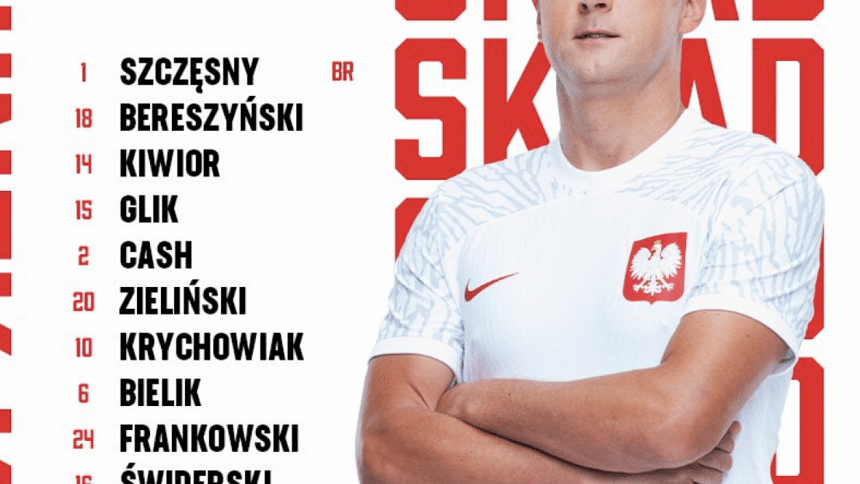 Key stats:
* Poland have kept a clean sheet in their last three World Cup matches, including both in 2022.
* Poland won four of their first seven World Cup games against South American sides (L3) but lost each of their last three in the competition without scoring a single goal.
* Argentina lost their last two World Cup games against European nations - Croatia (3-0) and France (4-3) in 2018.
* Poland will advance with at least a draw, while Argentina may also advance with a draw depending on the result of the other group game.
Previous meetings:
* This is the third time Poland and Argentina will meet at the World Cup. Poland won 3-2 in 1974 and Argentina won 2-0 four years later. Argentina have won six of their 11 meetings overall, with Poland winning three. The teams last played an international friendly in June 2011, which Poland won 2-1. 
Group C standings: 
* Poland, 1-1-0, 2 GF, 0 GA, +2 GD, 4 points
* Argentina, 1-0-1, 3 GF, 2 GA, +1 GD, 3 points
* Saudi Arabia, 1-0-1, 2 GF, 3 GA, -1 GD, 3 points
* Mexico, 0-1-1, 0 GF, 2 GA, -2 GD, 1 point