Fuel stocks dwindling
BPC struggles to buy fuel for dollar crunch; PMO holds emergency meeting today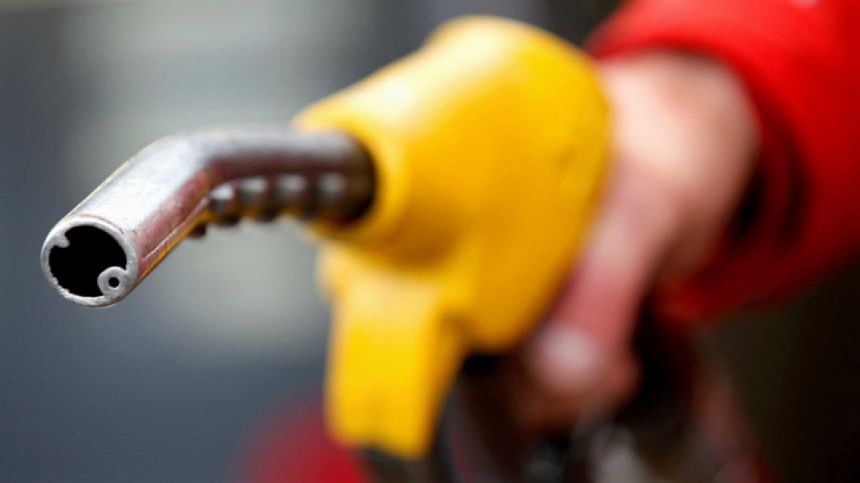 Uncertainty looms over the country's fuel stock as the Bangladesh Petroleum Corporation is finding it difficult to import fuel amid a dollar shortage at local banks.
The corporation currently has less than 40 days' worth of fuel reserves, which is well below the standard practice of keeping 40-45 days' worth of stock, BPC officials told this correspondent yesterday.
An emergency meeting will be held today at the PMO to review "the whole scenario of energy supply, power generation and distribution".
Banks are not being able to open letters of credit to import petroleum because of an acute shortage of dollars in the country's forex market, said a "very urgent" letter sent on July 5 by the energy and mineral resources division to the finance ministry, PMO and economic relations division.
According to the letter, the BPC wrote several times to Bangladesh Bank and the financial institutions division of the finance ministry in May and June, requesting adequate foreign exchange.
The fuel required to meet local demand is almost entirely imported, according to the July 5 letter.
At today's meeting, BPC officials may propose reducing the number of vehicles on the roads by having vehicles with odd and even registration numbers plying roads on alternate days, and also seek to curtail office and school hours, officials said.
The aim is to reduce the demand for fuel by at least 50 percent, BPC sources said.
Today's emergency meeting which will be attended by Principal Secretary to the PM Ahmad Kaikaus, PM's Energy Adviser Dr Tawfiq-e Elahi Chowdhury and the state minister for power, energy and mineral resources, the Bangladesh Bank governor, senior secretaries of PMO and energy division, secretary of power division, high-ups of BPC, Petrobangla, Bangladesh Power Development Board, Bangladesh Rural Electrification Board, etc.
At another high-level meeting on July 7, the participants recommended setting thermostats at 25 degrees Celsius at every government office, reducing use of air conditioners at religious establishments, and wrapping up social events like weddings by 7:00pm to reduce the power consumption.
About 44 percent of fuel is consumed by the power sector and 40 percent is used by the transport sector, according to the BPC. Another nine percent is used in the agriculture sector and four percent in the industries.
In the 2020-21 fiscal year, the country consumed a total of 44.8 lakh tonnes of diesel, 43.5 lakh tonnes of furnace oil, 3.7 lakh tonnes of petrol, 2.9 lakh tonnes of octane, and 2.3 lakh tonnes of jet fuel, etc., according to Bangladesh Energy Regulatory Commission.
In the letter sent on July 5, it was mentioned that BPC usually needs to open 16-17 LCs every month in Sonali Bank, Rupali Bank, Janata Bank, Agrani Bank, One Bank and Islami Bank and Eastern Bank to import fuel. But in recent times, those banks have declined to open LCs citing shortage of dollars.
"If they do agree to open LCs, they are making payments in multiple instalments, or delaying payments," the letter said. "As a result, the relations between local fuel distributors and international suppliers are being strained."
The letter stated that if the BPC failed to open adequate number of LCs, the energy security of the country will be in jeopardy.
The Daily Star tried several times to contact BPC Chairman ABM Azad, but could not reach him.
An official of a state-owned bank told The Daily Star that Bangladesh Bank was not being able to provide the banks with enough dollars.
The country's foreign exchange reserves stood at $39.70 billion on July 14 in contrast to $46.15 billion in December last year.
Against this backdrop, the inter-bank exchange rate of the taka yesterday stood at Tk 93.95 for a dollar yesterday, down 10.79 percent year-on-year.
Fuel prices in the international market has dropped in recent days. The latest average crude oil price in the international market is below $100 for each barrel (about 159 litres). This was over $115 last month. Similarly, the diesel price was $171 on average last month, which is now below $140.