BNP-Jamaat planning grenade attacks: PM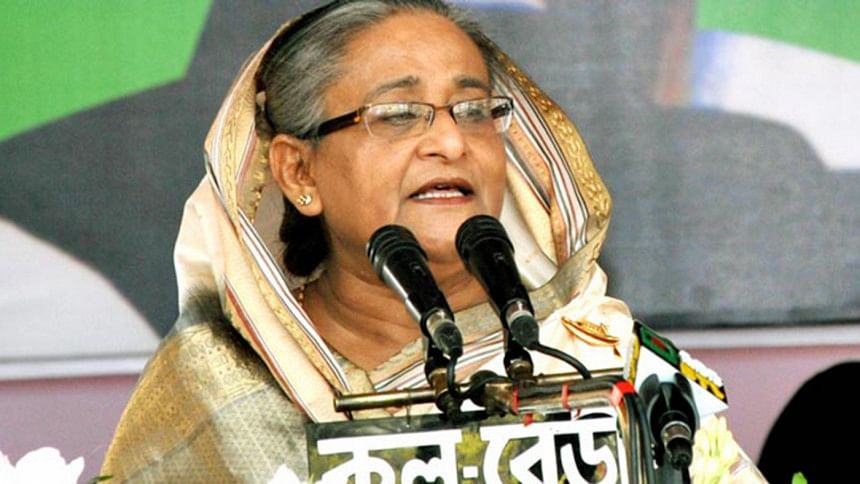 Prime Minister Sheikh Hasina today alleged that the BNP-Jamaat alliance is now planning grenade attacks on innocent people as their petrol bombs have failed to yield anything for them.
"I recently heard one Jamaat leader saying that hurling petrol bombs will not be enough, they'll have to charge grenades…they're now planning to charge grenades…I've asked the intelligence to find out those who have said this," she said.
The premier made the disclosure in her introductory speech at a meeting with the officials of the law, justice and parliamentary affairs ministry at Bangladesh Secretariat.
Having failed to woo any international support for them, Hasina said the BNP-Jamaat alliance is now planning to kill more people with more destructive acts.
"They're not getting any support from home and abroad…they had thought there'll be something from abroad and they'll be placed in power. But those who kill people through hurling petrol bombs never get support from anywhere. Having realised this, they're now planning to kill more people. They're planning to use grenades and commit bigger subversive acts (in the country)," she said.
In this connection, the prime minister asked the authorities concerned to ensure the quick and exemplary punishment of the anarchists. "The trial should be quicker and exemplary one, so that no one in the future engages in such activities."
Hasina, also the ruling Awami League president, said the culprits who have been caught red-handed while hurling petrol bombs should be brought to book and their trial should be disposed of quickly.
In this connection, Hasina said the order givers, financiers, suppliers and bomb chargers should be punished. "Their punishment should be in such manner no one dares to do that again because this situation can't be tolerated …we have to protect the country's people," she said.