Mobile Financial Services soaring in a pandemic-stricken Bangladesh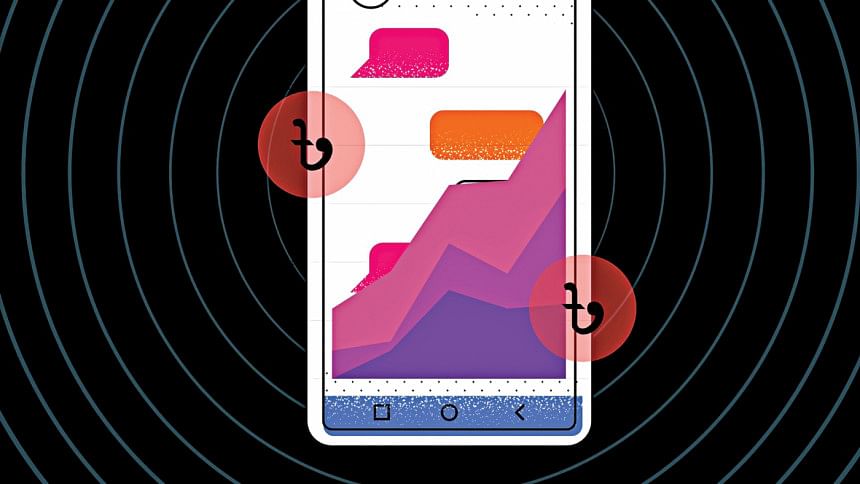 With continual social distancing practices and overall hiked protective measures worldwide, consumer preferences have been subject to drastic changes, one of which is reflected in the shift towards the increased adoption of digital payment platforms. Subsequently, mobile financial services (MFS) in Bangladesh including bKash, Nagad, Upay, and the likes, have all risen to the occasion, with additional assistance from the Bangladesh Bank and the Government of Bangladesh, to facilitate safe and secure transaction services to, from and within the country.
Agents cannot open shops
As with all major businesses, social distancing has created various challenges for MFS. For instance, in the case of bKash, ensuring the liquidity of e-money, as well as cash at agent points, have been challenging as cash settlements need to be ensured in banks within limited banking hours i.e. 10 am to 1 pm. As for Nagad, their Head of Brand Marketing, Monsurul Aziz says "The operational challenge is evident as the operations of our field-work agents and digital work-from-home staff are co-dependent and are equally necessary to keep our services afloat. However, with ample reduction of work time and enhanced attention on hygienic practices, part of the workforce is operating as agents in limited degrees." Additionally, another one of the country's digital payment services, UPay, also admitted to facing similar problems. "Many of our agents cannot open their shops and field agents are finding it harder to serve channel partners due to restrictive movements", says Sydul Khandaker, Program Director of Digital Financial Services at United Commercial Bank. He, however, added that the best available alternatives are being provided for services which previously needed contact relationships or field visits.
Demand for going cashless
Even though several obstacles exist, MFS is undertaking Covid-19 specific measures with ample support from the Bangladesh Bank and the Government of Bangladesh. According to the data available in The  Bangladesh Bank's website, The Bangladesh Bank has removed transaction charges on purchase of essential goods such as groceries and medicine through MFS, increased p2p transaction ceiling from TK 75,000 to TK 200,000 per month and cut cash-out charges for export-oriented industries' worker salaries from TK 14.5-18 to TK 4 per thousand takas, thereby encouraging more people to go cashless. This is further evident through bKash, which already had a considerable customer base of 40 million, encountering an increase of more than 1.4 million new accounts getting registered from April 6 to April 21 alone. This astounding increase in demand has been met with an enhanced focus on bKash's customer service team and technology support to provide sufficient assistance to its users. However, amidst this increasing user base, the daily total transactions undertaken through bKash has dropped from approximately TK 9-10 billion to around TK 7 billion during the Covid-19 crisis, with a daily average transaction of TK 7 million counts
Privacy and security concerns
To help new and old users alike, bKash has communicated privacy and security concerns through regular advertising and awareness campaigns in mainstream and social media, consistently warning users not to share their PIN and OTP (one-time-password) with anyone. "MFS has seen depletion in the transaction as field agents' operations have been hindered due to social distancing for the wellbeing of people, however, there has been a significant increase in the number of people becoming dependant on MFS for emergency financial transactions as it enables users to do so from the safety of their homes." Said the Head of Corporate Communications of bKash, Shamsuddin Haider Dalim, in a conversation. Moreover, the government announcing MFS as an emergency service and thereby using its services to aid people in distress has surely made MFS a big part of tackling the financial transaction-based consequences of the crisis.
Helping MFS users during Covid-19
While all MFS are providing emergency services like mobile recharge, bill payment, money transfer and merchant payment for grocery and medicines to its users, bKash, being the single largest mobile financial service provider in the country, has experienced a 144% increase in daily average remittance transactions with a total of TK 1.38 billion transferred inward from January 1 to April 18, 2020. Moreover, several variegated measures are taken by companies to aid in the best way they can. For instance, UPay's Titas Gas prepaid meter recharge service in collaboration with Titas Gas Transmission and Distribution Company Limited was met with the latter raising its emergency balance of prepaid household consumers from TK 200 to TK 2000 during the pandemic, to aid its users. Upay has also integrated corporate social responsibility practices by contributing to various social causes. According to Sydul Khandakar, The Program Director at UPay, an amount of TK 5 crore has been donated to the Relief Fund of Honourable Prime Minister by Electronic Fund Transfer to fight against Covid-19. He added, "We are also donating one day's salaries of all level employees of UCB to underprivileged people affected during the pandemic. Moreover, UPay is fully complying with all instructions and guidelines of the Bangladesh Government and Bangladesh Bank to collaboratively deal with the crisis."
Looking into Nagad, their Head of Brand Marketing, Monsurul Aziz mentioned how the company was reshuffling its resources. For instance, decreasing investments on television commercials and allocating them into the cost of its services to anchor the subsequent increase in the cost they incur during transactions as its users are now provided certain services free of charge. Additionally, Nagad also introduced its new service offer 'Shadhin' on April 13, 2020, about which Mr Aziz further added, "The idea is to aid 5 categories of businesses, businessmen and organisations involved in essential goods, medicine and the like, by reducing their transaction costs from double digits to single; a feature that is exclusive to Nagad's Shadhin users alone." All of these fall under their 'Manush bachle desh bachbe' campaign, started in March, which focuses on distributing funds to affected people in various areas of Bangladesh.
Dispersing coronavirus awareness information
While most MFS are doing their part, bKash is working collaboratively with garment factories and their associated banks to help RMG workers open mobile wallets for receiving salaries, with workers not having NID being able to register using their birth certificates as per regulation of Bangladesh Bank. It is using its 230,000 agent-points located across the country to make the process happen. bKash is also working together with the government agency 'a2i' to spread coronavirus awareness with a 'Corona Info' icon added to the menu of bKash app. As of April 20 2020, 662,526 users have entered Corona Info 796,346 times since the launch of the service.
Additionally, Shamsuddin Haider Dalim, the Head of Corporate Communications at bKash mentioned how they have been facilitating donations through organisations like Bidyanondo Foundation and Obhizatrik Foundation, allowing bKash users to donate through its app. Over the past month, more specifically March 20 to April 20, 2020, more than TK 50 million has been donated through bKash by 163,924 customers. Moreover, NGOs like Brac are helping marginal families with funds through bKash. Lastly, bKash and Digital Healthcare are bringing free healthcare services for the families of the remittance senders, with family members of expatriates receiving consultation of specialist doctors from home for up to 90 minutes within three months in case of emergency.
In a nutshell, Covid-19 has its fair share of downsides but one serendipitous intake from such an unfortunate situation could be the emergence of enhanced awareness of MFS in Bangladesh, with preference shifting into a more cashless society due to increased technological awareness and hygiene concerns. The pandemic will undoubtedly have lasting effects for the years to come, making people rethink their behaviour in all walks of life, launching the start of changes, some of which are already evident around us. Needless to say, amongst the chaos, the various proactive approaches undertaken by the MFS providers of Bangladesh act as hopeful motivators of the prosperous future of this industry.