Best Bangladeshi games to keep an eye on
If video games are your passion, you're likely to be stoked about the latest happenings in the gaming scene. From the first look at the much anticipated God of War Ragnarokto the sequel for Marvel's Spider-Man or the release date for Horizon Forbidden West, there's a lot for gamers to be excited about.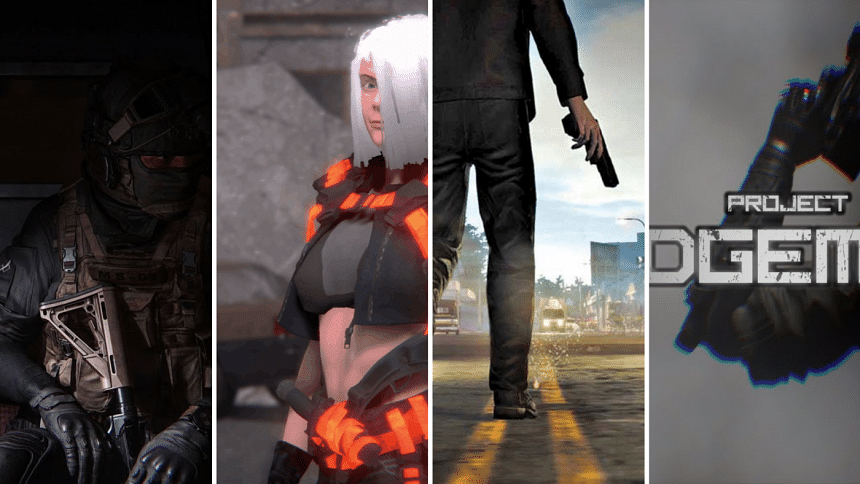 But there's plenty of excitement to be had for games being developed right here in Bangladesh too. From the days of Dhaka Racing to the upcoming open worlds and tactical shooters, game development in Bangladesh has come a long way. If you're looking to experience the progress first-hand, here are some of the best Bangladeshi games you should check out: 
Agontuk
Remember the good old days of endless misadventures in the Bangla dubbed GTA Vice City? If you want to relive that nostalgia or just stay updated about the most talked-about game in Bangladesh right now, keep an eye on Agontuk.
Set in a fictional re-imagining of Dhaka city, Agontuk is set to be the country's first open-world game. A joint project by the studios Attrito and M7 Productions, the GTA-esque game has garnered significant attention since its gameplay reveal trailer dropped last year.
While there have been few updates since about a release date, the excitement for Agontuk persists. From the sneak peeks alone, the game promises players a Mafia inspired experience based in the city we all know and love. So if you've always dreamed of tearing up the streets of Dhaka (in a video game) as a hardened gangster, Agontuk is one to watch out for. 
Zero Hour
While you wait for Agontuk, there's another joint project by Attrito and M7 Productions worth checking out.
A slow-paced online tactical shooter, Zero Hour launched globally last year to receive a widely positive reception.
Zero Hour differentiates itself from other titles in the genre with its realistic execution of tactics and team planning. Players can choose to play as the SWAT task force or as terrorists. Complete with a plethora of weapons, shields, traps and gadgets to tip the battle in your favour, Zero Hour is worth the try for fans of popular tactical FPS games like CSGO or Rainbow Six Siege.  
Annihilation
Do you unwind on the weekends with Fortnite or Apex Legends? Or is Valorant more to your liking? If you're asking for a battle royale or tactical shooter that's made in Bangladesh, the answer is the country's first battle royale game, Annihilation.
Developed by Crisis Entertainment, Annihilation is an online multiplayer 5v5 and 60 player battle royale. While the game is yet to be released, it has been going through some heavy tweaking based on player feedback from the demo.
If the thought of alien invasions in pop culture being oddly specific to certain parts of the globe ever occurred to you, then the plot for Annihilation will make you think twice. In this game, the player gets to fight against alien invaders right on the streets of our very own Dhaka. Choose from a variety of weapons and characters with unique abilities as you pass by familiar streets, movie posters, local shops, rickshaws and CNGs on your quest to save the city. While the game provides some basic dialogues in Bangla, the biggest tribute to the Bangladeshi culture would be having the iconic Salman Shah as a playable character. 
2170
Developed by Firefly Studio using the Unreal Engine, 2170 boasts a unique premise with graphics that impressed just from the sneak peeks.
A futuristic third-person sci-fi shooter, 2170 is set in the post-apocalyptic premise post World War III. While not much is known about the plot itself, in 2170 players will be tasked with travelling through a post-apocalyptic Dhaka to vanquish humanoid robots. So if you're curious to see how familiar locations like Chondrima Super Market would look like in a catastrophic future, 2170 is a game worth keeping an eye out for. 
Project Judgement
Developed by Ran Technology with investment from Crisis Entertainment, Project Judgement is another upcoming FPS that will launch on PC and consoles. The game comes with an offline story mode as well as an online multiplayer mode. For fans of games like Call of Duty, there will be something extra to look for in Project Judgement- with the latter offering a survival shooter experience in the premise of war. While this game too awaits the announcement of a release date, the developers are continuing to tweak and polish the final game before launch.
Other than the to-be-released and upcoming releases, the gaming scene in Bangladesh has been making strides across all platforms- PC, Consoles or Mobile. Though the hype in Bangladesh mostly surrounds the more expansive PC games, mobile games made in the country are also stirring up attention with titles like Heroes of 71 Retaliation, Bangladesh Cricket League, Mukti Camp or the satirical entertainer The Hero Alam game. Regardless of the platform, if you're a gamer wanting to judge the advancement of Bangladeshi video games yourself, take your pick from the ever-expanding list of made-in-Bangladesh video games and dive into all the wondrous worlds just waiting for you to push start and begin.