Tk 568,000 crore budget unveiled; 8.2pc GDP growth target set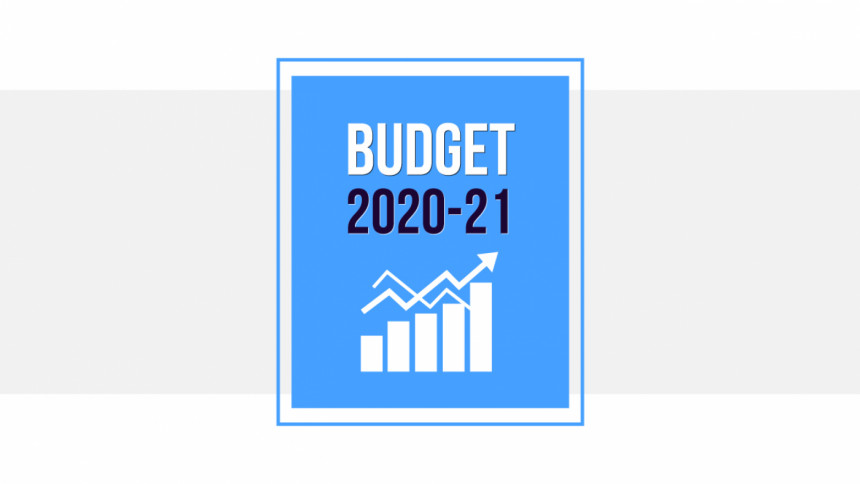 Finance Minister AHM Mustafa Kamal today placed Tk 568,000 crore national budget for 2020-21 fiscal with an ambitious target of 8.2 percent GDP growth amid the economic fallout due to the coronavirus pandemic.
The minister started placing the budget at the parliament around 3:00 pm with the permission of Speaker Dr Shirin Sharmin Chaudhury. Leader of the House Prime Minister Sheikh Hasina and a number of lawmakers joined the session.
While delivering his budget speech, Kamal said the size of the total budget for 2020-21 fiscal year has been estimated at Tk 5,68,000 crore, which is 17.9 percent of country's GDP.
Dubbing the budget as "economic transition and pathway to progress", the finance minister said the total allocation for operating and other expenditures has been projected at Tk 3,62,855 crore and the allocation for the annual development programme (ADP) has been estimated at Tk 2,05,145 crore.
Health, agriculture and employment creation have been given priority while allocating resources for the ADP, he said.
Talking about the budget deficit, Kamal said the overall budget deficit will be Tk 190,000 crore, which is 6 percent of GDP.
"It is to be noted that deficit stood at 5 percent in the last fiscal year. Out of the total deficit, Tk 80,017 crore will be financed from external sources, while Tk 1,09,983 crore from domestic sources of which Tk 84,983 crore will come from the banking sector and Tk. 25,000 crore from savings certificates and other non-bank sources," the finance minister said in his speech.
The revenue collection target for the coming fiscal year has been set Tk 378,000 crore. Of the amount, the NBR has been tasked to realise a revenue collection target of Tk 330,000 crore, the non-NBR revenue collection target is Tk 15,000 crore while the non-tax revenue collection target is Tk 33,000 crore. Besides, Taka 4,013 crore will come from foreign grants.
Addressing the current crisis over the coronavirus pandemic, Kamal, in his speech, said, "…it is time to steer the nation ahead, with people by our side, and effectively tackling the crisis arising from the deadly attack of coronavirus through our pragmatic and efficient plans."
"I sincerely thank our honourable Prime Minister, for her unrelenting efforts to continue this task," he said.
Today, Kamal placed his second budget as the country's 12th finance minister. He read out some parts of the budget while rest of the parts were shown in multimedia presentation during his budget speech.