SPORT
ANOTHER STEP TO GLORY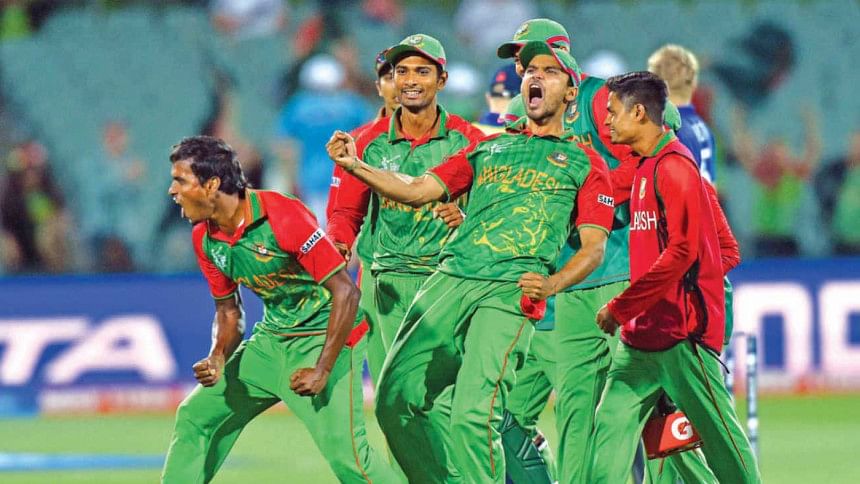 Two World Cups ago, Bangladesh went to the Top 8, defeating India and South Africa in the preliminary rounds. This year, with three wins in their hands, against Afghanistan, Scotland and England, Bangladesh went on to the quarter finals with amazing flair. 
The World Cup journey for our Tigers started off shakily. Even with a win against Afghanistan, our fielding against Sri Lanka was condemnable. While our fielders dropped catches and there were scenes of the ball escaping the wicketkeeper and first slip at once, Kumar Sangakkara and Tillakaratne Dilshan were not forgiving. The only thing worth watching during that game was the brilliant strokes off their bats. 
On 9th March, while some fans were sure of a win, the rest were still a little apprehensive, doubting if all three departments, bowling, batting and fielding, of the Bangladesh team would be up to the mark. 
The first inning went considerably well. Even though Tamim disappointed, like he had done in most of his games for the past couple of years, our hopes lay in the others' bats. Mahmudullah Riyad went on to scoring the first Bangladeshi World Cup century of the tournament with 103 runs off 138 balls, while Mushfique gave him a helping hand with 89 runs off 77 balls. While these two batsmen gave the most exciting performances from our batting line-up, the number of runs still turned out to be a little too high for the English to reach. 
In the second innings, the fall of wickets took a late start with just a run-out. As the innings steadied, Rubel Hossain struck and knocked out two of the stronger batsmen in the English line-up, Ian Bell and Eoin Morgan. Then the tumble began with Masrafe's world class skills and Taskin's magic here and there. 
When the last three wickets were left, tension was running high. Rubel Hossain came back to seal the deal, after Jordan's unfortunate run-out, as he struck his ball and knocked out the last two with utmost ease. Whack! And then Whack! We heard the bails get thrown off the wickets, one after the other, after which our boys ran across the stadium in celebration. The whole country erupted as we watched our Tigers sail through to the quarter finals. As we prepare to serve some Kiwi with the Crème Anglais we just whipped up, we have bigger plans now to decimate the former title holders. India, here we come!