Zatiq's Pocket Pay: Direct card payment for door-to-door deliveries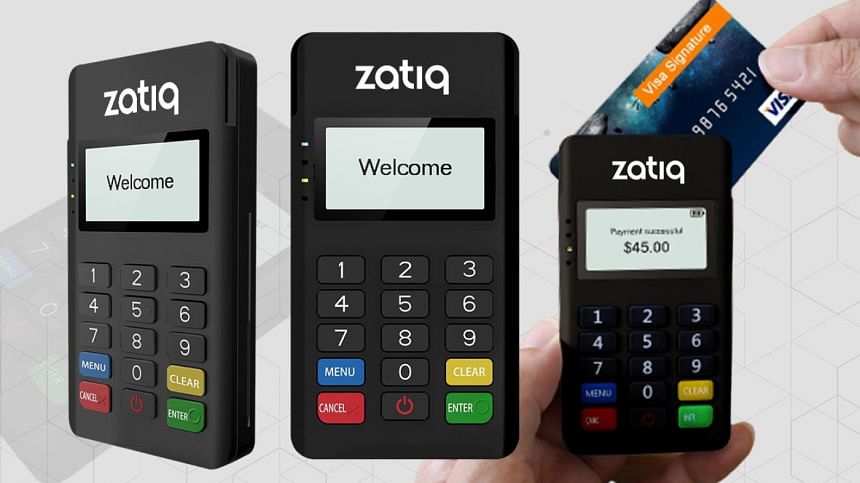 Online deliveries have steadily become an indispensable part of our post-pandemic lives. Instead of going out for food or daily essentials, we can sit in the comfort of our homes and have the desired items delivered to our doorsteps. However, while contactless payment such as online bank transactions and MFS (mobile financial service) such as bKash exist in most local delivery platforms, we still cannot use bank credit/debit cards to pay for door-to-door deliveries. Zatiq, a local software and technology startup, aims to change just that, with their card reader for home deliveries - Pocket Pay.
Pocket Pay is a small, portable card reader machine that is designed to be easily carried by delivery agents and merchants. It accepts cards from any local bank and can be used by either swiping or tapping to pay. Functionally, it works the same as regular EFTPOS card readers, with the options to cancel, refund and accept payments available in the admin panel controlled by the host delivery company. The device comes with end-to-end encryption, ensuring a secure payment gateway. It also features a QR and barcode scanner for completing all sorts of cashless payments, as well as 4G support so it can work without an app.
"Collecting cash on delivery is a big hassle for logistics companies," says Sultan Moni, CEO and co-founder of Zatiq, "Cash delivery involves carrying lots of cash, bringing it to the company office, depositing it and then transferring it to a merchant bank or MFS (Mobile Financial Services) accounts." According to Sultan, since there is no other way for delivery agents to collect payment other than through cash or bKash, a card payment method for home deliveries was a much-needed change. 
Zatiq is a very new startup, officially launching on September 13 this year and immediately going public with the first version of the Pocket Pay card reader - receiving more than 500 orders on the first night. The second and current version of Pocket Pay comes with an option that the company believes will give customers more flexibility in online payment - supporting MFS transactions as well as credit/debit cards.
"We want to give customers various ways to pay cashless for their deliveries while allowing merchants to accept all kinds of cashless payments through a single device," states Sultan when asked about the MFS support of Pocket Pay. He has made it clear that Pocket Pay isn't intended to compete with MFS, which is by far the most preferred cashless method in Bangladesh. Rather, Pocket Pay is meant to give customers a new option alongside the existing ones. Since Pocket Pay supports MFS as well, customers have that added option whenever they may need it.
Currently, each device is being sold for Tk. 5,000, with no hidden costs after purchase. The prototype model was made in Bangladesh by the local engineering company Gyre Engineering, and the devices were assembled in China using parts from China and Hong Kong. When designing the device, Zatiq derived inspiration from similar international cashless portals such as SumUp, Zettle and OPay, and then catered the concept to answer the needs of the Bangladesh market.
Pocket Pay, as stated by Sultan, is specifically designed to ease payment options for the local delivery and logistic industries. "Micro merchants aren't my target customers. I don't want them to carry around a piece of additional hardware to collect payments," he emphasised, "Those who do have credit/debit cards can avoid the hassle of paying via cash or putting money in MFS to easily pay for their deliveries directly."
Zatiq's vision is to propel Bangladesh towards a cashless society. With Pocket Pay, the budding startup hopes to capture a part of the currently growing e-commerce market in the country and make cashless payment, both MFS and card methods, more accessible to consumers and suppliers.