YouTube Premium launched in Bangladesh at BDT 239 per month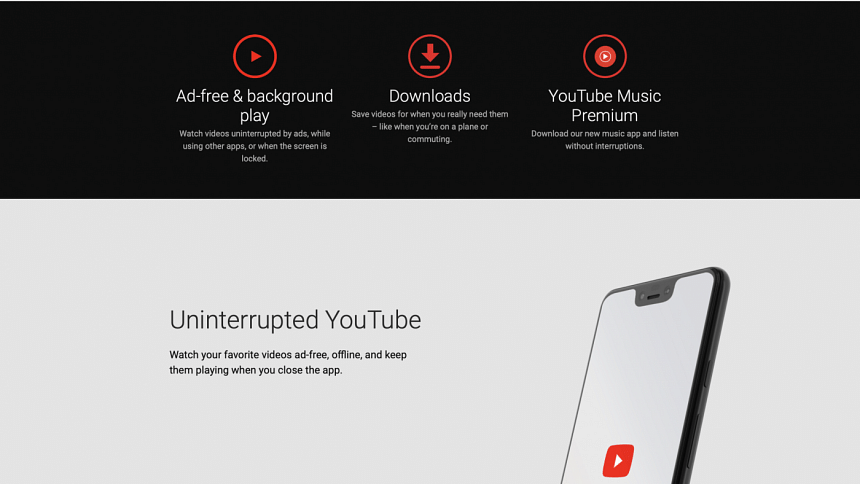 YouTube Premium and YouTube Music are now officially available in Bangladesh, at a cost of BDT 239 per month for the premium subscription. 
As per YouTube, a Premium subscription of YouTube in Bangladesh starts with a one-month free trial. After that, the user will be billed BTD 239 per month. This is a recurring bill that can be cancelled anytime, and YouTube will remind the user 7 days before the trial ends. 
With YouTube Premium, users can watch videos ad-free and keep videos playing in the background, even when the app is closed. This premium subscription also allows more video download options, letting users save videos and playlists on their phones and tablets and play them offline or without an internet connection. 
YouTube Premium also comes with YouTube Music Premium, YouTube's own music streaming platform. The premium subscription will allow users to listen to over 100 million songs ad-free, and, like videos, the songs can be downloaded for offline listening. As per YouTube, music and tracks can also be kept playing in the background, even if the screen is turned off. 
If you want to use only YouTube Music Premium, you can do so for BDT 199/month. However, this option won't give you access to the premium video features, such as ad-free YouTube video watching.
YouTube Premium users can also avail of ad-free YouTube Kids, a platform designed for child-friendly video content.  
You can try out YouTube Premium here and YouTube Music Premium here.