The legend of Lancia in WRC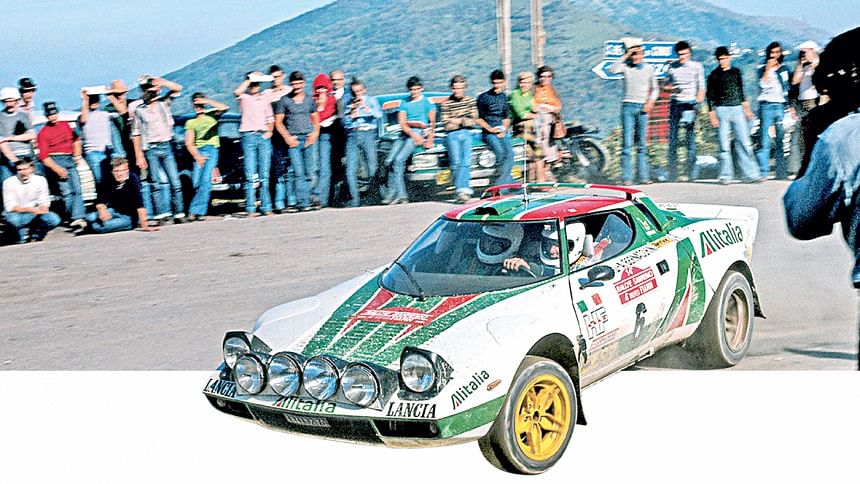 Lancia - A company that turned heads and rocked the WRC world, dominating from 1974 to 1994. Who would've thought that the same company that produces only one car in one country nowadays had such a glorious past? The brand that used to be known for making overpowered rally cars full of innovative engineering has turned into rust buckets in the modern day.
We know back in the late 80s and 90s rally racing was at its peak with manufacturers like Toyota, Mazda, BMW, Audi, Mitsubishi, Subaru, Ford, and even Nissan in rally races. The brand that stood out among all these giants was a small Italian company called Lancia. The first successful Lancia was the FWD Fulvia which had been winning every Italian rally race since 1965.
Lancia needed a new model to replace the car, and a designing company called Bertone saw that as a great opportunity, independently building a working design called Stratos HF Zero on a Fulvia chassis. Lancia was interested and told them to build them a car that is strictly for winning rally races. Marcello Gandini, who designed the Lamborghini Countach and the Miura, was working on the Stratos. Lancia soon debuted the new Stratos HF prototype in the 1971 Turin Motorshow. Afterwards, a team led by racer and engineer Mike Parkes spent three years developing, testing and honing the Stratos prototype.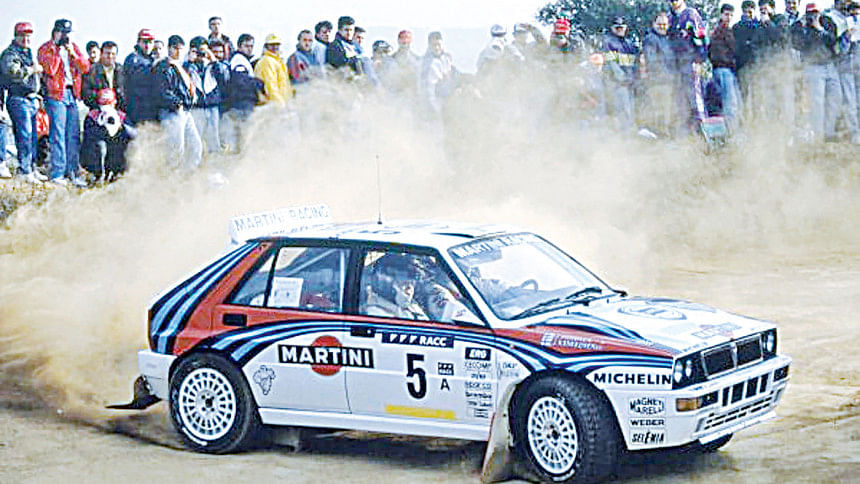 The Stratos was a small mid-engined RWD car that featured a curb wraparound windshield for maximum aero. Lancia race team director Cesare Fiorio convinced Enzo Ferrari to give them 500 of the 190Hp V6 engines from the Ferrari Dino. The Stratos body was made out of fibreglass and only weighed around 910kg so it moved to 60 mph in 7 seconds. Then in 1973, 492 cars were quickly made, and by 1974 Stratos was ready to enter WRC group 4.
The race-tuned Stratos made between 270Hp to 320Hp which immediately blew the fans and the competition away. Stratos went on to make history by winning three consecutive manufacturing championships in 1974-1976 then still kept on winning rallies till 1981. Before the Stratos, there was no other car ever made to be solely made for Rally racing.
In 1980 Lancia began working with Abarth and Pininfarina to develop the Rally 037 Stradale. This car would be built specifically for the now lawless and infamous WRC Group-B Class. 200 of 037 Stradale models making 210Hp were homologated for the street, a lag-free supercharger was added to the 2-litre inline-four to make 280+Hp for the WRC rally. The engine was placed longitudinally instead of transversely to fit a superior suspension setup, where they used Double wishbones front and rear along with two shocks per side, built on a tube frame with lightweight composite bodywork.
Afterwards, in 1983, there was an all-out fight between RWD 037 and the AWD Quattro, where Audi won five rallies and the Lancia's sports team had the driver's championship won by Walter Rohrl and teammate Markku Alen and Attilio Betteca matched Audi's five wins with 037's completely covering the podiums at two events, leading it to win the Manufacturer's Championship.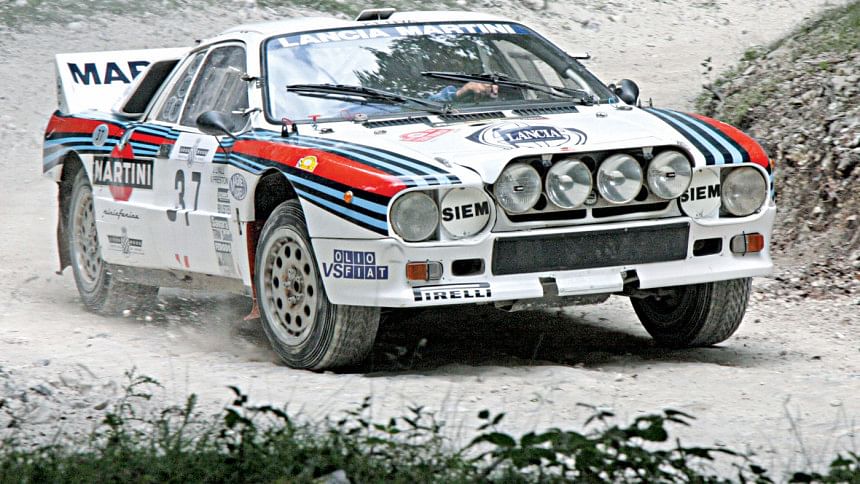 Lancia thought that it will be hard to compete with the Quattro AWD system in the future rally races, so came up with their own AWD car, which was none other than the 1980 European car of the year Lancia Delta. It already sold well, but Group-B was popular and Lancia figured that it would sell even more if it entered Group-B. They turned that family FWD car into the most successful rally car of all time.
In the beginning, they only used Delta's shape and windshield and used an aerodynamically tweaked composite body on a tube space frame and gave the front engine an F1-inspired twin-charged 1.8 litre 4-cylinder mounted in the middle. The supercharger provided the low-end grunt and handed over to the turbo at the higher rpm, with the twin-charged setup improving the torque across the whole rpm range.
The Rally Lancia Delta S4 made over 500Hp and some of them are said to make over 750Hp which weighed less than 900 kg. They did 0-60 mph in 2.4 seconds and it was converted to AWD with a viscous centre differential and a torque sensory Torsen rear differential for better traction. That set-up meant that the car tended to understeer when going into corners but would quickly switch to oversteer when all the torque went to the rear wheels. It was ridiculously fast in the hands of a capable driver who anticipated this mechanism.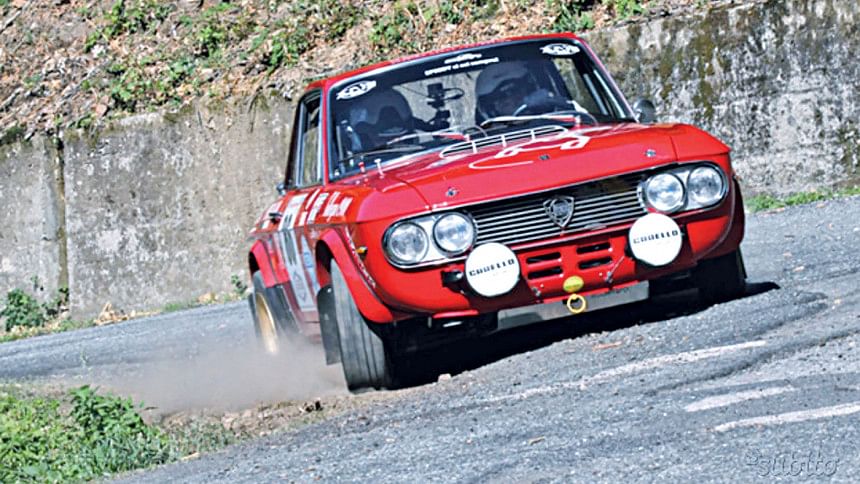 The Delta S4 competed in the World Rally Championship in 1985 and 1986 and won until Group-B was disbanded. The cars were eventually banned from competition by the FIA because of the tragic crash of Toivonen and co-driver Sergio Cresto on the 1986 Tour-de-Corse.
Lancia decisively switched to Group-A and switched the production-based Delta and created the Delta HF 4WD for Group-A. It had a turbocharged 2 litre 4 banger and set-up transversely upfront. When Group-B was cancelled, other manufacturers didn't have anything in their lineups that were suitable for rally races, giving Lancia a huge advantage over its competitors. Lancia easily won 9 out of 13 rally races and clinched both the 1987 manufacturers and drivers championship.
In 1988, Lancia improved their car with the Delta HF Integrale 8 valve by bumping the power from 165Hp to 185Hp and giving it bigger wheels, brakes, and wheel arches, which soon gave away the Integrale 16 valve a bulged hood and a new cooling system with 200Hp. Lancia made constant improvements on the Delta through to 1993 with the final model Delta Integrale Evoluzione II with 215Hp, which was 15cm wider and made 30% more power than the original Delta HF.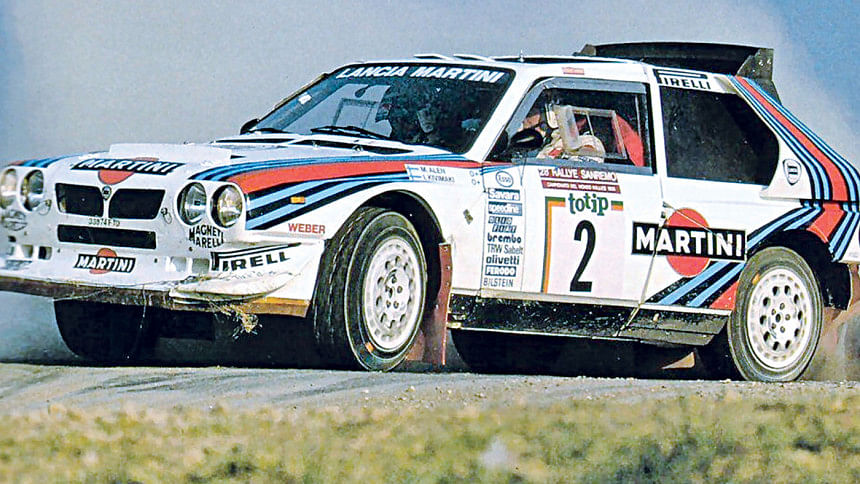 Lancia Delta rally versions continued to own WRC with the Integrale 8 valve winning 10 out of 11 events in 1988. It was so dominant that it won 46 WRC rallies and six straight championships from 1987 to 1992 - a record that is still to this day unbeaten by any other single model.
The Stratos, 037, and Delta have a total of over 74 victories and 11 championships, making them the most successful manufacturer of rally cars. This was the peak for Lancia. Slowly, most of their 80s Fiat-based production cars rusted away, and since then they have been making disappointing cars and selling rebadged Chrysler 300s and weird Fiat 500s.
This gradual decline in quality and effort established the sad fact that Lancia did not have a bright future. Rally racing also became ridiculously expensive which led to the downfall of the brand. Despite the downs, Lancia will always remain one of the most legendary manufacturers in the rally racing world.