Kia Carens: The Captain's Chairs are the new first class
As the demand for SUVs slowly engulfs the entire car market like a beast, more and more cars are catching the crossover mutation. Take the Suzuki Vitara Brezza for example, a Swift hatchback pumped full of helium to crossover size, or the DFSK Glory, a seven-seater MPV that fakes the look and luxury of a full-blown body-on-frame SUV.  
The Kia Carens is the latest recipient of that treatment, with the latest model ditching its proper minivan roots and embracing a more crossover-ish design. It's based on the stretched Seltos/Hyundai Creta platform and aimed primarily at India and other emerging markets.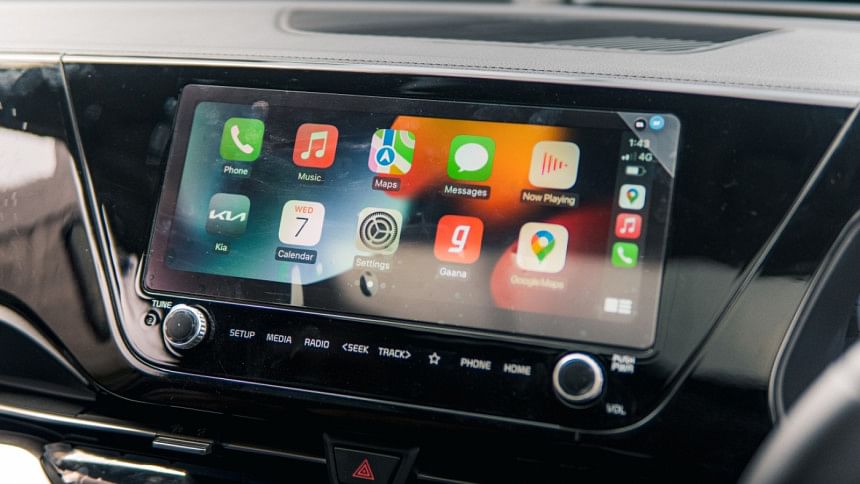 And no, the 'Carens' nameplate isn't a tribute to your aunt Karen. According to Kia, the name is a blend of 'car' and 'Renaissance', as they believe this car will usher in a new age of family motoring. And honestly, with all the features packed into this Indian-made ride, it's hard to disagree. The Carens offers a lot for its price, defying expectations for a budget option.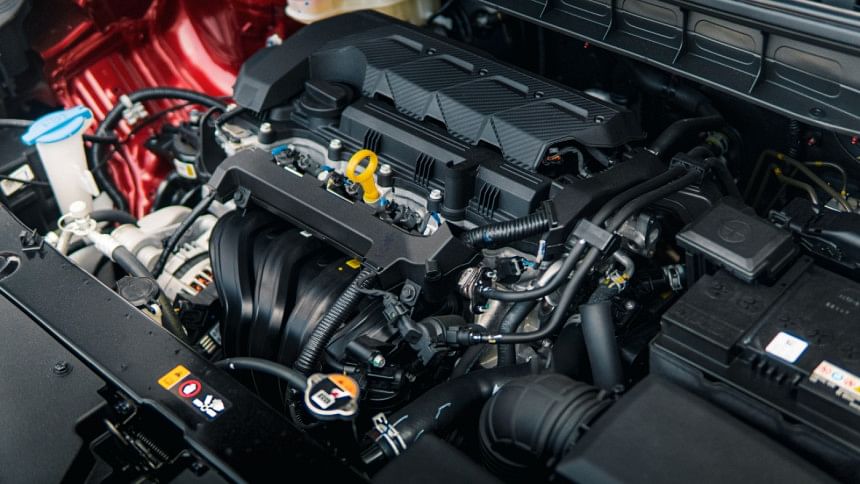 Hot and futuristic 
From a company that only made bland cars that nobody wanted to look at just ten years ago, the design of the new Carens is certainly stunning. Our press car, shimmering in Kia's aptly named 'Intense Red'. That hue was hotter than a stolen tamale under the blazing sun, and boy did it accentuate the curves of the fresh design. The front fascia was so futuristic that we half-expected KITT to speak out and ask us to take it for a spin. The sleek new Kia badge was flanked by some sleek LED daytime running lights (DRLs) and a black trim piece with a diamond texture acting as the front grille. Tucked away under the DRLs are the actual headlights' a massive meshed opening at the bottom of the front fascia. 
From the side, the Carens had all the bells and whistles of a traditional SUV. Black wheel arches and curbside cladding? Check. Raised triangular window for the third row? Check. Sixteen-inch alloy wheels that lifted the car 195mm off the ground? Check, check, and check. And in case you missed it, the rear bottom also sported a functional red light, plus a spare wheel bolted to the floor pan. Convenient, but be prepared to get dirty in case of a flat.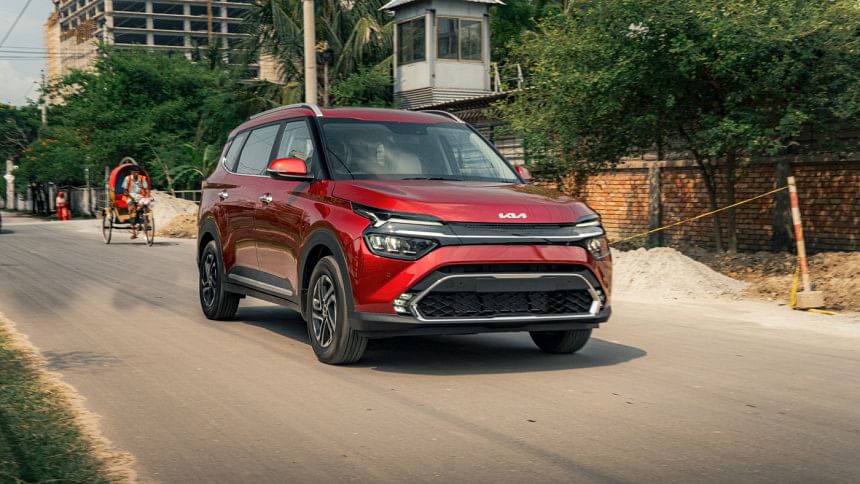 Prepare yourself for a cabin surprise! 
We all know in cars like these that the real magic happens on the inside, and Caren's interior doesn't disappoint. The cabin is awash in a creamy two-tone finish, with seats upholstered in perforated pleather. If you're sitting in one of the rear rows, you'll be pleased to know that you've got your own air vents on the roof, plus LED cabin lights for all three rows. And for those who like to set the mood, the Carens comes equipped with ambient lighting that offers eight different colours. Safety-wise, the car's got six airbags placed strategically throughout the interior, so you'll feel like you're getting a hug from a friendly octopus if the event of a traffic misfortune.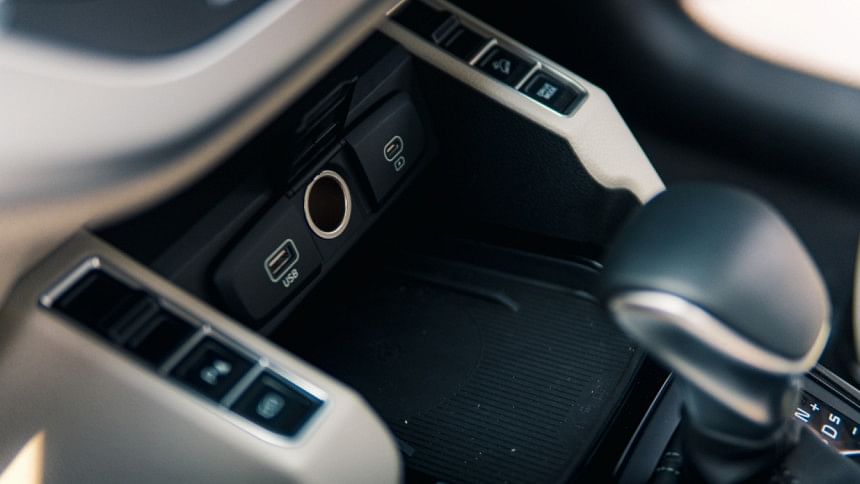 Like many cars in this category, I expected the front row of the Kia Carens to be lacklustre, but I was pleasantly proven wrong. The driver's seat has a fancy leather-wrapped adjustable multifunction steering wheel and a fully digital 4.2-inch TFT gauge screen. To the right of the wheel is a hidden tray for the key fob or spare change. If you're feeling parched, don't worry, the passenger has its own tray that doubles as a cup holder, plus an under-seat storage tray. There are two more cup holders in the centre console that can either heat or cool your beverage - depending on your mood. 
But wait, there's more! The gear lever is in front of the cup holders, with an induction charge pad, two USB ports, and a 12-volt socket nearby. The dashboard's centrepiece is a 10.25-inch infotainment screen with wireless Android Auto and Apple CarPlay. You can even listen to ambient nature sounds through the car's BOSE sound system. Finally, the front row has its very own sunroof and switches to control all the cabin lights. All finished in a piano black that, let's be real, is unfortunately a fingerprint magnet.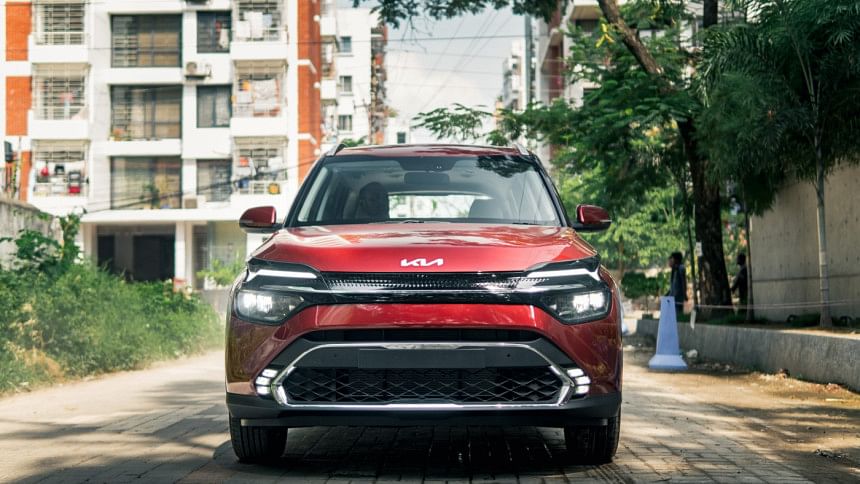 The second-row experience is more 'captain' than 'cattle', with plush, separate seats and foldable tables. It's like having your own private jet on wheels, with room for your drinks and iPad thanks to the cupholders and cutouts. At the centre, there's an A/C fan control knob and bottle holder with a closable air vent, perfect for keeping your drinks at the optimal temperature. And when you're stuck in traffic, the built-in privacy curtains are a lifesaver for avoiding unwanted interactions. Being of minivan DNA the Kia has plenty of leg and headroom, even for tall folks. And if you need to haul some cargo, just fold down the seats and you're good to go. 
Behind the wheel
The Carens is no speed demon, but it gets up to speed with all the grace of a sloth on a Sunday morning. The sweet spot for acceleration is somewhere between a leisurely stroll and a brisk walk, but if you're feeling frisky, you can hit triple-digit speeds in a relatively brisk 10-15 seconds. Just don't take those corners like a racecar driver, because the Carens is still tall and prone to body roll. On the bright side, the suspension does a decent job of keeping things level at higher speeds, and the cabin remains hushed even at Autobahn-worthy velocities.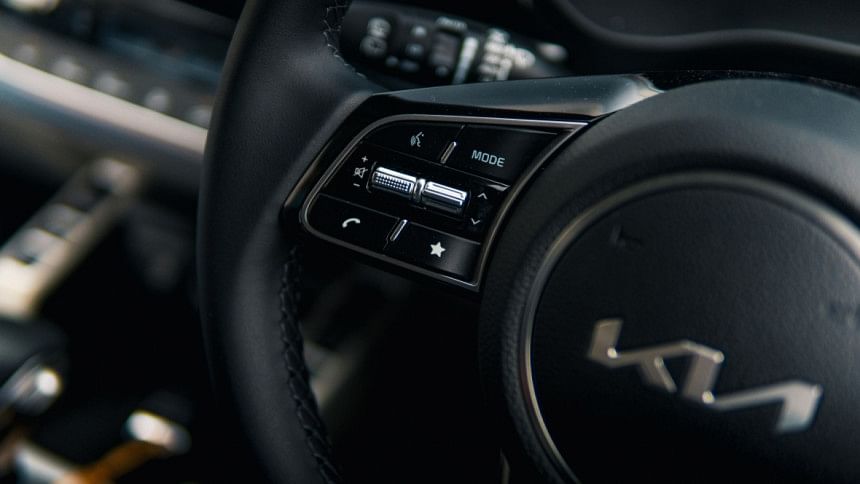 With the steering wheel's quarter dead zone, you can enjoy one-handed rotation while still feeling in control. It's a family car that's all about relaxation, except when you need to pass someone on the highway.
When it comes to stopping, the brakes do their job just fine, with a pedal that responds predictably to pressure. The chassis balance and ABS are both top-notch, allowing for a graceful slowdown that won't jostle the poor souls in the third row into the second.
Verdict 
Are you in the market for a spacious SUV without breaking the bank on an All-Wheel-Drive? The Kia Carens rocks a modern style, a well-stocked and tech-filled interior, and comfort features that would make luxury cars green with envy. Plus, it's built by Kia, a seasoned pro in the auto industry game. If you don't have the dough for Japanese brands or don't want to roll the dice on a Chinese option, this Indian-made Korean ride might be the one for you.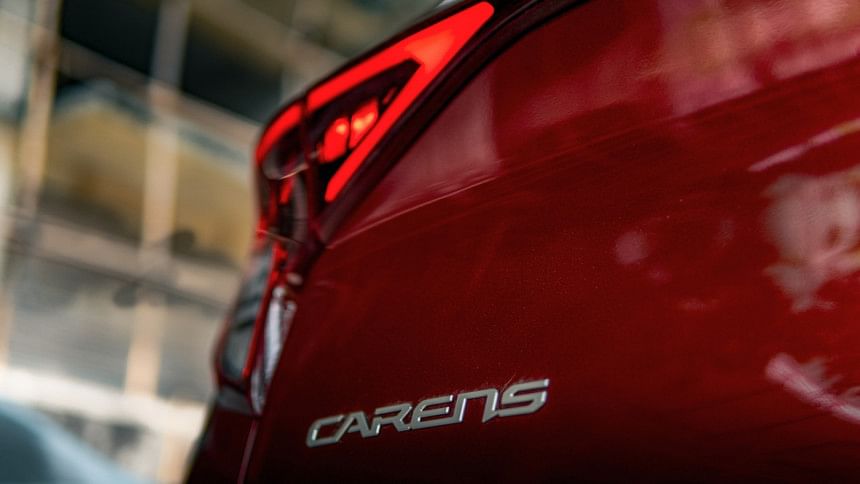 Specifications
Engine: 1.5 litre Smart Stream CVVT DOHC
Transmission: 6-speed automatic
Power: 113 Hp @ 6,300 RPM
Max Torque: 144 Nm @ 4,500 RPM
Drivetrain: Front Wheel Drive
Price: Tk 50,00,000
For details, contact Meghna Automobiles Ltd.
Features
Sunroof
Ambient lighting
Induction charger
2nd-row climate control
BOSE Audio System
Dual-zone Climate control
10.25-inch infotainment system with Android Auto and Apple CarPlay
Safety
6 SRS Airbags
ABS with EBD
Tire Pressure Monitoring System
Active Stability Control
Parking camera with sensors
All-around LED lights