Short-form videos are the future of content creation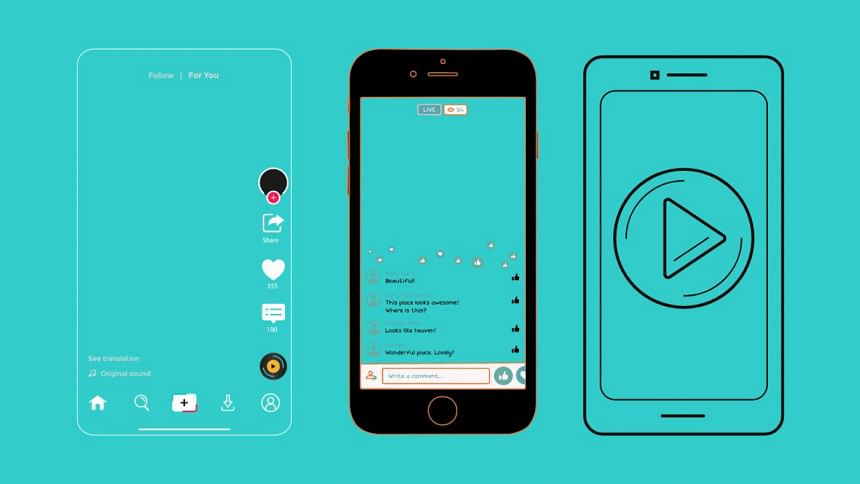 Social media has become a defining aspect of the 21st century, shaping how people live, interact, and access information. With around 4.7 billion people worldwide using social media, the influence of these platforms is impossible to ignore. They have transformed communication, making it easier and more convenient than ever before. In turn, social media and entertainment platforms have continuously developed new features to keep users engaged, and as a result, have had a significant impact on how people form relationships, access and disseminate information, and make decisions.
Using social media has, in fact, become a daily necessity, with not only individuals but also businesses relying on it to promote their products and services. Marketers use various social media platforms to promote their businesses in different ways, while internet influencers and content creators have become powerful marketing tools in the ever-evolving digital landscape.
In particular, young people are more active on social networking platforms than ever, creating content about their daily lives and sharing it on social networks. With ongoing trends and diverse challenges, young people are more inclined to share their activities virtually than through physical interactions.
Short videos, however, are the next new frontier. Short video content is quickly becoming the future of social media, as the demand for fast and easy-to-consume content continues to rise. Short video platforms like TikTok offer a unique space for creators and businesses to showcase their creativity and engage with their audience in a way that's both entertaining and informative. Short videos allow for concise messaging, making it easy for viewers to absorb information quickly, without feeling overwhelmed or bored.
In fact, TikTok has rapidly become a dominant force in the world of entertainment and content creation. With over a billion active users worldwide, it has revolutionised the way content is created and consumed. Unlike traditional platforms, TikTok's algorithm favours short-form, visually stimulating videos, making it the perfect platform for creative expression. The app's emphasis on user-generated content has democratised the creative process, allowing anyone with a smartphone to share their talents with a global audience.
TikTok enables users to create and share short videos with visual and sound effects ranging from 15 seconds to 10 minutes. Users can find a wide range of content on the platform, from dancing, music, news, and travel to vlogs and education. The platform makes it easy to create high-quality short videos by providing editing tools, music clips, sound effects, filters, and more for users to use in their video creation.
TikTok's innovative editing tools, effects, and filters provide creators with endless possibilities for customisation, encouraging experimentation and innovation. As a result, TikTok has already birthed a new generation of celebrities and influencers, and its future potential as a marketing tool is immense.
TikTok is immensely popular among young people and has numerous safety features that make it an attractive option for parents. For instance, TikTok offers the Family Pairing feature, which includes Screen Time Management, Restricted Mode, and Direct Messages, among other options. Screen Time Management allows parents to control how long their teens spend on TikTok daily. Meanwhile, Restricted Mode limits the appearance of content that may not be appropriate for the younger audience. Parents can monitor and control their children's TikTok accounts through Family Pairing, which shows TikTok's responsiveness to parental concerns.
TikTok is also highly relevant to Bangladeshi users as the platform is actively working with local communities to ensure that it remains a safe and positive space. In Bangladesh, TikTok recently introduced the Safety Ambassadors Programme, where popular changemakers joined the campaign and expressed their solidarity with TikTok's safety pledges. The Safety Ambassadors encouraged fellow creators on the platform to leverage their social power for the betterment of society through creative means.
Every social media and entertainment platform has its pros and cons, depending on how people use it. However, the tremendous popularity TikTok has gained within a short time shows how people of different ages have responded positively to the platform.
With its adaptive and accessible format, TikTok is undoubtedly the future of content creation, and it is poised to continue to change the way we consume and interact with media for years to come. As users, we can choose to leverage the platform's positive features based on our unique preferences. Ultimately, supporting TikTok's positive features will help the platform continue to grow and improve.