Prof Dr Abu Yousuf Md Abdullah awarded 'Kotler Distinguished Professor of Marketing'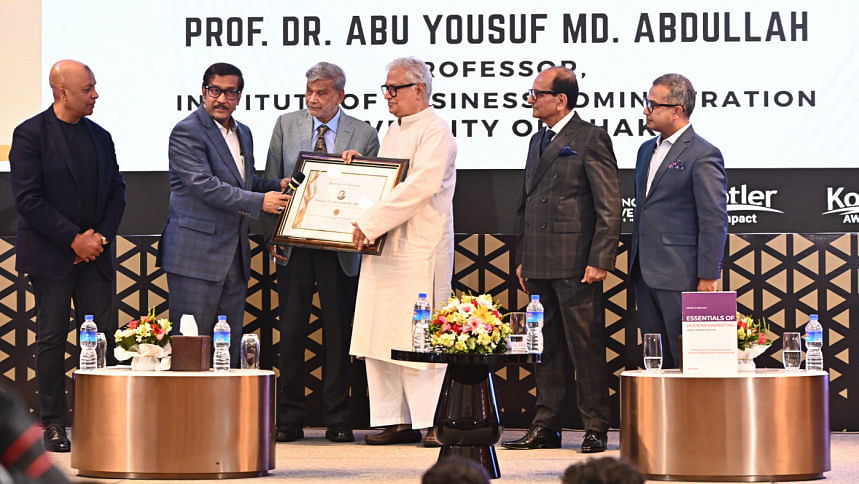 Professor Dr Abu Yousuf Md Abdullah, a renowned marketing professional with over 30 years of experience in the academic and corporate worlds, has been awarded the prestigious title of 'Kotler Distinguished Professor of Marketing' by Kotler Impact Inc in recognition of his contributions to the field of marketing. 
As a professor of marketing and international business at the Institute of Business Administration (IBA), University of Dhaka, Prof Abdullah has dedicated his career to educating and mentoring thousands of marketing professionals and corporate leaders in Bangladesh. In recent years, Professor Abdullah has dedicated his efforts to popularising modern marketing in Bangladesh through his engagement as the Global Advisor of the World Marketing Summit, his establishment of Bangladesh Institute of Modern Marketing (BIMM), and his ongoing research on numerous contemporary issues including ethical marketing, circular economy, and more. 
The award was presented by Kotler Impact Inc, the brainchild of the Father of Modern Marketing, Dr Philip Kotler – a strategic marketing community that believes in building a generation that is sustainable, evolutionary, and transformable. "As our Global Advisor, Professor Abdullah has contributed phenomenally to the development of modern marketing," said a Kotler Impact representative. "So we are proud to recognize his commitment and devotion to the cause." This is the first time since the inception of their journey that Kotler Impact has awarded an academician the 'Kotler Distinguished Professor of Marketing' title.