Our recommendations for top Wi-Fi routers in the market
The Covid-19 pandemic has made us realise the importance of a fast and reliable Wi-Fi connection at home. Even if the connection provided by an internet service provider is great, it's pointless if the Wi-Fi router can't deliver the speed reliably and within a good range. Be it online classes, office work, entertainment or random internet browsing, an efficient Wi-Fi router is essential to get it all done on time. Here are our recommendations for five Wi-Fi routers available in the local market. Please keep in mind that prices and availability may vary across stores.
Xiaomi MI 4C R4CM (Global Version)
The MI 4C R4CM smart router is great for browsing and streaming in the budget router segment. It comes with a single-band 2.4GHz channel and a maximum speed of 300Mbps, followed by strong connectivity which is reliable enough for basic needs. This device comes with an option for easy parental controls via the MI Wi-Fi app, where you can control individual content and time on the internet with ease. Wi-Fi optimisation is also included and it can cover up to a 400-500 sq. ft. range.
Price: Tk. 1,100 - 1,600/-
Data transfer rate: 300Mbps (Wi-Fi), 100Mbps (LAN)
Frequency: 2.4GHz
Antenna: 4 
Ports: 1(WAN), 2 (LAN)
Store: Star Tech, Daraz
TP-Link TL-WR845N 300Mbps Ethernet Single-Band Wi-Fi Router
The TP-Link TL-WR845N has three working modes: access point, range extender and WISP. The TP-Link tether app allows quick and easy installation of the router, which comes with three antennas for increased Wi-Fi stability. It is a good option for making Voice over Internet Protocol (VoIP) calls, streaming HD videos and online gaming. The router is capable enough to easily connect to multiple devices such as Google Home and Chromecast.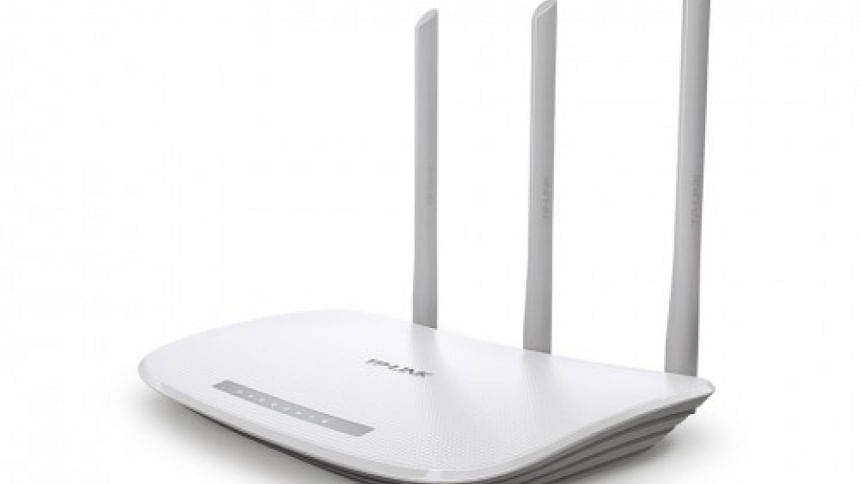 Price: Tk. 1,500 - 2,100/-
Data transfer rate: 300Mbps (Wi-Fi), 100Mbps (LAN)
Frequency: 2.4GHz
Antenna: 3 x 5dBi External Antenna
Ports: 1(WAN), 4 (LAN)
Store: Techdeal, Ryans Computers
TP-Link Archer C6 AC1200 MU-MIMO Gigabit Router
The TP-Link Archer C6 is an amazing router for your home and office with the most bang for your buck. It offers simultaneous 2.4GHz 300Mbps and 5GHz 867Mbps, for a total 1200Mbps at an available bandwidth with 4 external antennas and one internal antenna, providing optimal coverage with a stable wireless connection. It is easy to set up and install using the TP-Link Tether while offering noticeably fast Gigabit connectivity. It provides a seamless connection and prevents Wi-Fi dead zones.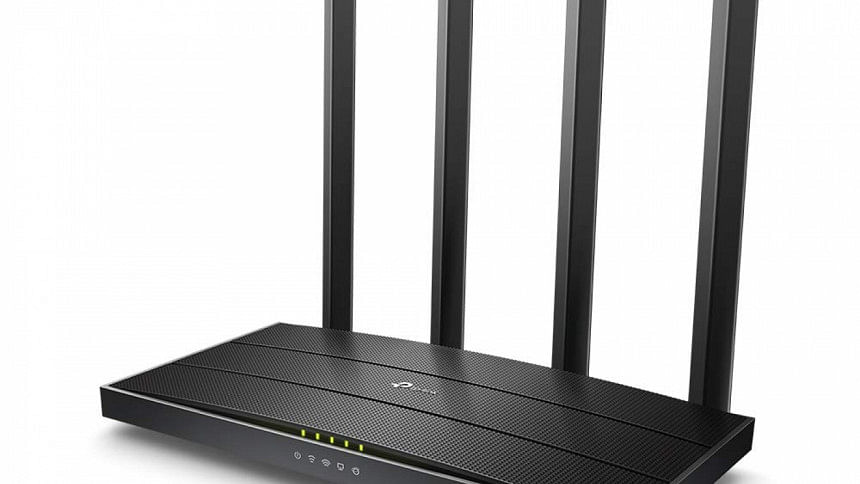 Price: Tk. 3,400 - 4,000/-
Data transfer rate: 1200Mbps (Wi-Fi), 1000Mbps (LAN)
Frequency: 2.4GHz, 5GHz
Antenna: 4 x Fixed Antennas
Ports: 1(WAN), 4 (LAN)
Store: Techland, Star Tech
Tenda F9 600Mbps Ethernet Single-Band Wi-Fi Router
The Tenda F9 is a whole home coverage router which has 600Mbps speed over a single band 2.4GHz. The transmission is more efficient and smooth compared to Tenda F3. It is quite easy to install and set up as it supports Smartphone APP remote management. The router features 4x6dBi High-gain Omni directional antennas. It also has a Beamforming function which enhances Wi-Fi range and stability, covering up to 2000 sq. ft.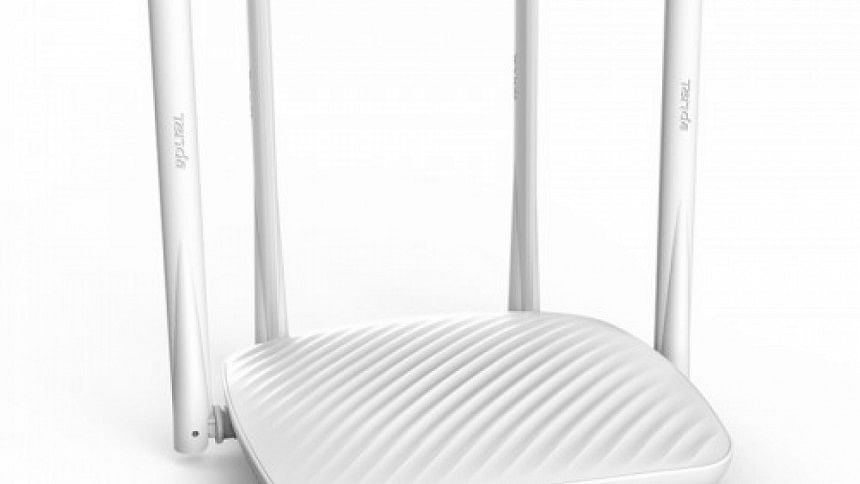 Price: Tk. 1,800 - 2,400/-
Data transfer rate: 600Mbps (Wi-Fi)
Frequency: 2.4GHz
Antenna: 4 x 6dBi External Antenna
Ports: 1 (WAN), 3 (LAN)
Store: Ryans Computers, Star Tech
Asus RT-AX55 AX-1800Mbps Gigabit Dual-Band (Wi-Fi 6 Router)
Despite being the most expensive option on the list, the Asus RT-AX55 is one of the fastest and cheapest next-gen Wi-Fi 6 routers available in Bangladesh. It supports NitroQAM (1024-QAM) technology for faster wireless connections with a networking speed of 2.4GHz 574Mbps and 5GHz 1201Mbps, for a total 1800Mbps. It has a massive range of around 3,700 sq. ft. with an increased capacity and efficiency supporting not only MU-MIMO but also OFDMA technique to communicate effectively with multiple devices simultaneously and efficiently allocate channels. It comes with lifetime AiProtection where it blocks all internet security threats for all connected smart devices. RT-AX55 has a 1.5GHz quad-core CPU, 256MB RAM, 128MB (Flash) storage and can connect up to 40 users at a time, making it a good choice for public places such as restaurants and offices.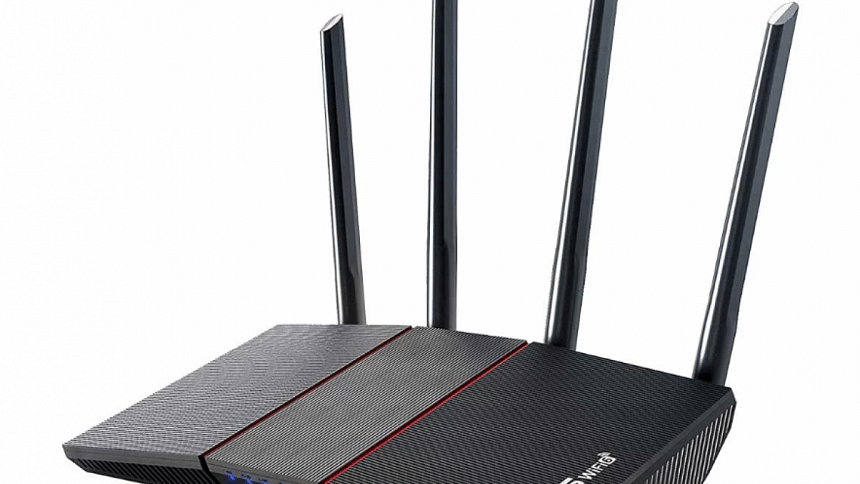 Price: Tk. 10,500 - 12,500/-
Data transfer rate: 1800Mbps (Wi-Fi), 1000Mbps (LAN)
Frequency: 2.4GHz, 5GHz
Antenna: 4 x 5dbi External Antenna
Ports: 1(WAN), 4 (LAN)
Store: Techland, Ryans Computers