Meet this year's Ramon Magsaysay Award winners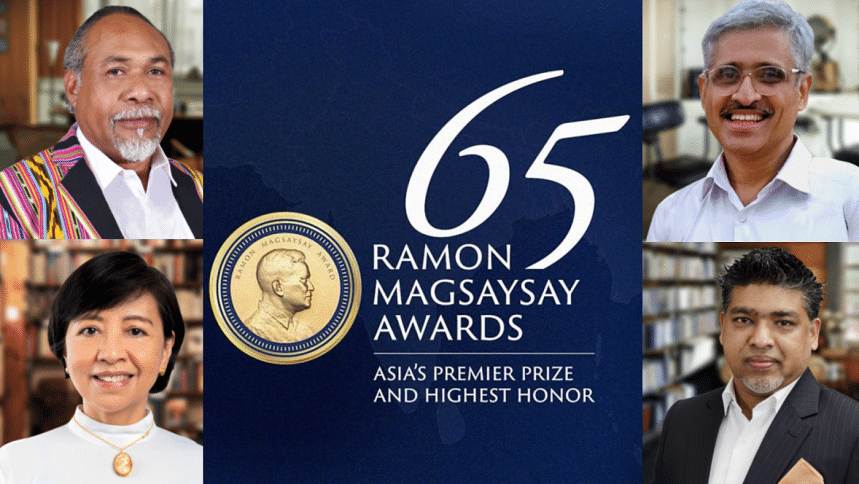 The Ramon Magsaysay Award, often called the 'Nobel Prize of Asia', is a notable accolade that represents exceptional spirit and influential leadership. Since its inception in 1958, the award has been granted to over three hundred remarkable individuals and groups. Their altruistic contributions have provided effective resolutions to some of the most demanding issues in human progress, enriching Asia and the continental community in the process. 
This year, in the ceremony's 65th iteration, four Asians were given the Ramon Magsaysay Award, joining the ranks of Sir Fazle Hasan Abed, Mother Teresa, Dalai Lama, Satyajit Ray, and many others. They are Korvi Rakshand from Bangladesh, Eugenio Lemos from Timor-Leste, Miriam Coronel-Ferrer from the Philippines, and Dr Ravi Kannan R. from India. Let's take a brief look at these esteemed individuals.
Korvi Rakshand, Bangladesh
Korvi Rakshand, the founder of the non-profit organisation JAAGO Foundation, is the 13th Bangladeshi to have received the prestigious Ramon Magsaysay Award. Since its inception in 2007, JAAGO has grown exponentially; providing free, government-recognised English language education to over 30,000 students throughout Bangladesh.
Ramon Magsaysay Award Foundation, Rakshand was recognised for his notable work in developing inclusive education for the underprivileged children in Bangladesh, which has further led to local youths adopting much-needed societal changes. 
Eugenio Lemos, Timor-Leste
Eugenio Lemos, from the Southeast Asian country of Timor-Leste, is an agriculture expert who has helped the Timorese community embrace new ways to appreciate agriculture and nature preservation. Since his university days, Lemos promoted organic farming, and after being introduced to modern sustainable agrosystems, he started working on implementing similar methods alongside the traditional Timorese culture. 
In 2001, Lemos established the organisation called Permakultura Timor-Lorosa'e (Permatil), which hosts training camps for youths aged seventeen and above. In this training program, the students are taught lessons on water and natural resource management, agriculture, aquaculture, and agroforestry.  
According to the Ramon Magsaysay Award Foundation, Lemos is an activist, a songwriter, and a singer, who isn't shy of using his songs to talk about social issues to the general public. He is known by his local community as a down-to-earth individual who has made notable contributions to how young Timorese views nature and their surroundings. 
Miriam Coronel-Ferrer, Philippines
Since the late 1970s, Miriam Coronel-Ferrer has played notable contributions in settling war disputes and resisting her country's martial rule. This peace negotiator from the Philippines was part of the drafting of the country's first 'National Action Plan on Women, Peace, and Security', an agenda that was eventually officially adopted in 2010.
Coronel-Ferrer is known for her strong stance on global political issues and for endorsing inclusivity, being appointed the Chairperson for the Philippine Government's Peace Panel in 2012. She co-founded the group called Southeast Asian Women Peace Mediators in 2020, providing a safe dialogue space for women in the Phillippines and other Asian countries such as Myanmar and Afghanistan. 
According to the Ramon Magsaysay Award Foundation, Coronel-Ferrer was recognised for the award due to her "unwavering belief in the transformative power of non-violent strategies in peacebuilding", among other notable contributions that have made her a powerful voice that promotes inclusion, demotes violence, and preaches peace for women everywhere.
Dr Ravi Kannan R., India
Dr Ravi Kannan R., the first formally trained oncologist in the Cachar Cancer Hospital and Research Centre (CCHRC), helped develop the non-profit facility to become the full-fledged, comprehensive treatment centre it is known as today. The current CCHRC is home to twenty-eight departments, including but not limited to various aspects of cancer care such as oncology, radiology, tumour registry, etc. 
CCHRC, under Kannan's leadership, aims to become a state-of-the-art cancer centre where no patient, regardless of background or status, will be denied appropriate cancer treatment. The hospital's mantra revolves around taking care of anyone in need of cancer care, with special emphasis on taking care of families suffering from poverty or grief. 
According to the Ramon Magsaysay Award Foundation, Kannan was selected for this year's award because of his strong devotion to his medical profession, focusing on what medicine is truly for: pro-health and people-centred treatment. Kannan and his institution have helped millions in India, including locals from Assam, find a reliable and inclusive healthcare facility.