Cardiovascular diseases: A rising concern for young people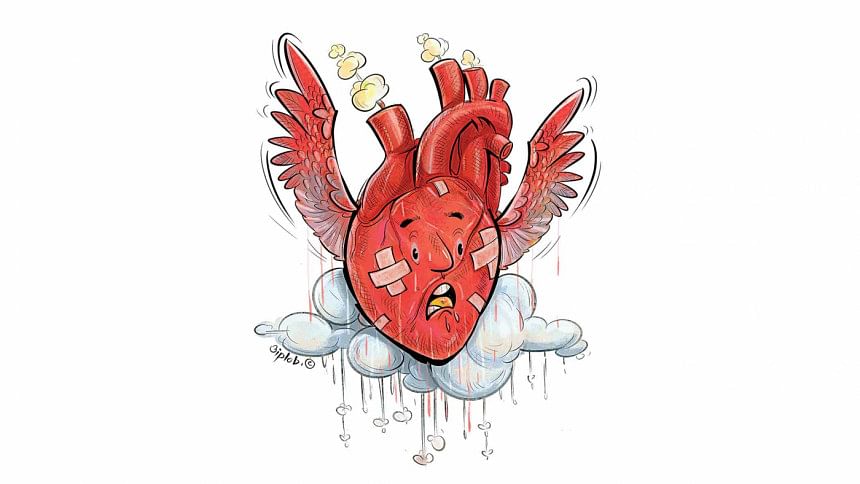 "I never imagined that I would have a heart problem."
Thirty-three-year-old Mamun Hossain had never felt any chest pain before. Neither did he have pre-existing conditions that made him feel concerned about his heart health. Even when he felt squeezing across the chest, numbness of an arm with excessive sweating on an August night last year, he was still convinced it was anything but his heart.
"I had no idea that I was having a heart attack. I just ignored it thinking it to be indigestion. I took some medicine for relieving acid reflux, but things only deteriorated. I sensed that something just isn't right," said Mamun, who works at a private firm in Dhaka.
By the time he was admitted to a private hospital the next day, around 17 hours went by. But before the doctors could start diagnosis, he tested positive for Covid-19, delaying the treatment for a few days. A coronary angiogram then revealed a 95-percent blockage of the main artery, prompting the doctors to put a stent in immediately.
"The scariest thing is that I did not know enough about heart attacks or heart health at that time. Although I had been feeling exhausted most of my time and breathless while climbing stairs for the past few years, I dismissed these early symptoms as I thought I was yet to hit the age to have an attack," Mamun said.
This is not an isolated case of having a heart attack at a young age. Experts say heart attack, cardiac arrest, and other cardiovascular diseases (CVDs) are becoming more common in the younger age group than it was 10-15 years back.
They attributed smoking, obesity, lack of physical activity, hypertension, diabetes, and constant stress and anxiety as the reasons behind the rising number of younger patients.
However, there has been no survey to put a figure around the total number of cardiac patients, especially the youths, in Bangladesh. According to a non-communicable disease risk factor survey-2018, some 15.5 percent of Bangladeshis, aged 40-69 years, are at risk of cardiovascular diseases.
Prof Mir Jamal Uddin, director at the National Institute of Cardiovascular Diseases, the lone specialised public hospital for cardiac care, said around 30 percent of total patients coming to the hospital in recent years are aged below 50 which was just the reverse even 10 years ago.
"Smoking, unhealthy diet, inactivity, and stressful conditions along with other health conditions hypertension and diabetes are the key reasons for the heart attack of the younger generation," he told The Daily Star.
CVDs are the leading cause of death globally. An estimated 17.9 million people died from CVDs in 2019, representing 32 percent of all global deaths, according to the World Health Organization.
In Bangladesh, patients suffering from CVDs top the list of people with non-communicable diseases.
According to a Bangladesh Bureau of Statistics (BBS) report published in 2021, the death toll from cardiac arrests increased in 2020 compared to 2019.
The report styled "Monitoring the Situation of Vital Statistics of Bangladesh" said of the total deaths in the country, 21.1 percent of total deaths were caused by heart attacks in 2020 whereas it was 17.9 percent in 2019.
"MATTER OF GRAVE CONCERN"
Experts say that young people in the prime of their lives tend not to feel sick until a serious illness manifests advanced symptoms of a deteriorating condition – which can prove detrimental for them.
The number of cardiovascular patients is increasing gradually in the country, and so is the general awareness of the disease. Yet, many young people still do not perceive themselves at risk for such disease and do not turn for health check-ups unless the situation turns severe, they said.
"It's a matter of grave concern that the prevalence of heart disease among the young population is rising. But they still do not perceive themselves to be at risk for future CVDs," Prof Afzalur Rahman, the senior consultant of the cardiology department of United Hospital.
He said that the young population in urban areas are suffering from heart disease more than the rural people and it is because of the inactivity and food habits of the younger generation in the urban areas.
Unless the young generation clearly understands the development of the disease and has the knowledge to encounter it, cardiovascular diseases will be a major cause for concern, he said.
Awareness is key to preventing cardiovascular diseases and the awareness programmes need to be dispersed divisionally, the health experts pointed out.
They suggested that people should include the habit of walking in their everyday schedules, eat a proper diet that includes more fruits and vegetables and avoid smoking.
Patients with underlying heart diseases need immediate medical attention and early detection and management, particularly for high-risk individuals, monitoring and treatment with real-time response to acute situations could save many lives, they added.
"Special programmes should be taken targeting the young people about healthy lifestyle and proper diet to prevent the younger generation from developing heart diseases," said Prof Afzalur Rahman, also the former director at NICVD.