The increasing necessity of foreign admission events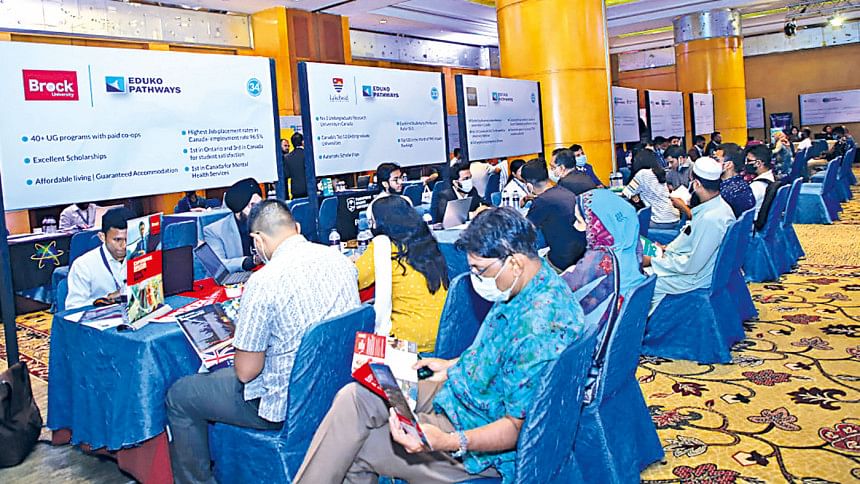 In recent years, the prospect of pursuing one's higher education abroad has grown tenfold, with numerous Bangladeshis boasting success stories in top-ranked universities around the world.
However, a huge demographic of potential applicants still struggles with kick-starting their application process due to a lack of concrete information. Given that applying abroad is a slippery slope that involves a heap of components, lots of people are still unclear on how to get started. It doesn't help that every country has their unique application procedure either, each with its own set of hurdles.
This is where admissions fairs and events come in and play a vital role.
To make information more accessible and convenient for the general masses, admission fairs bring representatives from several institutions into a shared space so that potential applicants can connect with them. Since they're held both virtually and in person, students and their parents can sit down with the representatives to discuss the prospects of each institution, which enables them to widen their college list and gain more first-hand knowledge regarding  the admission process.
Eduko Pathways Bangladesh, one of the most popular education consultancies in the country, has been arranging education events like this to aid applicants throughout their journey.
According to Qazi Yamin Kabir Tushar, Chief Marketing Officer, Eduko Pathways Bangladesh, the multinational company's biggest selling point lies in their active pursuit to keep their services and offerings free of cost.
"We believe that there shouldn't be a cost barrier to accessing information, which is why we offer everything from peer counselling to VISA processing support at no cost," he said.
He added, "The fact that Eduko operates as a single hub that can provide you with all the necessary details to create plans catered to your specific needs makes our services extremely desirable to students."
Meanwhile, one of Eduko's most impactful initiatives is their regular admissions events. Over the last two and a half years, they have successfully hosted two major education expos, both of which were held at The Westin Dhaka. Both events were lauded by students, caretakers, and educators alike for being wonderful events for academic and social leverage.
Furthermore, Eduko Pathways Bangladesh hosted one of the grandest foreign education expos the country has seen on August 18, titled "Study Abroad with Eduko 2023". The event, which was also held at The Westin Dhaka, offered students a platform unlike any other to explore and learn about over 90 universities from countries like the USA, Canada, Australia, Malaysia, etc. Entry to this education expo was free of cost.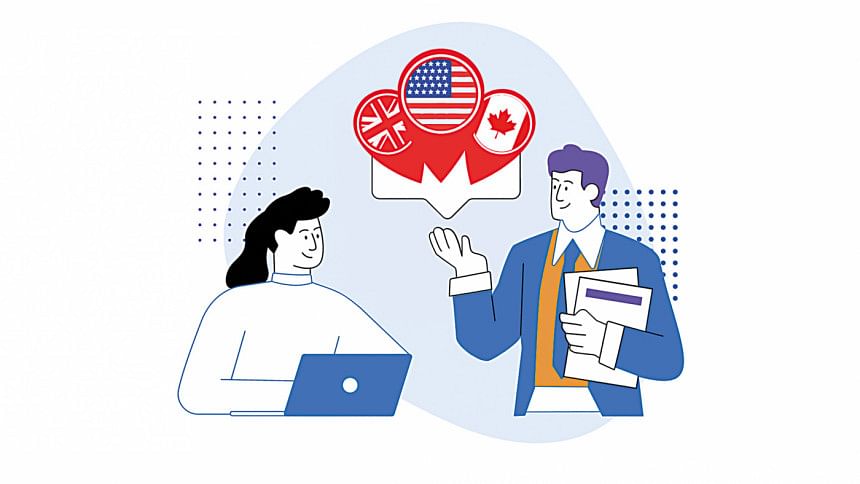 "Bangladeshi high school, Bachelor, and Master's students connected with a pool of top-notch foreign universities and got offered their next pursuit of academic journey at the event. This was a great opportunity to socially connect with the academic world and also open up newer doors for oneself to studying and living abroad across the globe," informed Qazi Yamin Kabir Tushar.
One might think that these events only serve as an outlet for people to gain valuable insights into the institutions they had their eyes on, but in reality, they have so much more to offer. Students can get their academic and extracurricular profiles assessed on-spot by representatives and esteemed faculty members to understand which programs can best suit their needs.
They can also get their financial situation evaluated to figure out which universities offer the best scholarship and aid packages. Additionally, they can even check to see if they are eligible to be granted generous scholarships.
Qazi Yamin Kabir Tushar believes that these events provide exclusive support to applicants who otherwise wouldn't receive it in any other way.
"Being able to talk to representatives and admissions officers face-to-face and in-person is a completely different playing field than if you communicated over email or scheduled an online call with them," he emphasised. "Conversations flow much more naturally when you can see each other's facial expressions and body language, and can talk informally. You can take up some of their time to address your or your guardians' concerns regarding a particular university's housing facilities, extracurricular opportunities, and even entertainment provisions!"
Alyina Ahmed, who got into the University of Waterloo in Canada with an Entrance Scholarship, spoke volumes in favour of the positive impact Eduko Pathways' services had on her application process. Having attended virtual expos herself, she believes that more people should take notice of such events.
"Although the events I attended were virtual, they allowed me to connect with speakers from my universities of choice and learn about their application cycles, available scholarships, and specific courses. Connecting upfront and increasing your social network lets you broaden your university search much more, and I would encourage prospective applicants to attend such events if they can," she remarked.
Attending admissions fairs and events can have a profound impact on an applicant's long and strenuous journey. Therefore, if you're someone who is preparing to apply abroad soon, these events should definitely be on your radar.