Special Remembrance: Justice Shahabuddin Ahmed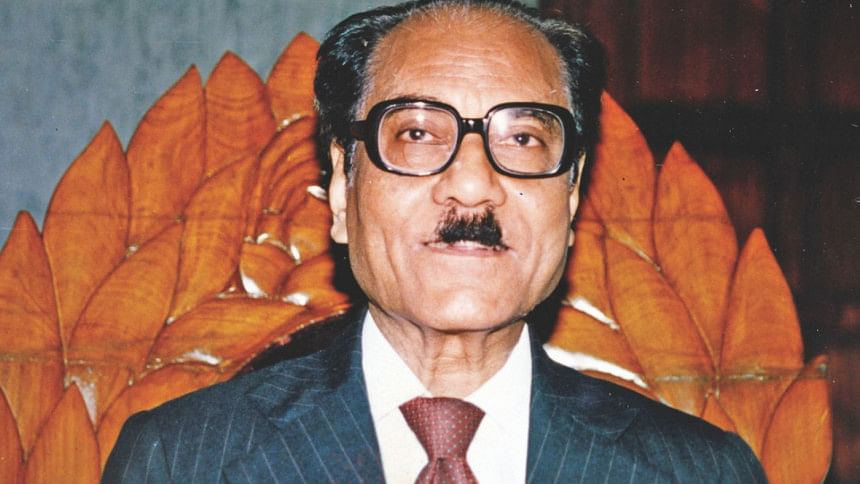 On the occasion of our 25th Anniversary, The Daily Star proudly recollects the singular contribution of Justice Shahabuddin for steering the Nation from autocracy to democracy during those turbulent days of 1990-1991. It was his sagacity, steadfastness and unwavering commitment to democracy that helped us back on the path to democracy after having lost it with the murder of Bangabandhu.
In a remarkable display of courage, leadership, clarity of vision, impartiality and unfaltering commitment to national interest, Justice Shahabuddin gave us what was till then an impossible dream -- a free, fair and peaceful election. His 306 days Presidency was low on profile and high or performance. He was not an actor of the events that propelled him to the centre stage power but a superb manger of the consequences of those events -- starting from organising and running the interim government, to convincing all the political parties to follow his plan, to holding a free and fair election and finally creating his own replacement and returning to the judiciary where he came from and where he wanted to return to.
In an editorial title "Tribute to Shahabuddin" published on the eve of his departure from Presidency this paper wrote, on Oct 10, 1991: 
"We have had leaders of many kinds: charismatic, visionary, intellectual and of course corrupt. But never one as unassuming, low-key, committed, focused and so completely devoid of any inclination to cling to power.  As he left the office of the President, Justice Shahbuddin stood tall and for his accomplishments the nation stood taller."
We wanted to include him in the Honour Roll of the "Lifetime Achievers" but the lifelong shy and low-key person refused spotlight even at the sunset of his life.
On our 25th Anniversary we remember him with gratitude for what he did and with pride of what he stood for.
-Editor 
---
Justice Shahabuddin Ahmed, former President of Bangladesh, was born on February 1, 1930, at Pemal village under Kendua thana of Netrakona district. An outstanding student, he completed his BA (Hons) in Economics in 1951 and MA in International Relations in 1952 from Dhaka University. He also attended a special course in on Public Administration in the University of Oxford, following his entry into the Civil Service of Pakistan (CSP) in 1954.  
During his career as an administrator – a role in which he excelled – he served as a Sub-Divisional Officer of Gopalganj and Natore, before being promoted to the post of Additional Deputy Commissioner of Faridpur. 
He was transferred to the judicial branch in June 1960, and appointed the Registrar of the Dhaka High Court in 1967. He was promoted to the bench as a judge of the High Court of Bangladesh on January 20, 1972, and subsequently, appointed a judge of the Appellate Division of the Supreme Court of Bangladesh on February 7, 1980. 
Justice Shahabuddin was the chairman of the Commission of Enquiry formed to investigate the causes of police firing on agitating students of Dhaka University in 1983, which led to the deaths of several students. His detailed report, however, was never made public by the then government. 
He served as chairman of Bangladesh Red Cross Society from August 1978 to April 1982. 
Shahabuddin Ahmed was appointed Chief Justice of Bangladesh on 14 January 1990. On December 6, as the country celebrated the fall of Ershad and the end of autocratic rule, he assumed the position of Acting President of the country. It was under his leadership that a non-partisan caretaker government was formed, and a free and fair election held in the country in February 1991. He amended a number of draconian laws, which revived freedom of the press and freedom of expression in the country. After successfully completing his term as Acting President, he left the Bangabhaban on Oct 10, 1991 and resumed his duties as Chief Justice, before finally retiring on February 1, 1995. He left behind a sovereign parliament, a popularly elected leadership, a unanimously adopted form of government and, most importantly, a Constitution that has been shorn of its undemocratic features.
Justice Shahabuddin was elected the President of the country on July 23, 1996 having been nominated by the Awami League government. He was sworn-in as the President on October 9, 1996 and retired from the Presidency on November 14, 2001.