StanChart: caring for customers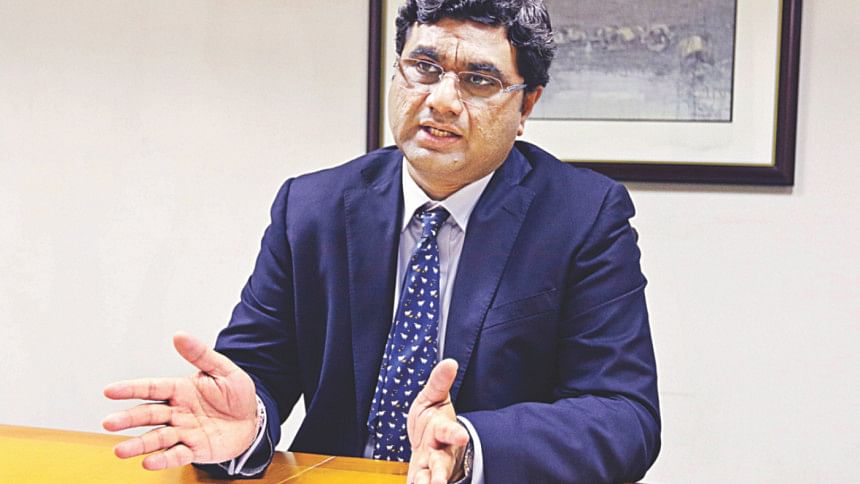 Standard Chartered Bank has taken the convenience of personal banking to a new height in Bangladesh.
The UK-based bank's priority banking is tailor-made to suit the lifestyle of high-net-worth clients, catering to their unique needs.
Through priority banking, the bank is focused on offering a comprehensive range of personalised financial solutions for their clients.
Aditya Mandloi, head of retail banking for the bank in Bangladesh, said the core service in priority banking and overall retail banking is keeping the customers at the centre of everything the bank does.
"We are striving to achieve this particular motto – if the customers, if at all, require something, they should just ask once and we will ensure that it gets done."
With development and steady growth momentum of the Bangladesh economy, individual income for the affluent segment will continue to increase over the period and form a large pool of quality priority banking clients, according to Standard Chartered.
As the market opens new horizons, there will be increasing demand for sophisticated priority banking solutions, like wealth management products along with special financial advisory services. 
"As a bank, with our global experience, we always have first-mover advantage to offer the best in class value-added services to our priority clients," said Mandloi.
Standard Chartered rolled out priority banking in Bangladesh in 2001, becoming the first bank to do so, and setting the trend and benchmark. It revamped its priority banking services in 2010. 
Over the years, its priority banking has evolved into the most premium banking experience and is deemed as a benchmark in the industry, said the bank. At present, it has 16,500 priority banking customers.
Standard Chartered priority banking has a selected pool of highly-skilled and dedicated relationship managers assigned for the priority clients to proactively serve and oversee their total financial relationship.
Every single priority banking customer is given a well-trained relationship manager. As a result, the service brings in a personal feel to the entire banking relationship.
Secondly, the bank looks at customers as family, not as individuals. They are served by 80 relationship managers and service personnel at six priority centres.
The latest priority centre, located in Mirpur, will open this month. The bank has three priority centres in Dhaka and one each in Sylhet and Chittagong. 
"We are constantly keeping our customers at the centre of everything we do and bringing in innovations and new products and services," said Mandloi.
"We are conscious about the pace and standards set in the past. We hope to continue setting the same high standards of excellence around our services, products and innovations going forward."
The priority clients enjoy exclusive pricing privileges and other exclusive value propositions for banking products and services. Some of the privileges are -- shortest turnaround for banking services, and emergency cash withdrawal facilities at 11 international Standard Chartered locations up to $5,000 a day.
The priority banking clients experience 'Ask Once and It's Done' service with dedicated priority banking centres, tellers and hotlines across countries where the bank is present.
From banking transactions to new product applications -- ranging from deposits to property loans, auto loans, credit cards and business loans -- the overall process is both simplified and fast-tracked.
With the bank's Visa Signature credit card, the priority customers can enjoy free unlimited lounge access at Hazrat Shahjalal International Airport in Dhaka with three accompanying travellers.
Clients will also get free priority pass along with signature credit cards, which come with unlimited free access to lounges at 850 airports in over 400 cities.
The bank has more than 250 priority centres across 31 markets and they would treat Bangladeshi priority customers uniformly.
The Asia-focused bank has more than 3,000 special deals by way of discounts in its key markets in North Asia, South Asia and India.
"These are countries and cities where a lot of Bangladeshis travel for business purposes or for holiday and can take advantage of these deals," said Mandloi.
The bank said it truly values its relationship with its priority clients, inviting them to exclusive events like inaugural dinners, lifestyle events, movie screenings, and micromarketing events.
On the risk of too many banks running after too few priority banking clients, Mandloi said, "The market in Bangladesh is extremely exciting. It has a lot of depth. The market is big enough for a lot of players."
As the country's per capita income goes up, more and more people will be eligible for being priority customers. "We will be ready to cater to as many individuals who will like to bank with us."
The bank will open its flagship branch in Chittagong by this year. In fact, it opened its first branch in Chittagong 111 years ago.
He said Bangladesh is a core market for the bank and it is investing in the country.
Retail contributes about 40 percent to the bank's revenue income in Bangladesh.
"We expect that over a period of time, a lot of transactions will take place through mobile platforms, given the higher level of mobile penetration in Bangladesh."
He said 'tablet banking' has started off well, and close to half of the bank's frontline sales force is using it.
The Titanium cards have seen such a resounding start that the bank has been the number one credit card issuer in Bangladesh for the last four months.
A customer must have a 'relationship value' of Tk 35 lakh to become a priority customer.