Rich history and tradition of our sweets
As a nation, we find a way of sneaking food into every celebration and occasion, especially sweets, and we Bengalis have a palate as sweet as our language. The various sweets that we have fill our plates with colour and flavour just like the new year fills up our lives with hope and optimism.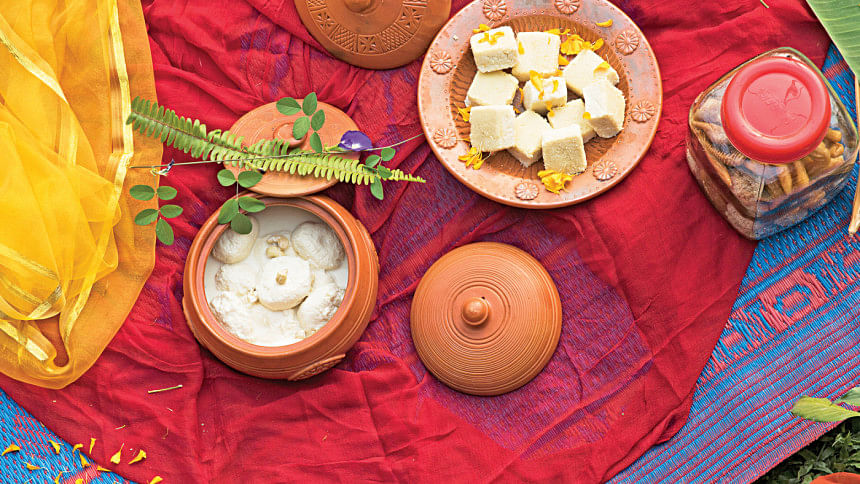 Taking a sweet voyage across our country would unveil so many hidden gems within our culinary trove. Starting with the central hub, Dhaka is known for its rich cultural heritage and grandeur, and Dhaka's food resonates with this, especially the food of Old Dhaka where the Mughal influence remains.
The shahi jilapi is a true reflection of this. While others debate about mota or chikon jilapi being the best kind, shahi jilapi belongs to an entirely different league! But not all regal desserts belong to Dhaka, turns out amritti is actually from Barishal!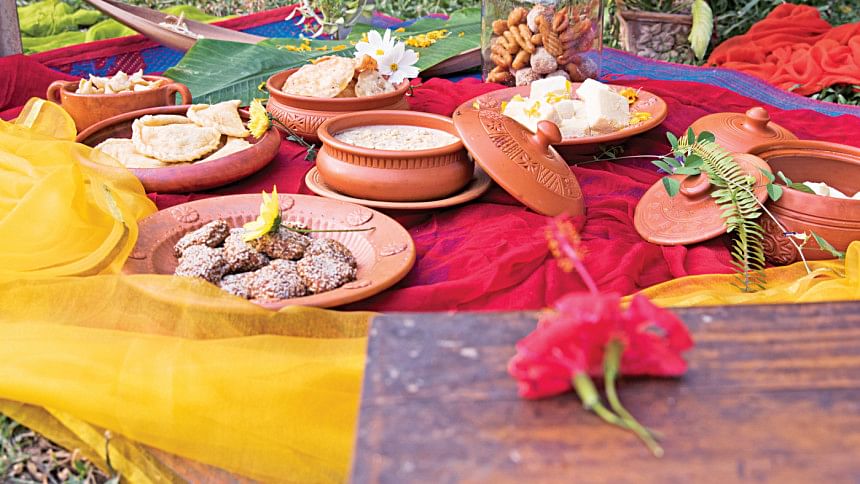 It is not only Dhaka's delicacies that have earned name and fame owing to its rich heritage, but so has Tangail, which is now synonymous with chomchom, credited to the legendary Porabari chomchom. Despite its unbeatable fame, many may argue that chomchom of other places also deserves equal attention, such as that of Kurigram, where the sweet is lighter in comparison to that of Tangail.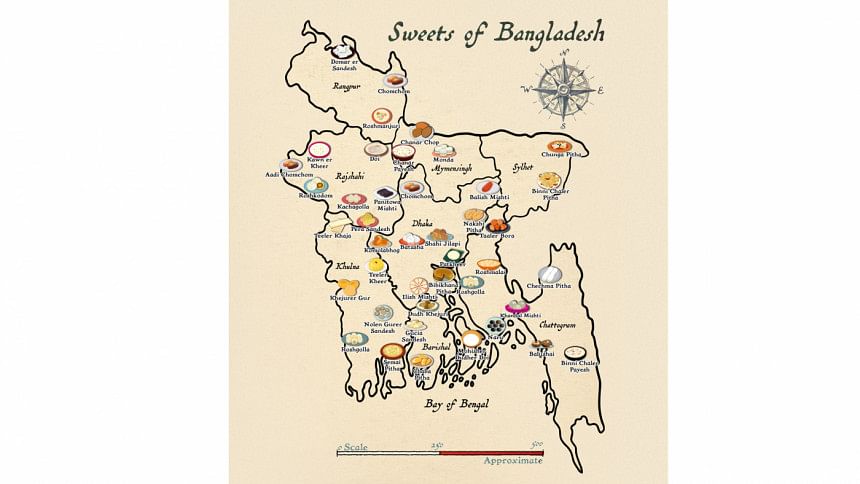 The case of sweets, or any food for that matter in Bangladesh, is such that it is difficult to neatly segment into one district. Our food preferences and availability have become so dispersed that there are sweets that are hard to fit in one place. Sandesh is one such with its varied types such as pera sandesh and jaggery sandesh, spread out among various districts.     
But what is truly debatable is the case of roshgolla.
And in this case, the debate spreads beyond the border too! While some claim it hails from Chandpur and others say the Gopalganj variant tastes best, these soft, fluffy white balls of deliciousness, although they can also be dry and brown, may look harmless but stir up serious conversations and debates! 
If you were to drop the pin in only one district that resembles roshmalai, which would it be? Undoubtedly Cumilla owing to the daily long queues outside Matri Bhandar, but a debate persists here as well.  Some would argue it is too sweet for the tastebuds and that of Jamalpur or Brahmanbaria is more succulent to taste, or that the super-sized ones available at Jhalakathi are more preferred. 
Some have simply changed the name of roshmalai entirely! Such is the case of roshmanjuri in Gaibandha, which is essentially roshmalai with a different name. But it is not only brands or shops that make a particular sweet famous in the region, it can be the area too – take Mahasthangarh katkati or chomchom of Shibganj for example.
On the other hand, some sweets like batasha hold exclusivity. Ever wondered if this sweet is rare or diminishing in popularity? Turns out we see it lesser every day only because we are growing older! Batasha is a sweet exclusive to our colourful and lively fairs, thus, as we grow older and stop visiting these fairs, we tend to see these less too.
Living in a riverine country, the majestic rivers of Bangladesh have great influence over our lifestyle and food habits. While superficially this refers to having a diet rich with fish for most of the populace, have the mighty rivers grasped our dessert plate as well? Turns out they have!
It is said that hilsa of Madaripur is one of the best solely for being sourced from the Padma, and this vast popularity of hilsa has influenced the district's dessert choices, as locals came up with their own ilish mishti (also known as peti mishti), which is a sweet textured like a soft sandesh.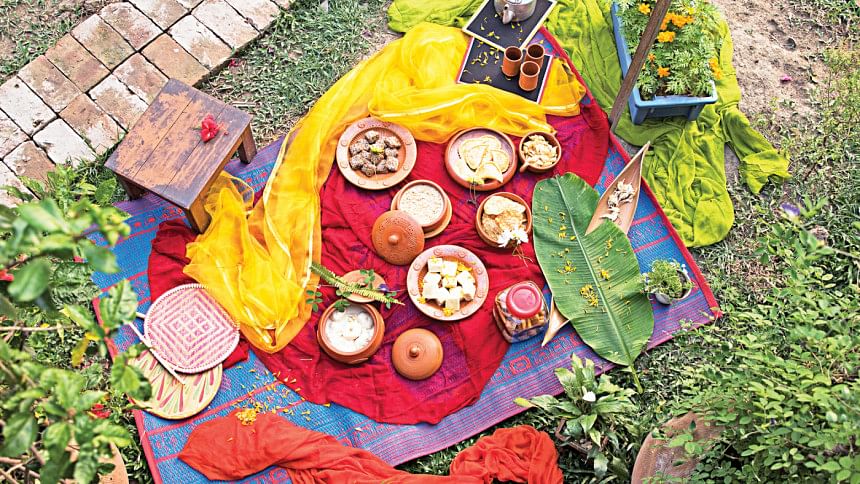 The sweets of Bangladesh come in various shapes and sizes, and how can we leave out pitha from this discussion? From intricate nakshi pitha from Narshingdi to chunga and chechma pitha from the hilly regions or the variety existing in Noakhali and Barguna, the differentiated pithas are our pride.
Bangladesh has sweets aplenty and if all of them were to be listed and put into districts, it would become a never-ending one! This highly concise and classified map itself took a month to curate. Despite it all, these sweets can be bucket-list items to try out just as how we explore historical monuments and picturesque sites when we travel across the country.
So, how many have you tried from here?  
Special thanks to Uday Shanker Biswas, Professor – Department of Folklore, University of Rajshahi, and Chef Subhabrata Maitra, Restaurateur and Culinary Instructor for the guidance and support to curate this map of Bangladeshi sweets.
Illustration: Ashif Ahmed Rudro 
Photo: Sazzad Ibne Sayed