Strides made in ensuring water supply, latrine services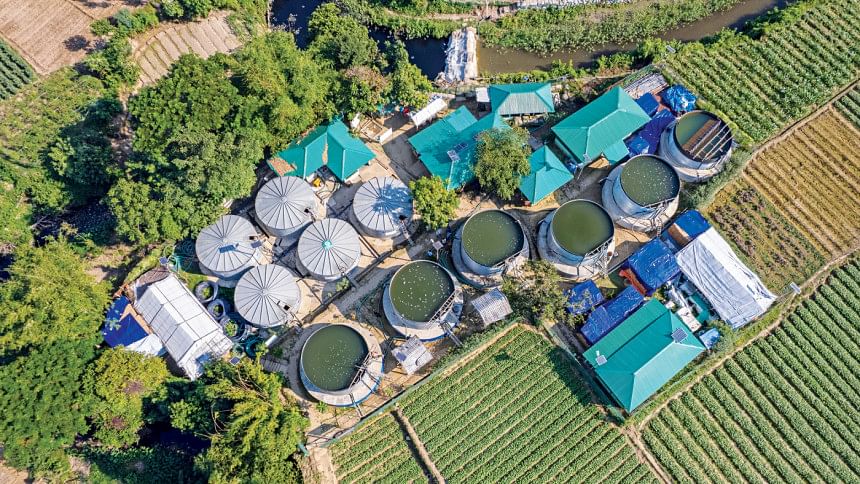 Fifty-year-old Md Karim (pseudonym), who lives in the Unchiprang Rohingya Refugee Camp in Teknaf, collects water in some 15 jerry cans from a perennially crowded collection point on a daily basis.
"Yet, this water is very little considering our need," said Karim, who has a family of nine.
"For bathing and going to the toilet, I collect water from other sources that are a bit further away from the camp, but those dry up sometimes," he added.
To Karim, water scarcity is the biggest challenge in the camp as groundwater is not available.
He then informed that they are forced to bathe in turns.
"Men shower once every three to four days while it is more challenging for women as they get to bathe once a week," Karim said.
Like Karim, there are 22,000 Rohingya living in the camp, where water scarcity has been severe ever since the refugee influx in 2017.
As groundwater is not available, the refugees' sufferings for water was so high that development agencies first ensured water supply in this particular camp.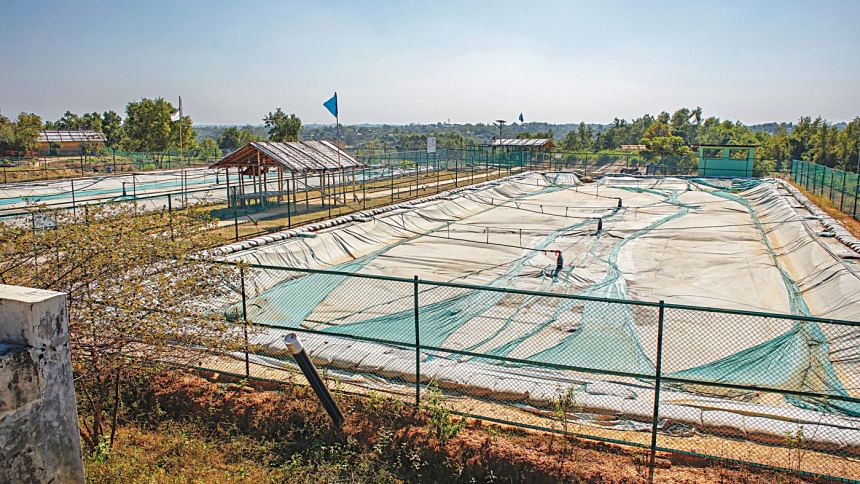 So, Oxfam established a surface water plant in the camp in 2017, through which clean and safe water is regularly supplied to each of the refugees.
"When we analysed the situation, we found that water scarcity is the biggest gap. Moreover, the groundwater level was not feasible to extract water and so, we surveyed the area for surface water sources," Araf Al Saad, public health engineer of Oxfam, recently told The Daily Star.
"Initially, we started supplying water on a very limited scale. Gradually it was scaled up and now we can supply five lakh litres of water everyday in this camp alone," Araf said.
He went on to say that Oxfam has ensured water supply not only in the Unchiprang camp, but also other Rohingya camps in Teknaf and Ukhia so that around two lakh people can have access to both surface and groundwater.
Still, the crisis is not over as sanitation remains another big challenge in the camps.
In 2017, around 1 million Rohingya people fled from Myanmar to Bangladesh, leading to the formation of a vast network of refugee camps.
One of the biggest tasks was to provide enough toilets for them as fast as possible. Thousands of shallow pit latrines were dug, creating a huge challenge of managing the massive amount of waste generated.
To add to the challenge, the camp locations are steep, hilly terrain that are prone to landslides and monsoon flooding, putting huge stress on the sanitation systems that are vital to prevent the spread of disease.
"So, Oxfam being a global leader in water and sanitation in the humanitarian context tried to solve this major issue of latrine waste management," Araf added.
In 2018, Oxfam established the largest faecal sludge treatment plant in the humanitarian context in Ukhiya camp. With the capacity to manage 120 cubic metres of faecal sludge each day, the facility serves a population of 150,000 and receives waste from five to seven camps, Oxfam officials said.
The facility is a biological treatment plant and gravitational force is the main driving energy to operate it.
Till now, Oxfam has built two large scale faecal sludge treatment plants for Rohingya refugees.
Meanwhile, the third one to be constructed in Teknaf is in the designing phase. Altogether, these three large scale centralised faecal sludge treatment plants will support around half a million people living in the camps and host communities regarding their latrine waste management.
Kulsum Begum (pseudonym), a mother of four children living in Unchiprang camp, said the toilets would previously overflow within seven days.
"Moreover, we had to suffer from various diseases. But now, we don't need to set up new toilets as the waste is now collected regularly," she added.