Centenarian Shahida Begum was a few days shy of her hundredth birthday, a reason why most of her children and grandchildren, with their own sets of grandchildren, made the trip to her quaint village homestead in Bheramara, Khustia.
Shahida could not be bothered with the years, mere numbers in her lifespan; it was seeing the entire family and what she would cook for them that mattered.
Petite in frame, and ailed by osteoporosis, Shahida had 'stooped over' in posture with time. Married off at the age of 12 to her widowed brother-in-law, the iron-lady still ruled the Mollah Bari with great gusto. She was the most favoured cook at the household even as a young bride. Although Shahida's sight had completely failed her over the years, she personally set her birthday menu of bata macher korma, beef kalia, chicken curry and fried new potatoes tossed in whole, the freshly caught ruhi from her pond with which she would also make a light curry with cauliflowers, tomatoes and peas, the fish head will be cooked with lentils, and of course the tomato chutney!
Her sous chefs were busy Mise en place, having all the ingredients measured, cut, peeled, sliced, and grated. The heavy brass pans and pots, taken out only for family weddings, were washed and readied. A lot had to be done; the lunch was for more than fifty invited guests, plus countless more who would simply crash the feast as one's own.
Like a druid about to prepare his concoction, she stood before steaming cauldrons set atop open air fires, frantically stirring long wooden sticks. The whole affair was accomplished by feeling and touching her way around the ingredients.
For the beef and fish dishes, only the quantity was revealed, and Shahida skilfully added the spices necessary for the tempering. Her senses, still sharp, and the experience so vast that even her feeble eyesight was no hindrance to cooking the feast for her family.
Shahida's home cooked feast left such a lingering memory on each family member present that day that they all want to go back to that meal whenever home-cooked food takes the centre stage of any conversation. Even the everyday dishes she would prepare for her family with simple ingredients and seasonal vegetables had a profound influence on all her daughters and their form of cooking.
Food prepared painstakingly from scratch with love and patience is Bangladeshi home-cooked cuisine for you, where spices or garam masalas are hardly present. The elementary curry base for most deshi dishes (the sauce, as westerners call it) is neither thick nor runny, yet in a perfect consistency created with onions, garlic and ginger paste, a few green chillies, and some coriander leaves.
Traditionally, womenfolk cooked without following any standard recipes, an endeavour based solely on experience, using only fresh, often seasonal, ingredients. They experimented until attaining perfection and the whole trick was handed down over generations.
Whether it is the ilisher macher kata-beguner jhol, macher paturi, alur daal, or the legendary pabda cooked only in mustard oil, tossed green chilli and onions with just a dash of turmeric — almost every Bengali dish that has now found a place in our urban lives can be traced back to the preceding generation of female cooks; a remnant of our pastoral past.
AN EXPERT'S TAKE
Shawkat Osman is a noted authority on cuisines and food heritage of Bangladesh. Over the years, he has contributed to popularising local food culture through various publications, and TV shows.
Osman says that Bangladeshi cuisine is reflected truly in its homecooking style, which has taken form from its riverine geography, coupled with its long political history.
According to the celebrated researcher, Bangladeshi cuisine is distinctly different from the West Bengal style of cooking, despite the close proximity. Yet, historically, it has been profoundly influenced by the Mughals, the Arab traders, the Portuguese and the English.
"Bangladesh has developed an expertise in using fewer spices, made up for with the generous use of ingredients like ginger, garlic, and onion — the three staples used to prepare the base of almost all our curries. Depending on the fish, the amounts of each are tweaked," he says. "Pabda in bamboo leaves for instance, uses just onions, some chilli, and turmeric. The same cannot be prepared with boal, another popular fish in the country, where more spices are used to balance the oiliness. Traditionally, oily fish is balanced with more heat, and vice versa," he explains.
Food preparation is largely dependent on geographic location, availability of spices and produce in and around an area. This simple rule governs the development of cuisines across the globe and makes significant contribution to how ingredients are used. Economy also plays an important role in cuisine; poverty influences use of spices as resources are limited. 
"Chilli is cheap, which is why bhortas are popular. In villages, breakfast is usually panta bhaat with some sautéed or burnt dried chillies, and maybe an onion. The heat of the chilli compensates for the lack of all else. In many homes, if they fall short of a spice or two, they add more heat to the sauce. The idea is that a full plate of rice calls for less spicy curry, versus the non-spicy," Osman continues.
Simple and fresh was the age-old idea that shaped Bangladeshi palate and cuisine. Unfortunately, in the current context, when we talk about our food or introduce our guests, foreign or otherwise, to our cuisine we ourselves are heavily influenced by Indian food heritage.
Our sublime cuisine has always been on the back foot because of its inherent simplicity. As the nation has witnessed considerable growth in the economic sector, urban food habits have changed, yet for a large portion of the country, still under financial constraints, food is still simple in nature.
The concept of having "home-cooked meals" in a restaurant has not set with Bengalis much, the main reason perhaps being that we are not yet cosmopolitan enough, and are in fact suffering from mono-racial monotony.
To draw a simple analogy, Thai restaurants serving home-cooked food offer prices that are even lower than actual dishes prepared at home! Mainstream Thais can afford it, and this in turn, makes such restaurant ventures profitable, contributing significantly to popularising their cuisine to tourists.
This is the complete opposite in Bangladesh. Well-to-do Bangladeshis are also not willing to spend for a plate of hot rice with shol macher jhol. On the other hand, lal-shak chingri (red Amaranth leaves with shrimp), an ordinary side dish in a Bangladeshi menu, is not considered befitting for fine dining. As prices are going up every day, such dishes, once ubiquitous, cannot survive at roadside shanty eateries alone. They require patronage and a change in our collective mindset.
"I did try opening a restaurant offering home-cooked meal" confessed Osman. "It was not enough to pay overheads thus I found out the hard way that the collective psyche does not consider deshi cuisine as fine dining," he adds.
The burgeoning youth of the nation now prefers quick pasta or noodles for lunch, especially as deboning a fish and eating it with rice is just not practical with their hectic schedules. Few tourists visit Bangladesh. Visitors, who do come, are often business people and confine themselves to 'five stars,' eschewing the risk of local food.
Osman comments on this scenario, "Who will eat your cuisine unless it is sustained by the state? Moreover, young people are moving away from home-cooked meals, although this phenomenon is not true for the entire nation.
"Look at Delhi. It has Kerala House, Hyderabad House - all separately promoting their regional cuisine, but what about our Parjatan? When you walk into the lone shabby Parjatan in Dhaka, delicacies like kakrol bhaji, potoler dolma, and shak are not offered; instead they serve money making items like galda chingri or shorshe ilish etc."
Our style of food is not for chopsticks or forks. We use fingers to delicately pick fish bones, and thus when we treat guests with a foreign palate, we cannot offer gems of our cuisine like pabda maccher jhol, or choto maccher chorchori. Instead chitol kofta or kacchi, or fish with just a centre bone and soft flesh are picked.
"This is the reason why the British introduced smoked hilsa and de-boned it!" he says.
Shawkat feels that without patronisation, the concept of home-cooked meals will not become popular in Bangladesh.
"Bangladeshi cuisine, or home-cooked meals, will die if we do not have a culinary institute with the government squarely behind it. There are no seasoned chefs specialising in Bangla food. Like the culinary institutes in Thailand, where all chefs — apprentices to the experts — follow one basic recipe; we need culinary institutes that teach and regulate. We need to change the mindset of the people that there is reason to have schools to groom 'baburchis'," reiterated Shawkat Osman.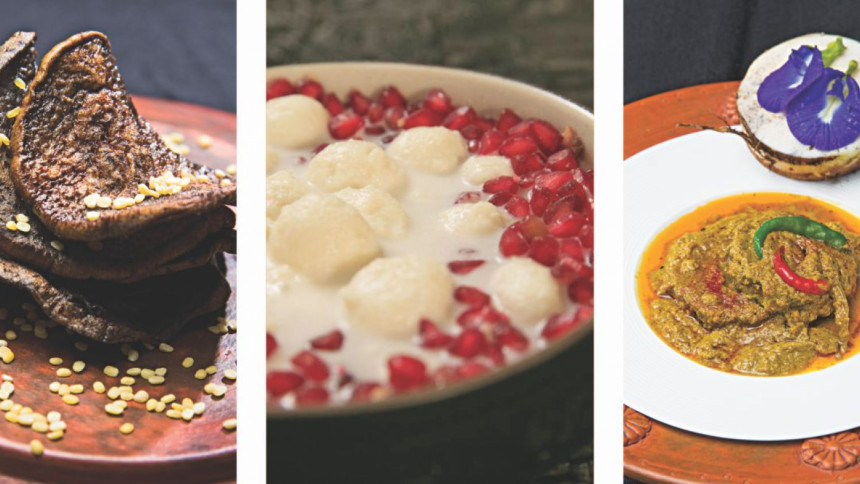 TINGAMA, THE NEW EXPERIENCE IN HOME CUISINE
Tingama is a fine dining restaurant offering home-cooked authentic Bangladeshi cuisine, and as Piplu R Khan, Mohammad Rafi Sumon, and Munia Hussain, the coveted chefs, agree to put it "Tingama is a food experiment where a 'mother' extends her dining table hospitality for a maximum of 18 invited friends or their peers to enjoy a hearty meal!"
The concept of making home-cooked meals into a fine dining experience was of working partners Piplu and Sumon, both film makers by profession, and Piplu's spouse Munia, who loves to cook.
"Every week we spend time at Piplu's and Munia prepares the best meal, each surpassing the last one. Thus, we decided to open Tingama and serve home-cooked meals, exactly the way that our mothers and aunts would do it," says Sumon.
Tinga is Munia's son and Ma in Bangla is mother, thus Tingama, a small cosy restaurant that serves a mother's home cooked meals for guests who book the place by invitation only, was born.
"We do not go into everyday service, unless there is an order of a minimum of six to a maximum of 18 people. The times when we are not open, our restaurant turns into an office space for other projects. Each of us here at Tingama has twin roles. When we are hosting, it's a full-fledged restaurant where we are all assistant cooks to Munia and servers. When we are closed we are all working in other projects.
"We have three menu options. Guests can choose any one, or customise from the three, and they can book through our Facebook page. Dining at ours is an experience. We serve on large tables like in the olden days and guests chat, relax, and eat slowly without any rush over the ten-course meal that takes three to four hours to serve," explains Piplu.
"We try to plate the most mundane of the dishes artistically so that our guests take an instant liking to it. Moreover, for children who are not keen on deshi food, it serves as a golden opportunity to introduce them to the local delicacies, a role our grandparents once played," he continues.
At Tingama, appetiser starts with scrambled egg samosa, a recipe Munia collected from her grandmother in Khulna, local ponir with jam and a hearty glass of lemonade. Then gems like shoshe or doi potol, ghono daal smeared in ghee with tossed coriander leaves, mutton bafat, pistachio chicken, vegetables, and fish are served; followed by dudh chitoi, gurer payesh, firni or pudding. They serve no bottled water or fizzy drinks.
"We have tried to make home-cooked meals into a fine dining experience and promote home cuisine. Our business has sustained so far because it is our passion, second only to filmmaking," Sumon says.
A meal of 10 to 13 items would cost Tk 1000 for lunch and Tk 1500 for dinner (per person). And the added attraction there, unlike other commercial restaurants serving deshi cuisine, is that the food is prepared by someone who identifies herself as a mother and not a professional baburchi. Fresh produce is key to a home-cooked meal, and Tingama's menu varies according to seasons and the produce available. They prepare a special menu on Women's Day, or Pohela Boishakh by creating an event on the Facebook page, which now has an organic fan following of 2000 plus.
"It's been just a year and we have not made Tingama a commercial restaurant, in fact it is a place to celebrate familial bond over a plate of everyday home-cooked meal. We serve a typical Bangladeshi meal, tweaking it slightly to present it for a standard sit-down dinner in a graceful art deco manner. For example, begun diye ilisher kata needs to be prepared the day before to get its authentic flavour. But we serve it differently so that this ordinary dish looks appetising to people with different palates," explains Piplu with passion.
Bangladeshi food is all about light curry and Tingama's selection of cuisine, and the cooking style all have local influence, but the plating is all about fusion.
"We want to break free from the typical 'aatpoure' presenting style and add a touch of panache. We understand simplicity and keeping the home-flavour intact, we plate our food with a different touch.
"Food must be an experience we have to design and re-think in order to make guests connect and engage. Collectively, we never considered daal bhaat as a special dish. We need to change our attitude; we need to promote our style of cooking, make our table-spread interesting, sell the cuisine to tourists by the value addition 'mayer haath' tagline. Only then will you see our cuisine shine," Piplu puts it squarely.
On that note let us celebrate being Bangladeshi by promoting its unique cuisine and home-style cooking.
Photo courtesy: Tingama
Photo: LS Archive / Sazzad Ibne Sayed and Shahrear Kabir Heemel