Waste of water, way to disaster
Bangladesh remains oblivious of grim outlook as the world observes Water Day today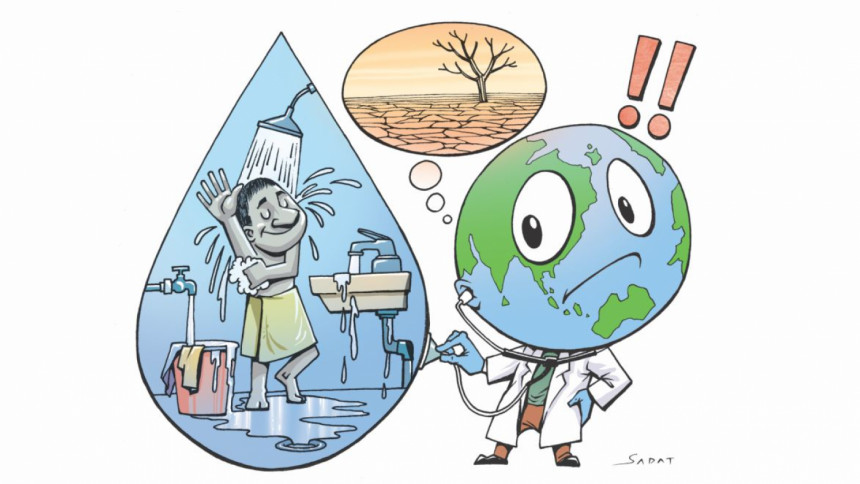 The next world war will be over water. And Bangladesh appears to be most oblivious of all amidst the grim global forecast.
That access to safe water is a human right is globally acknowledged. But in Bangladesh, despite an abundance of sweet surface water in the 24,000 km of flowing rivers and numerous other water bodies, utter neglect towards these lifelines has given way to unabated pollution—turning this useful resource into lethal, toxic water.
And an inevitable consequence of this has been that several million people are deprived of safe drinking water and adequate sanitation leading to ill health, deaths and perennial poverty, according to experts.
They say Bangladesh's precious sweet water sources are turning toxic due to industrial effluents and human wastes which can cause deadly health hazards and ruin the ecological system.
According to WHO and Unicef joint monitoring findings, four million people in Bangladesh lack access to safe water and 85 million lack improved sanitation.
WaterAid Bangladesh citing WASHwatch says that over 2,000 children under five years die from diarrhea due to contaminated water annually in the country.
The UN recognises that water as a human right entitles everyone to safe, sufficient, accessible and affordable water for personal and household use for drinking, food preparation, washing clothes, sanitation and hygiene.
According to the UN definition, safe water is safely managed drinking water free from contamination, accessible on the premises and available when needed.
Environmentalists worry that rampant release of untreated human wastes and heavy metals like chromium, cadmium, lead, mercury and toxic chemicals as industrial effluents turns river water hazardous for drinking.
Hundreds of tanneries, textile and other industries without effluent treatment plants have turned Dhaka's rivers—Buriganga, Sitalakhya, Balu and Turag—into virtual dumping grounds for solid, liquid and chemical wastes.
Dhaka's rivers during the dry season turn so polluted that water becomes untreatable for use, according to Dhaka Water Supply and Sewerage Authority (Wasa) officials.
Wasa has undertaken high-investment mega projects including Jasaldia (Mawa) and Gandhabpur (Narayanganj) water treatment plants to fetch water from Padma, a 33km distance, and Meghna, a 23km distance, to feed the capital city with surface water.
In the capital, Wasa presently has only 20 percent sewerage coverage, say officials, most of the city dwellers without septic tanks release human sewage directly into the nature through open and storm drains and rivers.
Presently, Wasa can use only Sitalakhya water with pre-treatment and treatment plants at Saydabad to meet 22 percent of 230 crore litres of total demand of water daily in the capital with the rest extracted from underground.
Prof M Monowar Hossain, executive director of Institute of Water Modeling, says that it is needless to mention how invaluable safe and potable sweet water is.
"But some sections of insensible powerful people mindlessly ruin this resource with pollution and encroachment of rivers, lakes and wetlands," he says, "They make undue economic profits at the cost of irreplaceable biodiversity, ecosystem and water system."
"We cannot afford to treat our rivers the way we do. We cannot destroy sweet water sources the way we are right now," says Prof Hossain. "Encroachment is one of the foremost reasons for river pollution, as it ruins its natural morphology."
Groundwater table in Dhaka city depletes by around three metres in Mirpur every year and roughly by two metres in less densely built areas, he says.
An average of 93 percent of the water of our country's ever-flowing rivers during monsoon comes from the upstream of 57 transboundary rivers—54 from India and the rest from Myanmar, he says.
With upstream withdrawal and dry season lean flow, pollution reaches its highest level during November-April in the dry season, he adds.
Prof Md Abdul Matin of water resources engineering department at Buet says that grabbing and pollution of rivers and wetlands must stop completely and they must be restored to their original state first.
If a river flow is disrupted due to grabbing and arbitrary sand mining, its natural morphology is ruined leading to the river's erratic behaviour that at length results in putting people's life in peril and property loss.
Without conserving them, Prof Matin says, rainfall will decline as the hydrological cycle will break down and hamper ground percolation. Drought or lack of desired rainfall with associated desertification is going to aggravate climate change impacts putting human beings at risk, he says.