Reaching everyone, everywhere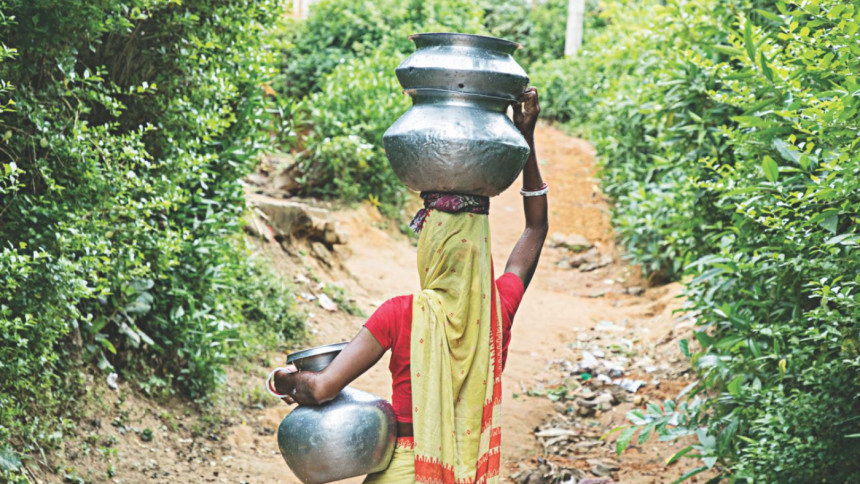 Last year, we met Subita Rani in a tea garden in Sreemangal. A former tea garden worker, Subita walks over half an hour each day, going down a steep hill and climbing up again with two full kalshis, each weighing over 20 litres, to collect water from an open stream for her family. When we showed the video at a national conference, many people were astonished that this is still the reality for many women in our country.
In Bangladesh, as in many other developing countries, it is women and girls who bear the responsibility of collecting water. Like Subita, thousands of women across the country must travel long distances or queue for hours, even though accessible and affordable water is a human right.
In Mirpur, we spoke to Mabia, a young mother of one, living with her husband in a slum in Bauniabadh. Mabia cannot afford the firewood needed to boil water for drinking, so she and her husband drink raw water, and only boil a small amount for their baby's bath. Thousands of families like Mabia's are risking avoidable bouts of illness from poor water quality every day, which can debilitate adults and impair children's nutrition and cognitive status in the long run.
The impact of water on women is perhaps most visible across Bangladesh's long coastline. Rising salinity and the scarcity of freshwater in this region not only mean that women have to travel further for drinking water, but are also much more likely to suffer from diseases like eclampsia and gestational hypertension,which puts both mothers' and babies' lives at risk. Whether in isolated tea gardens or crowded slums, from the city to the coast, women and girls across the country are sacrificing their time and health for what should be a doorstep service.
And the stories do not end there. Even beyond the immediate need of drinking water, women and girls are feeling the pressures of a world where access to water, sanitation and hygiene is not equal for all. In a madrasah in Sonatala upazila, we met Minara, a shy adolescent of 13, who took some time to open up about the problems she faces in school. Every month, Minara misses around five days of school because of her period. The madrasah toilets are over-used, dirty and have no space or facilities for girls to change or dispose of their menstrual cloths. Every month, Minara has to invent a story about being ill to avoid awkward questions from teachers and classmates. Whether it is in school, in workplaces or on the road, women and girls have to contend with a world where a lack of adequate, inclusive water and sanitation facilities makes every aspect of daily life more difficult.
A key challenge in Bangladesh's water landscape is that the collection of drinking water, from pumping to carrying, is largely a manual process. However, Bangladesh is globally recognised as an innovation hub for development challenges, and investment in creative, indigenous solutions for extracting and transporting water could free up time for education, employment and leisure for millions of women in our country.
Supporting technical innovations, we need inclusive water services that can reach those typically left behind. This not only means adequate water and sanitation facilities for women and girls both in public and personal life, but also bringing in issues of accessibility and affordability that affect different marginalised groups, such as disability-friendly design and progressive water tariffs.
While government safety net schemes are meant to support persons with disabilities, water and sanitation facilities provided by these schemes are not designed to be inclusive, and ultimately do little to alleviate the hardship these households face. Without a holistic, equitable approach that takes into account disparities across different populations and geographies, we will not be able to achieve SDG 6 – cleanwater and sanitation for all.
This World Water Day, we need to recommit to genuine progress, where no one is left behind; where Subita, Mabia and Minara – and the millions they represent – can live lives free of the silent struggle for water.
Shahrukh Mirza and Khairul Islam are Strategic Support Specialist and Country Director of WaterAid Bangladesh, respectively.