Of turmoil and complacency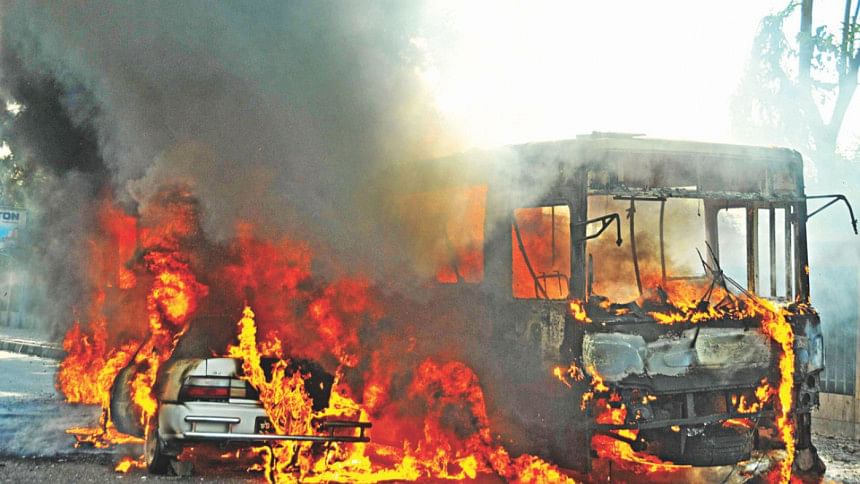 THE year 2015 began with a perilous journey of confrontation between the main opposition and the government. On the anniversary of the 2014 elections that BNP had boycotted, the party chairperson declared an indefinite countrywide blockade (oborodh) to halt road, rail, and water transport from January 5. Thus began one of the deadliest chapters of political violence in the country that claimed more than a hundred lives in two months. People died from petrol bombs, stray cases of arson in buildings and houses, and shooting by law enforcement agencies. Complete mayhem prevailed in the country when railway tracks were uprooted, and rail cars, vehicles and shops were set on fire at random, and law enforcing agencies appeared totally feckless in stopping these attackers. Instead, they went on a retaliatory attack against the main opposition party and its leaders, who they accused of sponsoring the violence. The security forces arrested over 7,000 members of the main opposition parties, including some main leaders. The leader of BNP remained confined in her offices for over two weeks since the protests first started.
The political crisis that gripped the nation in the early part of 2015 led foreign observers and the media to conclude that Bangladesh was fast approaching a point of no return, and that the country was at the brink of total destabilisation. There were serious demands that the two leaders meet and the two warring parties take practical steps to reduce the political tension. But our leaders would hear none of that, and the unrest continued until somewhat unexpectedly, it simmered down. 
There may be several explanations why the BNP-led campaign lost its steam. Primary among these were internal squabble among BNP leadership, lack of support from Jamaat-e-Islami militants, and the government's heavy-handed approach in large scale arraignment and detention of BNP leaders. But the most important reason for the demise of the campaign was people's apathy to the recurrent episodes of violence that had brought the country to a standstill a year before, and their strong resentment of the anarchy on the streets. Cynics had suggested that one reason why hooliganism on the streets was not dealt with by the government was that continuance of such mayhem helped to turn people away from the BNP strategy. Whether it is true or not, a majority of the people stayed on the sidelines during this period of unrest, making some of the BNP leaders rethink the whole campaign. The result was a gradual retreat with a whimper, but not before it had caused substantial damage to the party's image as a dependable opposition.
Next to the scourge of political violence that characterised the year was the resurfacing of Islamic extremism, proving the prediction of international observers that extremists and criminal networks would exploit the resulting political void with the two parties feuding over political control. This kind of extremism had been in existence in the country for some time, and it had shown its presence before because of favourable political conditions in the country. However, this second resurfacing was particularly significant not only because of the prevailing anarchy and lawlessness in the country, but also because of its coincidence with the war crimes trial that finally began in the country after forty years of independence. As the trials progressed and more and more perpetrators got convicted, the religious extremists came out of their hiding and struck their blows.
In February 2015, Dr. Avijit Roy, a bio-engineer and well-known Bangladeshi blogger, and his wife, were attacked in Dhaka by machete-wielding assailants. Avijit died but his wife survived the attack. This killing was followed by the murder of bloggers Oyasiqur Rahman and Niloy Chatterjee. Some time later, Faisal Arefin Dipan, the publisher of Avijit Roy's book, was killed. Some arrests were made by the police, but we still await the trial and conviction of the killers. 
Normally, these incidents alone would make a country unsafe and insecure. But close to the heel of the murder of bloggers were the unexplained murders of two foreign nationals, and the shooting of a third foreigner. The first was an Italian killed in broad daylight in a busy residential area of Dhaka; the second, a Japanese national, was killed in a remote district. The third person, an Italian priest, was shot but he survived luckily. These acts of violence were apparently not linked, yet the so-called Islamic State (IS) made a mysterious claim for these attacks. This assertion (which could be fake), along with the series of killings in 2015 of secular writers, made Bangladesh seem like a potential harbour of Islamic terrorists, leading a number of western countries to warn their citizens against travelling to Bangladesh. Our authorities are still to assuage this concern of foreigners because no one has yet been arraigned for these murders. 
But there was good news also in 2015. Despite political violence and work stoppages from hartals and oborodh, the economy performed well nonetheless. The Asian Development forecasts that the overall economy will grow more than six percent higher than 2014. Export growth, which was dominated by manufactured garments, was down, because of a combination of factors, besides political strikes, such as low demand from the European Union, and decline in the price of cotton. But our earnings from remittances more than filled up this export gap. Remittances sent by Bangladeshis working abroad reached $15.31 billion, a record in the country's history, this fiscal year.
It is difficult to say how much of the complacency that surrounds our politics now is derived from our sound economic health and how much is due to the stalemate in our national politics. From the utterances and statements of leaders of the ruling party, it appears that the complacency comes mainly from a false sense of invincibility, and the failure of a wrongly conceived and badly led political campaign to oust the government. The absence of any strong challenge to authority because of many restrictions imposed by the government has also contributed to this complacency on the government's side and total apathy on the people's side. 
But indifference to the current political environment or its endurance should not be a cause of complacency in our politics. Absence of challenges to status quo or voicing of grievances are integral parts of a democracy. If we agree that ours is a democratic society, we need to demonstrate to our people and others outside the evidence of our commitment to upholding democratic ideals -- from fostering a politics of inclusion not exclusion, ensuring freedom of expression, and creating and maintaining institutions with integrity. 
Today Bangladesh's economy is sustained by primarily domestic investment and foreign remittances. In the last two decades or so, economies in several Asian countries, such as China, India, and Vietnam, were propelled by foreign investments. The investments happened because these countries were able to create an environment hospitable for such investment. We may have impressive records in human development, but to sustain and improve this, we need opportunities of further growth. We need new avenues for expanding our economy, our skills base and revenue sources. We need foreign investments for our growth. These investments will come if we can successfully demonstrate to the world that we can be a politically stable country.
As we step into a new year, we can see some signs of a turnaround, albeit in small doses. The elections for local bodies, if properly held in a free and unfettered manner, will show that all is not dead yet. A firm but transparent conclusion of the remaining war crimes trial is also a goal that we look forward to this year. But foremost in this list will be a strong desire among all of us to see rule of law in the country, the protection and nurturing of truly democratic policies and ideals, and building of strong and effective institutions. We would also like to see an end to the malignant growth of intolerance and religious bigotry that threatens our nationhood. May we all have a Happy New Year!
The writer is a political commentator and analyst.