2015 in Perspective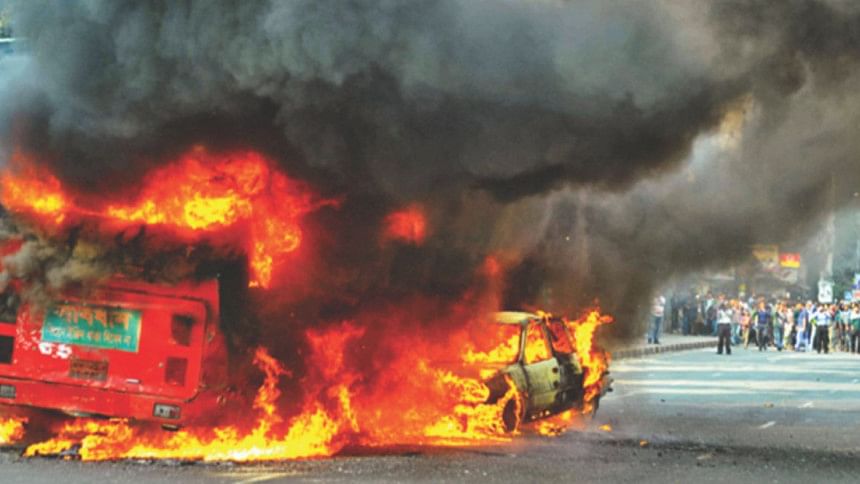 DOMESTIC POLITICS – DÉJÀ VU
Regrettably, 2015 started on the same pitch as did 2014 - with hartal and blockades by the Jamaat-BNP alliance and with the leader of the main opposition party, BNP, under virtual house arrest. Tension was created around the issue of elections of January 5, 2014 and the two parties' attempt to commemorate the day in their own ways. AL wanted to celebrate the day as 'victory of democracy' while the BNP, which boycotted the polls by noon on election day, wanted to observe January 5 as 'death of democracy'. In the end, the police administration refused BNP permission to hold meetings anywhere in Dhaka and prohibited any assembly, rally or meeting in the capital till further orders. That, however, did not prevent AL and its associated bodies from gathering and holding meetings in the capital. (They did not use a mike, and thus, did not violate police orders, according to their leaders).
Tensions occurred from the very first day and the Jamaat-called hartal ran into the New Year. Khaleda met the same consequences for her intent to hold a rally, despite the government's refusal of BNP's request for holding a meeting in Dhaka, as she did in 2014, for her intention to hold the "March for Democracy". She was interned and this time there were a dozen sand laden trucks in front of her Gulshan office where she was held captive. 
The drama continued as she was not allowed out of her house until March, despite the government's pronouncement that she was free to "go to her house". The BNP office in Paltan was also put under lock and key. 
The blockade period witnessed several incidents of violence and acts of terrorism by BNP Jamaat cadres, on the railway lines, causing derailment, death and disruption of communication. Meanwhile, the government tried to undo the blockade by escorting commodity laden vehicles to Dhaka under police escort. 
The first week of blockades by the BNP-Jamaat, had taken 11 lives and caused destruction and damage to more than 150 public and private transports. 
The UN, EU and the US had expressed their concern at the violence and deaths as a result of the political programme of the BNP-led alliance. 
In January, BNP leader Reaz Rahman was shot and injured. Between 5 and 16 January the casualty figures were 23 dead, more than 700 injured and 200 vehicles damaged.  
Arafat Rahman Koko died in Malaysia on Jan 24. Another drama unfolded with the aborted attempt of the PM to pay her condolences to the bereaved mother Khaleda Zia. She had to return as the gates were locked on her face.
The latter part of January witnessed a spate of extra judicial killings. The Asian Human Rights Commission's report of Jan 28 stated, "At least nine people including two women have been disappeared, and seven men extra judicially murdered between January 5 and January 27, 2015. Personnel from the Detective Branch (DB) of Police, the Rapid Action Battalion (RAB), and the Joint Forces (which is comprised of Police, RAB, and the Border Guards Bangladesh officers) detained these sixteen citizens, resulting in their disappearance and extrajudicial execution." 
From January 5 to January 29, 35 people were killed in crossfire, of which 29 did not have any political links. The political unrest in that period resulted in a loss to realtors of Tk 36 crores a day and generally the economy lost Tk 5,000 crore per day. The worst to suffer was the RMG sector which saw cancellation of orders. 800 public transports were torched/damaged.
As of March 8, the figure of those dead stood at 88 out of which 66 were not directly involved with any parties. 1,345 people were injured, 53 were killed in arson attacks by BNP-Jamaat men, 654 vehicles were vandalised, and the estimated cost of shutdown between January 5 and March 7 was Tk 1,38,897 crores. 
Blockade continued adding another 3 days of hartal from February 15. The blockade ended with the announcement of the Dhaka and Chittagong city mayoral elections.
Law enforcement agencies began mass arrests of BNP-Jamaat leaders and activists. Many were faced with charges relating to the political violence during the beginning of the year.
One of the most dramatic episodes in the political saga was the sudden disappearance and reappearance of Salahuddin Ahmed, Joint Secretary Gen of the BNP. He went missing on March 10, presumed to have been kidnapped by the police. He reappeared in Shillong on May 13. 
On the legal side, the most significant story of 2015 was the hanging of Salahuddin Quader Chowdhury and Ali Ahsan Mujaheed on charges of crimes against humanity. Both were ministers in the BNP government. Convicted war criminal and former Secretary General of Bangladesh Jamaat-e-Islami, Kamaruzzaman, was also put to the gallows on April 11. 
The three city corporation polls were held on April 28, amidst accusations of wide-scale rigging. 
Meanwhile, municipal elections scheduled for December 30 have been plagued with controversy. With the official declaration that the nominations would now be partisan in nature, the major parties lost no time in choosing their candidates. Even the BNP joined in the race though there have been allegations of its candidates being intimidated by ruling party men. In fact  the presence of a large number of rebel candidates of the AL has caused some irritation within the ruling party. 
It has been alleged that many of the rebels have been harassed so that they drop out of the elections. Amidst major violation of electoral codes by mainly ruling party candidates and their powerful backers, the Election Commission's authority has been severely compromised as it could not take
proper action against the violators. One of the election commissioners in utter helplessness even appealed to the Prime Minister, to intervene and stop her party men from blatantly breaking the electoral rules.
NATIONAL ECONOMY – BETTER THAN EXPECTED
The beginning of the year saw inflation continue its downward trend, coming down to 6.11 percent - the lowest in 25 months, mainly due to falling commodity prices on the global markets.
The overall inflation rate, which has been on the decline for the last several months, was 6.21 percent in November.
According to the FBCCI, the daily cost of hartal and oborodh amounted to around Tk 500 crores. They even thought of meeting the BNP chief to reconsider her decision to continue her programme. 
Despite improvements in labour, corruption, and monetary indicators, Bangladesh remains stuck in the category of "mostly unfree" countries in an international survey on economic freedom. The country's economic freedom score is 53.9, making its economy the 131st freest - the same as last year's - among 186 countries in the 2015 Index of Economic Freedom, an annual guide published by Washington-based Heritage Foundation and The Wall Street Journal. Bangladesh was ranked 132nd in 2013 and 130th the previous year. 
In 2015, Bangladesh's position in Human Development Index (HDI) remained unchanged compared with 2014. The Human Development Report 2015 put Bangladesh in the medium human development category. Bangladesh ranked 142nd out of 188 countries and territories.
Bangladesh's foreign exchange reserves hit the $25 billion mark for the first time on the back of stable growth in exports and remittance earnings.
For the first time in the country's history, a drone was used to gather farm data (Jhalakathi, Barisal) in March, 2015.  
2015 ended with a historic event for Bangladesh. On December 12, the prime minister formally inaugurated the work of the Padma Bridge whose completion, projected by end of 2018, will have a huge impact on the country's economy.
In 2015, Bangladesh continued its progress in increasing food production. According to FAO's Agricultural Statistical Pocket Book-2015, Bangladesh was ranked 16th among countries that procure food from natural sources and fifth in fish cultivation. Farmers bagged a record 1.91 crore tonnes of boro rice last season, enabling the country to log in its highest rice output and attain self-sufficiency in staple food.
However, Bangladesh has slipped down to 73rd position in Global Hunger Index 2015 despite making significant long-term achievements over the last quarter-century in fighting hunger.
This year the power sector achieved stable growth. As of October 31, 2015, the country's power generation capacity has increased to 11,877 MW (without captive and SHS) with 74 percent of the population having access to electricity. However, implementation of major power projects was not satisfactory, particularly, large coal-fired and gas-fired private power projects. 
On the renewable energy front, Bangladesh has become the first country to get funds from the United Nations for its fast growing solar home systems, which are not only lighting up houses in off-grid villages but also showing the world the way to a low-carbon future. In August 2015, The United Nations Framework Convention on Climate Change (UNFCCC) issued 395,286 carbon credits worth €3.56 million to two Bangladeshi organisations -- Infrastructure Development Company Ltd (IDCOL) and Grameen Shakti.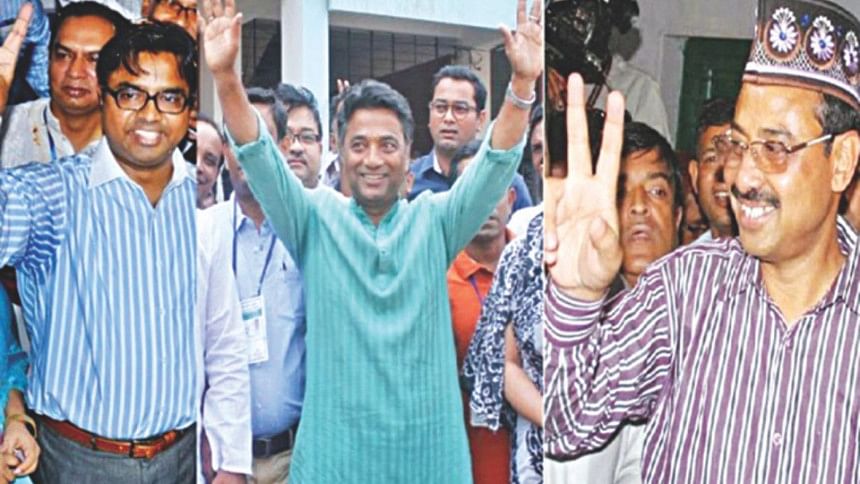 DOMESTIC CRIMES - UNPRECEDENTED, SHOCKING  
Blogger Killings 
The brutal murders of bloggers and publishers brought home the growing level of intolerance towards free thinkers. On February 27, blogger Avijit Roy was hacked to death in public near the Ekushey Boi Mela ground, and his wife was seriously injured in the attack. FBI personnel were in town in March to help with the investigation. This murder followed by several other murders and attacks on bloggers, writers and publishers created a sense of panic and established the growing presence of religious extremists. The lukewarm response from the state and apathy of the law enforcement agencies in investigating these cases added to the fear among the progressive minded intelligentsia.
In 2015, till November, as many as five bloggers were made targets of Islamic extremists; the latest of the killings took place on October 31, when two simultaneous attacks were carried out in Dhaka, resulting in the death of publisher Faisal Arefin Dipan and severe injury to three others.
Pahela Baishakh Sexual Assault 
At least 20 women were sexually assaulted for over an hour, allegedly under the nose of police, by a group of rowdy youths on the evening of April 14 during Pahela Baishakh celebrations. The incident sparked a wave of protest throughout the country with people from all quarters condemning the incident and demanding immediate arrest of the culprits. No arrests have been made thus far. 
Rajon Killing 
13-year-old Sheikh Md Samiul Alam Rajon was brutally tortured to death in Sylhet by a group of men. A 28-minute clip of Rajon's torture went viral, triggering a firestorm of protests on social media and public outrage. Four men have been sentenced to death, including the prime suspect Kamrul Islam who was deported from Saudi Arabia and was caught by Bangladeshi expatriates in that country where he fled immediately after the murder. Similar incidents of torture and murder of children continued to horrify the nation including the brutal killing of Rakib, a minor.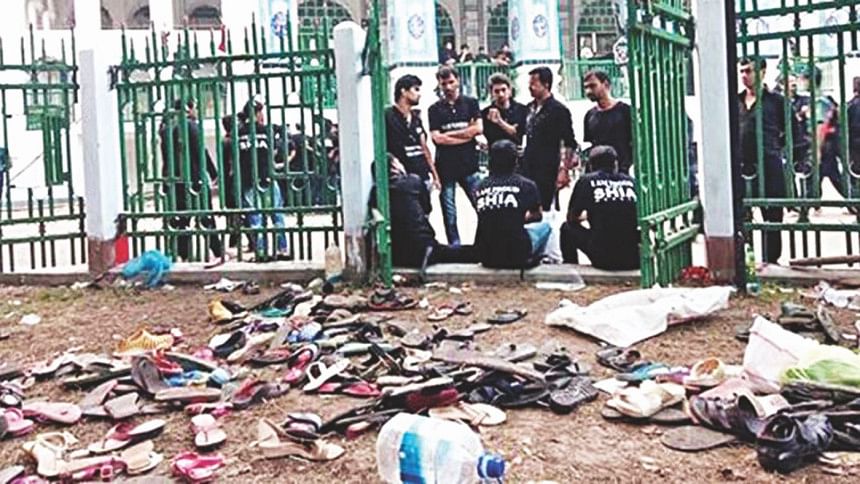 Killing of foreigners
In late September, an Italian national, Cesare Tavella, was shot dead by armed criminals in the capital and a Japanese national, Kunio Hoshi, was shot dead in Rangpur in the first week of October. IS claimed responsibility for both the attacks but the Home Minister insisted that there were no IS activities in the country. The law enforcement agencies have arrested several JMB men in connection with the murder of the Japanese national.
Police work in preempting the Islamic extremist group went on commendably. Several groups belonging to the ilk of these extremists were apprehended by the law enforcing agencies, some of them caught in the process of revitalising their organisation in an attempt to join the so-called AQIS.
Attacks on Minorities 
Since the beginning of the year, the country was besieged with terrorist attacks with confusion regarding who the masterminds were behind it. The responsibility for the attacks on the police, Christian priests, Kantaji temple, and Shia establishments (that left 1dead and 80 wounded) were taken by IS through a single foreign website. Hindu congregations and temples were also targeted.
On December 24, law enforcement agents raided a JMB den and recovered 16 improvised grenades, other ingredients, including power gel enough to make over 200 bombs and grenades, and a suicide vest. Six young men were arrested during the raid.
On December 25, a bomb blast in an Ahmadiyya mosque in Rajshahi left the alleged suicide bomber dead and three others injured.
While foreign governments seemed to insist IS presence in the country, the government has repeatedly rejected such claims, saying that these were the work of local terrorists aimed to destabilise the nation. Travel alerts, however, were issued by some western countries to their citizens working here prompting foreign buyers, tourists and even the Australian cricket team to avoid coming to the country. 
The feeling of unease has continued with death threats to eminent intellectuals, attacks on Christian priests and on Hindu establishments towards the end of 2015. Most of these incidents have been linked to extremist groups within the country.   
CENSORSHIP OF SOCIAL MEDIA AT HOME
The BTRC briefly blocked social messaging applications on January 18, 2015 for four 
days in relation on security reasons. Later at the end of the year, the government again imposed a ban Facebook and other mobile messaging apps on November 18 citing security reasons. The ban continued for 22 days. 
On August 12, 2015 a court in Dhaka sentenced a public university teacher in absentia to three years of rigorous imprisonment, which includes hard labour, in a sedition case filed for making a derogatory comment about the prime minister on Facebook in 2011.
On August 16, 2015 Probir Sikdar, Editor of online news portal Uttoradhikar 71 News, was sued and arrested under Section 57 of the ICT Act for what police termed "libel" against Minister Khandkar Mosharraf Hossain.
Bangladesh police arrested a schoolboy on September 30, 2015 for posting "offensive remarks about Islam" on Facebook. 
On December 10, 2015 admin of popular Facebook page Moja Losss? was arrested allegedly for his posts against the government.
MAJOR MOMENTS FOR BANGLADESH
PM wins UNEP award 
In September 2015, Prime Minister Sheikh Hasina was awarded the UNEP Award for her leadership role in environmental protection. She was the third Bangladeshi to have received the prestigious UN Award.
Wasfia Nazreen conquers seven peaks
Wasfia Nazreen became the first Bangladeshi to scale the seven highest peaks in the seven continents, also known as the "Seven Summits". With this, the mountaineer, National Geographic adventurer and rights activist successfully completed her campaign "Bangladesh on Seven Summits". 
Anti-VAT movement
Students of private universities brought out processions and blocked roads across the country, using the slogan "No Vat on Education", protesting the imposition of 7.5 percent VAT on tuition fees. The protests turned out to be a success as the government revoked the VAT. 
Bangladesh qualifies at the World Cup
For the first time in history, Bangladesh qualified to play in the quarterfinals of the cricket World Cup, defeating the English team on the way. At home, it completely wiped out Pakistan, in both the shorter versions of the game, and drew the first test in Khulna. The second and final test was, however, a dismal show by the Tigers. 
BANGLADESH AT THE DIPLOMATIC FRONT
Bangladesh and Pakistan
The year ended on a sour note between the two countries that originated from the official reaction of the Government of Pakistan to the hanging of two convicted war criminals on November 22. The Pakistan's Foreign Ministry expressed deep anguish for the carrying out of the executions. Pakistan has even denied the atrocities perpetuated by its armed forces in 1971. This led to widespread outrage from various quarters, including freedom fighters, for Bangladesh to severe relations with that country.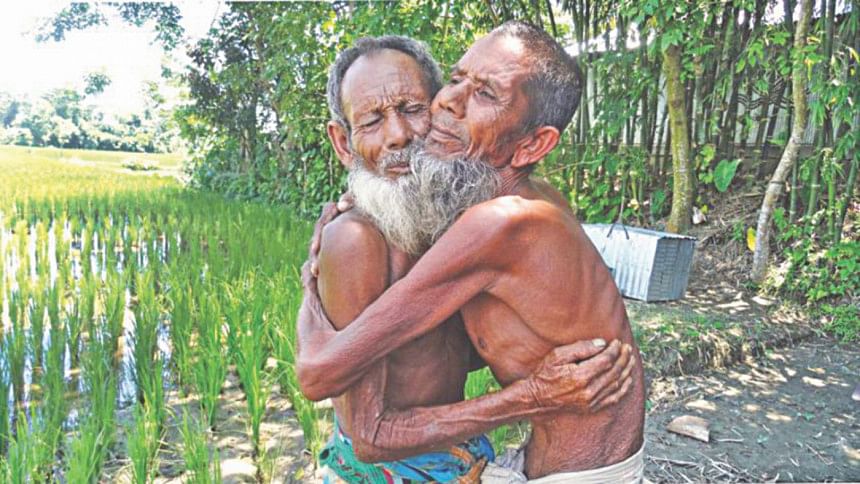 Bangladesh and India
Chief Minister of West Bengal, Mamata Banerjee, paid a three-day visit to Bangladesh between February 19 and 22. It turned out to be a PR exercise, undertaken to redeem some of her lost image as a result of the Saradha scam and the Burdwan blast that linked her party, Trinamool Congress, with some proscribed extremist groups from Bangladesh. The call to 'trust her' was seen as mere rhetoric. 
The high point of bilateral relations was Indian Prime Minister Narendra Modi's visit to Bangladesh. He ushered in the Land Boundary Agreement but there was no breakthrough on Teesta. India finally got what it had been trying to get - a passage to its northeast through Bangladesh. 22 MOUs and agreements were signed during the visit. 
One minute after midnight on August 1, 2015, India and Bangladesh exchanged 162 adversely-held enclaves, ending one of the world's most complex border disputes 
that had kept thousands of people in stateless limbo for almost 68 years. 
Prime Minister Narendra Modi's government stopped cattle from crossing illegally into the Muslim-majority neighbour as part of India's policy banning cow slaughter. Intolerance touched a new high in India in 2015 with Muslims being murdered for storing beef, scholars, celebrities and public speakers being chastised for their intellectual views and saffronisation of public institutions.
Bangladesh and Japan
On December 13, Bangladesh signed a deal with Japan for a Tk 86.6 billion loan, the biggest loan in Yen the country has given to Bangladesh, to be spent on six projects including power, health, and infrastructure. The credit, which charges 0.01 percent interest, will have to be repaid in 40 years with a 10-year grace period.
Bangladesh and Russia
On December 25, Bangladesh signed its biggest ever contract worth $12.65 billion with a Russian state-run company to build the Rooppur nuclear power plant that would generate 2,400 megawatts of electricity.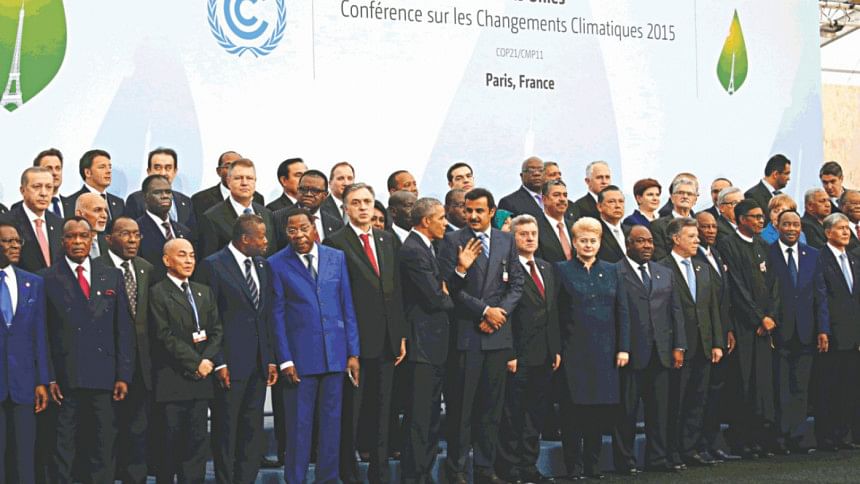 INTERNATIONAL – A QUICK GLANCE
Syrian Refugee Crisis 
More than four million refugees of the Syrian Civil War have left the country during the course of the war. As of February 2015, Turkey became the world's biggest refugee hosting country with 2.2 million Syrian refugees and had spent more than US$7.6 billion on direct assistance to refugees. 
Towards the middle of the year, in August, international conscience was shaken by the picture of a dead child washed up on the shore of the Atlantic. He was one of the hundreds of thousands of refugees fleeing the fighting in Syria, and seeking refuge in Europe. There was much dilly-dallying and refusal from some countries like Italy, Greece, and Hungary to accept them. Germany was the most generous by far, taking in more than a million refugees.
Iran Nuclear Deal
Iran and the group of six nations, the United States, UK, France, China, Russia, and Germany, reached a historic agreement to limit Iran's ability to produce a nuclear weapon in exchange for the lifting of crippling economic sanctions. Iran agreed to reduce its stockpile of enriched uranium by 98 percent, place two-thirds of their installed centrifuges under international supervision, give the International Atomic Energy Agency (IAEA) permanent access "where necessary when necessary," and accept a resumption of sanctions if Iran violates any of the terms. 
Nepal Earthquake
On April 25, a massive 7.8 magnitude earthquake struck Nepal, killing over 9,000 people and injuring more than 23,000. It also triggered an avalanche on Mt. Everest, making it the deadliest day on the mountain in its history. Hundreds of thousands of people were left homeless and centuries old, historic buildings collapsed.
The Trump Factor
This year saw the rise of Republican candidate Donald Trump, who whipped up a storm during the GOP primaries for his racist, sexist and Islamophobic comments on public platforms. He caused outrage worldwide for his comments suggesting Muslims should be banned from entering the US. Despite this, he continues to lead the opinion polls. 
Tunisia Quartet wins a Landslide Victory
Four civil society groups known as the National Dialogue Quartet of Tunisia spearheaded a successful democratic movement that culminated in the first free and fair presidential elections since 1956. The Quartet was awarded this year's Nobel Peace Prize for their remarkable feat.
Myanmar Elections
Aung San Suu Kyi's National League for Democracy (NLD) won a landslide victory in Myanmar after general elections on November 8. It was the country's first national vote since a nominally civilian government was introduced in 2011, ending nearly 50 years of military rule.
Obama visits India 
Barack Obama was the first US president to visit India twice during his tenure. The second visit was in January this year, when he was the chief guest at India's Republic Day parade. Several deals were made (Times of India, January 26/27, 2015); the important ones were related to the nuclear deal between the two that was struck on account of disagreement on the 'tracing' of raw fuel sold to India.
Sustainable Development Goals
World leaders embraced a historic, sweeping 15-year global plan of action to end poverty, reduce inequalities and protect the environment, known as the Sustainable Development Goals (SDGs), at the opening of a United Nations special summit.
Titled "Transforming our world:  the 2030 Agenda for Sustainable Development" and contained in document A/70/L.1, the agreement on a set of 17 goals and 169 targets would come into effect today, on January 1, 2016, replacing the Millennium Development Goals set in 2000.
Paris Agreement
The United Nations Conference on climate change took place in Paris from November 30 to December 11, 2015. 195 countries participated in the talks with the aim to achieve a legally binding and universal agreement on climate that included keeping global warming below 2°C.
Russian Intervention in Syria
Following requests by the Syrian government, Russia started its military intervention in the Syrian Civil War on September 30, 2015. The situation, often seen as a proxy war between the US and Russia, and other regional powers, escalated after a Russian aircraft was shot down by Turkey, the first time a NATO country shot down a Russian plane in 50 years. 
Terrorist Attacks Across the Globe
On January 7, 2015, the French satirical magazine Charlie Hebdo became the target of Islamist militants, whose attack on the magazine resulted in the death of 12 persons, including four of the magazine's journalists. Two of the attackers were later killed in a shootout with the police. 
Between January 3 and January 7 of 2015, Boko Haram conducted a series of mass killings in the Nigerian town of Baga and its environs. Reports of the death toll range from 150 to 2,000. Baga and at least 16 other towns are thought to have been destroyed as over 35,000 people are reported to have been displaced.
IS attacked Kobani, also known as Ayn al-Arab, with at least one car bomb in an area near the border crossing with Turkey. At least 35 people are said to be have been killed in the attack. IS also carried out further attacks throughout the year in Iraq, Egypt and Yemen,  killing hundreds.
On June 17, 2015, 21-year-old Dylann Roof carried out a mass shooting at Emanuel African Methodist Episcopal Church, a historically black church in Charleston, South Carolina. Roof killed nine people, all of whom were African-American. Roof was eventually indicted on 33 federal hate crime charges. 
On November 12, 2015, a pair of suicide bombings struck southern Beirut killing 43 people and leaving 239 wounded. IS claimed responsibility for the attacks. 
The next day, a series of coordinated terrorist attacks occurred in Paris and its northern suburb, Saint-Denis. At least 130 people were killed and over 300 people were injured. 
Editorial Desk
Note: This supplement went to the press on December 28 so we could not include events after that date.