Tojammel Hossen- Someone like my brother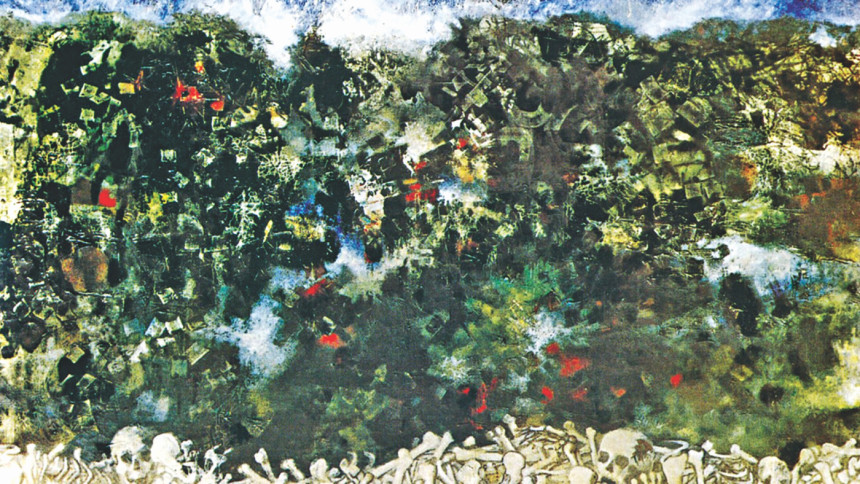 Tojammel Hossen was almost 10 years my junior. He had a widowed mother and two brothers. He was the oldest of them—and the apple of his mother's eye. The mother, Chaphuli Begum, was a little eccentric but she was forthright and hard-working. I respected her because of that. Chaphuli fufu (paternal aunt) was extremely poor. She had no land property, not even a permanent roof over her head. The family was forced into destitution after her husband's death, when Chaphuli fufu along with her three young sons returned to her ancestral home in Garadaha, only to discover that sympathy was short-lived. She didn't want to live at the mercy of her brothers. Soon she left the house and took shelter in a small, abandoned shack formerly inhabited by a Hindu family.
Garadaha was then home to many Hindu families. Chaphuli fufu would work all day as a domestic help in their houses, and return at sunset with whatever food she could manage for her children. On days when there was no food, they would starve.
Tojammel had a slender build, swarthy complexion, well-shaped nose, broad forehead and black hair, and a smile always painted across his face. He was gentle and soft-spoken. He would salaam me, smilingly, when we met on the streets. He would ask me: "How are you, bhai?" Asked how he was, he would politely reply, but sometimes he would not, lest I feel encouraged to inquire further about the progress of his studies. Tojammel would treat me like I was his elder brother. Chaphuli fufu had high hopes for her son. Despite their destitution and proving every assumption wrong, she didn't let him go to someone's house to work. Her dream was that, rid of the pressure to earn, he would be able to complete his studies, get a job, take the burden off her shoulders, provide for his younger brothers' education, and restore the family legacy.
Tojammel's father's name was Zainul Abedin Khan. He came from a family line that wasn't rich but had a tradition steeped in rich values. His mother's family had too its fair share of honour. One of his maternal uncles had a job. Another stayed in the village to look after his family. The family was well-known for civility and decency, something that Tojammel also inherited. He had never quarrelled or had an argument with anyone in the village.
When the time came, Chaphuli Begum got him admitted at the village school. It wasn't far from where they lived. As soon as the school bell rang, Tojammel would scurry off to class, wearing a vest, or whatever torn, dirty garment he could get his hands on. Sandals were a luxury he could never afford. 
Tojammel was born on November 22, 1953. In 1962, at the age of ten, he finished primary school and got admitted at the Talgachi High School. No one in the village could think that he would be able to reach that far. Their apprehension was justified: he had no means to pay school fees or buy books, pens and other essential learning materials. But to his advantage, he never had to pay any fee. The school headmaster was well aware of his family's condition. As for books, he would borrow them from his classmates.
It was during his high-school years that Chaphuli Begum landed a job as a field worker at the thana family planning office, for a measly salary of Tk 15 a month, with a few extra bucks coming in from here and there. The job involved strenuous physical work—she had to walk through village after village and visit Shahjadpur Thana, five miles off her home, every day. Seeing her mother work that hard filled Tojammel's heart with a firm sense of purpose. He resolved to try harder and grow up to be like her mother wanted him to, so he could end her sufferings.
His hard work and dedication paid off. In 1967, he passed the matriculation exam in second division. His achievement renewed hopes in Chaphuli Begum's heart that good times were imminent, that his son would get a job of his own, provide for the family as well as the education of his brothers, and go on to pursue higher studies. He didn't have to wait long. A local resident, Mirza Jalal Uddin, who was then the education officer at the Niyamatpur Thana of Rajshahi, was aware of the family's trials and tribulations. He arranged for a job for him. With his help, in 1969, Tojammel joined as a teacher at the Panikhail Primary School in Niyamatpur.
By then, a mass uprising was sweeping across the country under the stewardship of Sheikh Mujib. Protests had erupted in towns and villages, and across educational institutions, against the oppression of Pakistan. The "Joi Bangla" slogan spread like wildfire, imbuing every Bengali heart with a revolutionary spirit.
Not long after, on February 18, Professor Dr Zoha of Rajshahi University was killed by the Pakistani military. This shook the whole country. The teaching fraternity, of which Tojammel was now one, united to protest and avenge the murder. Then came March 7 of 1971, and preparations for the war of independence began. Then came March 26, and the war finally began, with swarms of valiant young men taking up arms to fight for the freedom of their country. Tojammel, too, joined the war.
The northern border was under the control of Sector 7 commander Col Nuruzzaman. Major Gias was the subsector chief under Sector 7. It was in this subsector that Tojammel, my brother-in-law Sharif and many other freedom fighters got their training. There, Sharif and Tojammel developed a good rapport. The training ended in August. Early in September, Sharif was sent on a reconnaissance mission to Rajshahi. I too was in Rajshahi then, having gone there to do a PhD programme at the Bangla Department of Rajshahi University after securing a research grant from Bangla Academy. Tojammel knew about my whereabouts and gave Sharif a letter to give it to me so I can give it to his mother. When Sharif arrived in Rajshahi, I was at my village home in Holchhighar. A few days later, Sharif went back to his camp, only to be greeted with horrible news.
In the first week of September, a group of freedom fighters including Tojammel had entered Sapahar, Rajshahi, to launch an attack on the Pakistani troops there. It was quick and deftly executed and many Pakistani troops died in the attack. After the successful completion of their mission, the freedom fighters were on their way back to the camp by boat. Suddenly, they were hit by a hail of bullets from behind. Three including Tojammel were killed in the process, while several others were also injured. The dead bodies were brought to the camp. Grief engulfed the freedom fighters as the news spread, and the next day, with a heavy heart, they buried the bodies in Khanjanpur.
I got the news much later, on December 22, when my brother-in-law Sharif, like many other freedom fighters, returned home from the war, still holding his machinegun. The war was won and we were jubilant at having him back, unscathed. It was then that Sharif broke the news of Tojammel's sacrifices. We couldn't believe our ears. It saddened us all. Sharif described the circumstances of his death. He also told me about his letter for his mother.
Some days later, I returned to my village. As I was making my way to our home, I came across Chaphuli fufu. She was radiant with excitement as she saw me, and prodded me for any news about her son. I stood speechless, my eyes slowly welling up with tears. Chaphuli fufu realised the unstated message of my silence, and all she could do then was cry out "my Tojammel…" before collapsing on the road, fainting. The memory of that grief-laden cry of a mother haunts me to this day; any mention of Tojammel still makes me speechless.
Today, Chaphuli fufu still roams around, maniacally, in search of her son. Some try to console her, some keep silent, while some ridicule her.
Translated by Badiuzzaman Bay, member of the Editorial team at The Daily Star.