Sharafat Ali- A Hero's Humility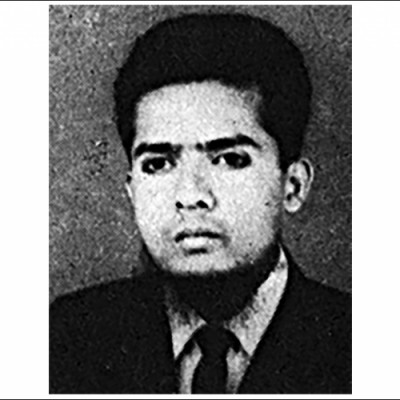 It was the year 1967. The six-point movement was gaining momentum nationwide. I was conducting a class for the third-year students on the second floor of the Science Annex Building, but the commotion caused by some students in the verandah served as a means of distraction. Upon inspection, I noticed a boy with a light goatee, surrounded by a group of people, as he voiced his support for the six-point movement and at the same time expressed his support for East Bengal. The irritated crowd claimed that the man's actual motive was to revoke the six-point movement.
The boy was a student of mine enrolled under Masters of Science. His name was Sharafat Ali, a first bencher who rarely spoke. When he was questioned during class, he would simply reply with a smile. I was curious about his bizarre personality. The university administration at that time was under the influence of the National Students Federation (NSF).
I rescued Sharafat from the raging horde of students and brought him to my room. Since then, I began to learn more about him. Born on July 1, 1943 he hailed from Cumilla's south Rampur village. His father was Ali Azam. When asked about his involvement in politics, Sharafat replied, "I am not into politics sir. However, while in college, Khayer sir stated that Bangalees are in dire need of a separate state."
A reserved person, Sharafat Ali attended Cumilla Victoria College from 1960-1964, where he completed his Intermediate of Science and Bachelor of Science respectively. He later joined University of Dhaka during the 1964-1965 academic year for Master of Science, where he ranked first class first in the first part. Despite his commendable start, he shocked everyone by absenting himself from the last part. I later learnt it was due to financial constraints. Owing to his high self-esteem, he would not accept aid from anyone, all the while maintaining an exceptional charisma. 
During class, Sharafat would not answer questions but always managed to excel during the examinations. Later in 1967, he took a re-examination to complete where he left off, and surprised his peers with outstanding results. Following that, I asked him to apply for the position of a lecturer in the mathematics department of University of Dhaka. Then I noticed another side of his unique character when he said, "Why will they offer me the job? I am not one of them (NSF)." He was right. The university authorities did not provide Sharafat with an interview call letter.
Admired by many for his sincerity, even NSF leader Saidur Rahman Khoka came forward with a helping hand to assist Sharafat's employment, but he humbly rejected the favour saying, "What am I going to teach the students by securing a job in this manner?" Later an influential mathematics teacher requested the Vice Chancellor to invite the talented Sharafat for an interview. The next day Sharafat secured a job as a lecturer of mathematics. During the start of his new career, he resided with Mohammed Isa, a teacher from BUET.
In 1970 Sharafat was appointed as the Assistant Residential Teacher at Dhaka Hall and also shifted his residence there accordingly. Ever since his employment as a lecturer, Sharafat was seen attending every major programme surrounding the protests.
On the night of March 25, 1971, Sharafat succumbed to the brutality of the Pakistan army. When the military fired cannons at their residence, Physics teacher Ataur Rahman Khan died on the spot. Later at dawn when Sharafat wanted to put out the fire at the quarter, the military spotted him and riddled his body with bullets and bayonet-charged him. Isa called me afterwards and recollected, "Sharafat Ali was a pious Muslim who recited the Holy Quran every night after Esha prayers. He looked after his family with love and devotion and also helped others in need. He had planned to visit his hometown earlier in March, but could not make it because he had to provide shelter for a poor patient who came from his hometown. May the Almighty grant him paradise in the hereafter."
Now, whenever I recall Sharafat Ali, his unique smile is what comes to my mind and I can hear his infamous dialogue ring in my very ears, "What am I going to teach the students by securing a job in this manner?"
Translated by Minam Haque, member of the Editorial team at The Daily Star.\