How do you calculate a woman's worth?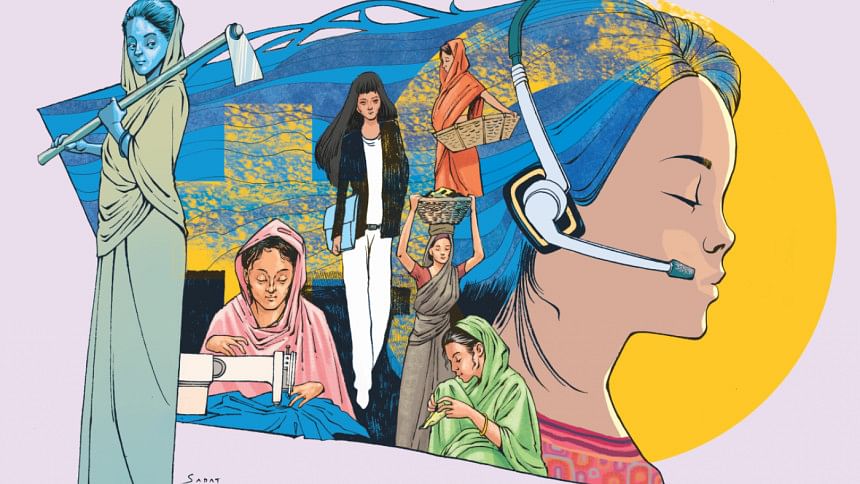 It's hard to tell how old Minara Begum is - she could pass off as a 19-year-old although she is probably in her mid twenties. If you ask she will give you an embarassed smile revealing the dimples on her pretty face as she remarks - 'I can't tell - maybe 16 or 17'. She lost her parents as a child and was brought up by relatives. Her brother married her off to a rickshaw puller who goes to work when he feels like it - the rest of the time he just stays at home. Meena of course does not have such luxury - she must work as a house maid every single day - except when she or one of the children is sick. She has two little children, rent to pay for a small shack in a slum and for daily groceries she has to buy on her way home.
Shocking as it may sound she has to wake up at 2am to cook breakfast because that's the only time the gas comes on in the common kitchen of her slum. For the other meals she uses firewood for her mud stove. In the morning after eating whatever is left after her kids and husband have eaten, she washes the utensils, cleans the room, gives the children baths, nurses the younger child and then starts for work as a part time house maid in a house - a 20 minute walk away.
At the house where she works Meena does the beds, dusts the furniture, wipes the floors, washes the clothes, then cleans the bathroom. If there is time she helps the cook with cutting vegetables and grinding the spices. She leaves her workplace around 2 pm, usually without having any lunch.
This is when she must get vegetables and fish (once in a blue moon), rush home, feed the baby and get back to cooking. She cooks lunch and dinner then cleans up the tiny room that is dining and cooking area by day and bedroom by night. By the time she finishes cleaning everything and taking her bath it is almost evening and it is time to serve another meal all over again.
For Minara despite the numerous tasks she does at home, the only labour for which she is recognised through monetary remuneration is her work as a housemaid. Everything else is taken for granted and considered part of her role as a wife and mother. No one bothers to acknowledge the fact that this frail young woman basically works for almost all her waking hours and often even during the time she should be asleep. Such inhuman hours of manual work are considered part and parcel of being a woman in our country and in many others.
In rural areas where there is little opportunity for women to engage in formal employment it is even worse.
Shanta Begum who once earned 6,000 taka per month as a housemaid now gets nothing even though she slogs for more than 14 hours a day. She is married to a shopkeeper and lives with her in-laws. Her day starts before the fajr prayers when she must start preparing for the first meal of the day. She spends most of the time in the kitchen, cutting, peeling, cooking and cleaning. Apart from that she also has to keep the whole house clean, attend to her mother-in-law's needs, feed the cow, collect the cow dung, dry the lentil seeds and husk the paddy (which the family grows on a piece of land). If you ask her what she does for fun she will tell you – "not much. We say our prayers." Her father-in-law, who is a huzur (holy man) forbids watching television or listening to music. Shanta is only 19-years-old.
The two women we have been introduced to could represent the thousands of women who are engaged in long hours of unpaid work. A patriarchal society with deeply entrenched stereotypical roles for women ensures this injustice to be perpetuated from generation to generation. But economists and social justice proponents have been harping on the need for proper evaluation of women's labour in the economy. There is a strong lobby to include women's unpaid household work as part of a nation's GDP. This would be the first time that those hours of thankless, consecutive tasks, would be acknowledged as contributing to the economy.
In the case of women working in homesteads the economic contributions are quite tangible and easy to calculate. It would be for instance, possible to monetise the hours spent in farm work – husking the rice, planting seeds, drying the grains etc by the amount paid to a farm hand for the same tasks and hours. But how would one place taka amounts to tasks like child rearing, making sure they go to school, eat their meals regularly, taking extra effort to make special, nutritious meals for the family, taking care of a sick, elderly mother-in-law who has to be bathed, fed and clothed like another child? These tasks are no less valuable in building a nation. It ensures that children do not go hungry, that they get educated, are brought up in a wholesome environment and acquire necessary skills for future jobs. It ensures that the men of the house have the nutrition and peace of mind to be productive workers. It also makes sure that the elderly and disadvantaged are treated with dignity. It provides happiness. These intangible benefits are impossible to specifically evaluate but they have enormous contributions in making an economy healthy and helping a nation survive and grow. Including these tasks in the GDP will be a first step in the acknowledgement and appreciation of such invaluable contributions of women. It may even persuade more men to share the burden of household work.
The writer is the Deputy Editor, Editorial & Op-ed, The Daily Star.