Khaled Musharraf, Bir Uttam - The Commander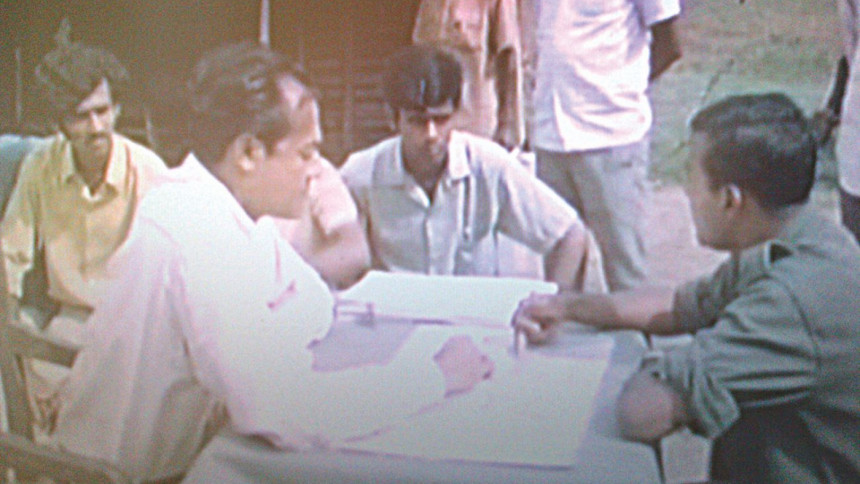 "No-No, don't think I do not understand when you say how would I make Dacca (Dhaka) into a heap of rubble", explained Khaled Musharraf sitting in front of his Toyota Jeep and at the back seat where Shahadat Chowdhury (the then editor of Bichitra magazine) was sitting. Shahadat asked the young mature and handsome Sector Commander of Sector-2 the question "how would the Freedom Fighters along with Bangladesh Army turn Dhaka into a graveyard, whereas in Dhaka the parents and relatives of the freedom fighters fighting in this very sector are staying. You being the Sector Commander also have your own relatives in Dhaka, Shahadat poised, would you let them die for no reason… by your own men".
Shahadat, you are not only an artist but also a journalist you have got to understand one thing very clearly, this is a war and a bloody war that we have to fight against a well trained army. And don't forget for a single moment, we, the soldiers with the Freedom Fighters must win this war. Khaled turned his head towards Shahadat and told him the zone and the area that Sector-2 under his command has to cover. Sector-2 consists of Dhaka, Comilla, Noakhali up to Feni and major part of Faridpur. This makes Khaled's sector very important and one of the largest sectors.
On March 27, 1971, the 4th East Bengal Regiment (EBR) revolted under the command of Major Shafayat Jamil. Khaled  was made aware by Major Shafayat Jamil while the revolt took place in Brahmanbaria. Brahmanbaria was located in between Comilla and Sylhet district. Khaled came in the late afternoon of March 27 and joined his battalion in Brahmanbaria. He, with Lt. Mahboob and his troops started from Shamshernagar via Teliapara and joined Major Shafayat Jamil and the troops of 4th EBR. By then the mutiny was completed giving full control to Bangladeshi officers and jawans. Lt. Col. Kheezer Hayet Khan, CO (Commanding Officer) of the then 4th EBR was taken into custody so were the other two Punjabi officers of 4th EBR. These officers were handed over to the SDO (sub-divisional officer) Brahmanbaria, Kazi Rakibuddin Ahmed. And he handed over these prisoners of war (POWs) as intruders to BSF (Border Security Force) of India. Lt. Akhtar Ahmed, Lt. Haroon ur Rashid, Lt. Fazlul Kabir (Mona) along with NCOs (non-commissioned officers) Belayet, Shahid and Munir played key roles with Major Shafayat Jamil leading from the front. ** (Reference—Col Shafayat Jamil's Book published in 1998)
On March 22, 1971 Major Khaled as BM (Brigade Major) of 57 Infantry Brigade was posted out of the Dhaka within two hours notice to Comilla as 2IC (Second in Command) in 4 EBR. On March 24 with a company strength soldiers Khaled was instructed to move out of Comilla to the border area in Shamshernagar. While on his way to Shamshernagar, obstacles and barricades had to be removed by his troops and that made their arrival late at night in Brahmanbaria. Khaled had to pass through Brahmanbaria to go to Shamshernagar as that was the only road link available for him. After passing through the town and coming to the bridge at Niaz Park, he found a crowd that included students blocking the bridge; they informed him that they would not allow any military vehicles and personnel pass the bridge.
Khaled was also told by Mr. Lutful Hai Shachu, Mr Ali Amjad and the Awami League student leaders that the Pakistani Army had fired on civilians in various places killing people and now the Pakistan Army was also sending the Bengal Regiment from Comilla with a motive to remote places. Hence the civilian Bengalis would not allow Bengal regiment soldiers to go out of Comilla. This is where Khaled was met by Major Shafayat Jamil who was stationed in Brahmanbaria. Khaled informed Shafayat about the Pakistan junta's plan for mass killing of people. They were also bringing a huge amount of ammunition and armaments by ship to Chittagong. For this, the army junta brought West Pakistani army in civil clothes to Dhaka by air to take full control of the city.
The population present there wanted to hear from Khaled what to do next. While leaving the place Khaled understood and apprehended the situation for which he provided Shafayat with different radio frequency to communicate with him. On March 26 evening, Shafayat communicated with Khaled and updated the situation in Dhaka and elsewhere. In reply, Khaled indicated to Shafayat by stating "he will wait for night fall" and that was good enough for Shafayat to understand that he will come by tomorrow.
Khaled's return to Brahmanbaria gave a moral boost to all the officers, jawans (soldiers) and the civil population. Khaled being the 2IC and the senior most Bengali officer of the battalion took over the charge from Major Shafayat Jamil who made a very successful revolt of 4 EBR in Brahmanbaria on March 27, 1971.
Taking over the command from Major Shafayat Jamil, Khaled understood the pulse of the soldiers and the officers of 4 EBR. They would like to take vengeance immediately; most of them thought that they would be ordered to move either towards Comilla or Dhaka to fight. And they would probably march towards Dhaka. Khaled, after talking with Shafayat Jamil, called for a meeting with officers,  Junior Commissioned Officers (JCOs) and senior Non-commissioned Officers (NCOs) at 3.30 pm in the Rest House. 
Khaled gave his maiden speech to all officers, JCOs and NCOs of the 4 EBR who were present in Brahmanbaria. He told them a very successful revolt had taken place and congratulated all the soldiers present in the meeting, and spoke of the time lapsed. It would be futile, dangerous and suicidal to go for confrontation at that particular time with Pakistan Army. He pacified the JCOs and NCOs by saying that: "You may kill only a few Pakistani soldiers and you may also get killed. Presently your life is very precious for our country, if you stay alive you could train hundreds of young people to become soldiers and fight for our motherland. Yes, we will have to fight the Pakistan Army someday soon, but not now. This is not the time to go for confrontation and we need to re-equip and gain our strength." The euphoria of 4 EBR and the public surrounding the area was at its peak, the deliberation by Khaled was like a bucket of cold water poured over the heads of each present. Khaled very coolly and calmly explained the plan to the troops present that they would have to move towards Teliapara close to Shamshernagar in Sylhet and regroup themselves.  He instructed the battalion to get prepared to move out at the earliest. They understood the reality and followed the order of Khaled.** (Ref: Maj Akhtar Ahmed's Book "Advance to Contact")
On March 27, 1971, Major Ziaur Rahman's voice was also heard by them and   Major Zia being the 2IC of 8 EBR revolted from Chittagong and made his anouncement on behalf of Bangabandhu Sheikh Mujibur Rahman from Khalurghat improvised Radio Station. He also came to know that Major KM Shafiullah 2IC of 2 EBR along with his troops, had revolted and moved from Joydevpur to Mymensingh and finally now stationed with his troops in Kishorganj.
Khaled on March 29 sent Lt. Mahboob with a written message to Major Shafiullah the 2IC of 2 EBR requesting him to come to Teliapara instead of going into confrontation with Pakistan Army at this stage. On the same day Khaled left for Teliapara with 4 EBR, leaving behind Major Shafayat and others to hold on to the critical points in Brahmanbaria and join him later. 
Khaled started his planning from the very first day of taking the decision of joining and leading one of the Liberation Forces. Therefore, once he took over the responsibility of 4 EBR he made sure that everyone of his troops understood his intension. It was in Brahmanbaria that he spelled out to his battalion what he was going to perform and accomplish during the coming days.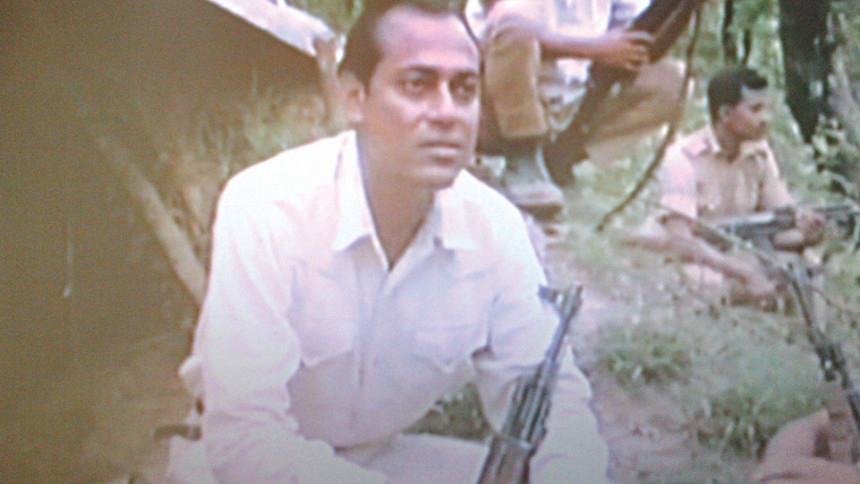 DECISION TO FIGHT
Lt. Mahboob who drove Khaled back from Shamshernagar to Brahmanbaria to join the 4 EBR on meeting Lt. Akhtar informed him how Khaled took the decision to join the Liberation movement. While Khaled was detailed to sort out Naxalites in that area, he found on arrival that 31 Punjab Regiment was already there. Khaled was purposely kept in the dark by the Pakistani Junta, so that he with his troops would fall into the trap and be eliminated as required. The officer in charge while confronted by Khaled could not give any suitable answer as to why the contingent presence is in Shamshernagar. This left Khaled with no choice but to decide his role and decide his and the rest of 4 EBR's fate.
Khaled was very much aware of his position within the Pakistan army. Life of bright officers of the Pakistan army was very comfortable and luxurious. But he was looking at the existing situation of the country where unarmed, unprotected and defenseless innocent Bengalis were being slaughtered in East Pakistan by this brutal
Pakistani junta. Khaled knew what capabilities the Pakistan Army had established in East Pakistan. With a company strength available presently and maybe within the next few days a battalion strength of 4th EBR would not be able to meet the challenge of winning the fight. He knew that if he could organise the young generation to train them and use nonconventional warfare along with the conventional tactics, as done in Vietnam and some Latin American countries, there remained a strong possibility of winning this frightful war.
With Mahboob sitting across the table in Khaled's tent, Mahboob could see how deeply Khaled was engrossed in his thoughts. Watching the commander, Mahboob could feel his tension. Finally Major Khaled Musharraf took his decision and instructed Mahboob to get the company ready to move to Brahmanbaria by nightfall. He ordered to arrange for the Bangladesh Flag to be flown in all the vehicles. ** (Ref: Maj Akhtar Ahmed's Book "Advance to Contact")
TELIAPARA TEA ESTATE:
Major Zia, Major Shafiullah and Major Khaled, all three were 2IC's of their battalions while they revolted they had reputation of being talented officers and all three of them have been instructors in PMA of Pakistan Army in Kakul. They were quite well known within the members and officers of the Armed Forces.
Major Khaled Musharraf while coming back from Shamshernagar checked through Teliapara. It is part of Habiganj district is situated adjacent to Indian border. Khaled was looking for a place inside Bangladesh territory which would be safe to reinforce and regroup with other revolted soldiers. Seeing the location of Teliapara he decided within this short period no other place would give the armed personnel to fall back, reorganise and pursue the plan to fight out the war in a proper professional manner. Thus, Teliapara Tea Estate area became the first organised military camp to train young civilian and regroup EBR soldiers.
Historically, Teliapara came to surface due to one of the European owned and established Chandpur Tea Company Ltd in 1895 in Teliapara. Later the Garden was sold to a local Mr AN Mukharjee during 1929/1930. The Mukharjee's continued till 1965 Indo-Pak war and was taken over by Mr SK Nasim Anwar and Mr SK Khurshid Anwar till the end of Liberation War of 1971. The landscape of Teliapara gave a positive environment to the EBR soldiers. The forest and the hillocks used by the garden gave substantial support to the Bangladeshi Forces.
With 4th EBR Khaled settled in Teliapara Tea Estate from March 30, 1971. Teliapara served as safe haven for the troops as well as the politicians, intellectuals and government officials' to cross over to India. Teliapara, a part of Bangladesh was secured and defended countless times during attacks by the Pakistan Army. It became a substantial piece of solid evidence to the government and the political personalities of India that Bangladesh could become a reality within the coming months. The 4 EBR setup the communication network facilities, movement of troops and contact on both sides of the border area started. Normalcy amongst the troops was seen with the first day of their arrival in Teliapara.
On return after handing over Major Khaled's message and providing information to Major Shafiullah, Lt Mahboob came back to this heavenly place Teliapara. He was instructed by Khaled to liberate all the nearby EBR-BOPs within this zone. Mahboob with armed soldiers attacked and all the BOPs and got them to surrender one after another. The Bengali EPR personnel were enrolled in 4th EBR strength, at the same time the West Pakistanis soldiers were disarmed and brought in as prisoners. Quite a bit of arms and ammunition were recovered.
In the mean time Major Shafiullah went to Brahmanbaria and met Major Shafayat Jamil and it is from him that Major Shafiullah came to know the location Teliapara where 4th EBR and its CO would be waiting for 2nd EBR. On April 2, the two EBR moved to Teliapara Tea Estate. Necessary arrangement was made for 2 EBR officers and the 4 EBR officers moved to the manager's bungalow.
Khaled requested and pursued Brigadier Panday of BSF to inform Major Ziaur Rahman to come to Teliapara to sit for a meeting and make moves together. Brig Panday informed Major Zia and also got Col MAG Osmani and Lt Col Rob in the meeting. What was amazing about Major Khaled was that, he visualised the importance of getting together those battalions which revolted in the eastern part of Bangladesh. It was on April 4, 1971 the first meeting of the officers of the nucleus of the revolted EBR battalions met in the library turned into conference room in Teliapara Tea Estate.
Colonel (Retd) MAG Osmani member of the Parliament came from Dacca (Dhaka) via Motinagar border , Lt Col (Rtd) Rob came from Sylhet, Lt Col Reza came from Brahmanbaria, Major (Retd) Quazi Nooruzzaman joined 2 EBR on March 25 and came along with 2 EBR from Kishoreganj, Major CR Dutta an infantry officer was on leave and joined from Sylhet. Major Ziaur Rahman now CO 8 EBR, Major KM Shafiullah now CO 2 EBR and Major Khaled Musharraf now CO 4 EBR including Major Shafayat Jamil from 4 EBR, Major Nurul Islam (Shishu) 2 EBR, Major Moinul Islam Chowdhury from 2 EBR. Brigadier Panday of BSF, India was also in the meeting to witness the proceedings. And from the civilian side it was Kazi Rakibuddin Ahmed, SDO Brahmanbaria.
It was a historical day for the officers present there and was the most significant moment in the history of Liberation War. This day gave the opportunity to the Leaders especially the three battalion commanders to exchange notes. It was also the first opportunity to coordinate the fight and activities of the three battalions of East Bengal Regiments as well as other pro-liberation forces. In fact Teliapara is the place where the Liberation Army of Bangladesh came into existence. It was from here the actual coordination of the war started.
It was in Teliapara round table conference that took place under the leadership of Col MAG Osmani and decisions made by the defected Bengal Regiment Battalions to fight under the command of the exiled Awami League Government. Although they knew the support that the revolted army required from the Indian Government will take some time. However, to make the Indian Government feel at ease and provide support this group of young officers decided to fight under the umbrella of the exile government. Awami League being the elected representatives will be at the helm of affairs to negotiate with the Indian Government and others. Command formations were created and the then East Pakistan became Bangladesh in reality.
The meeting of these twelve officers unanimously agreed to work under Col Osmani and divide the eastern boundary of Bangladesh into four sectors. And they were;
1) Major Ziaur Rahman with 8 EBR and pro liberation forces will control Chittagong, Chittagong Hill Tracts and part of Noakhali and this will be called from now as Sector-1.
2) Major Khaled Musharraf with 4 EBR and pro-liberation forces will control Comilla, part of Noakhali, Dhaka and Faridpur. And will be known from now as Sector-2.
3) Major KM Shafiullah with 2 EBR and pro-liberation forces will control part of Sylhet and Mymensingh. This area will be known from now as Sector-3.
4) Major Chitta Ranjan Dutta with revolted Bengali personnel from East Pakistan Rifles (EPR) will control north eastern part of Sylhet. And it will be known from now as Sector-4.
5) It was also decided that 8 EBR suffered heavy casualty in the hand to hand fight with Pakistan Army during the first week of the war, nearly lost half of its troops. Therefore, one company from 2 EBR and another company from 4 EBR will be provided to Major Zia as re-enforcement to 8 EBR.
6) Major Quazi Nooruzzaman will move to Agartala and be responsible to get the political Leaders of Awami League and form the Provisional Government-in-Exile in Agartala. At the same time prepare to broadcast for Exile-Government the formation of the Bangladesh Forces.
Thus the Bangladesh Government-in-Exile was formed with Mr Tajuddin Ahmed as the Prime Minister and Mr Nazrul Islam will be the Acting President. On 10th of April Mr Tajuddin Ahmed spoke from the Clandestine Radio Shadhin Bangla Betar Kendra and provided a detailed picture of the formation of Bangladesh Army and of the brave officers of the Liberation war. The morale of the fighting forces was taken to a higher level.
The historical meeting of Teliapara initiated by Major Khaled and attended by the officers of Revolted Bengal Regiment and some retired Bengali officers present acknowledged the fact that Khaled had set the trend and had a strategy to fight against the Pakistan Junta. He was the instrument to bring the Revolted Bengali Army Officers together in one table to fight out the right cause of Bengali population. It was Khaled's decision that made the Bangladesh Forces of the Liberation War a formidable, sustainable and independent force within its own enclave of Bangladesh territory. Due to this the pride, strength, position and authority of the government-in-exile made it possible to have mutual respect from the Indian authorities and the Indian Defense Forces.
The writer is a freedom fighter who fought under the command of Sector 2 and K-Forces.