Realising the potential of Bangladesh automotive industry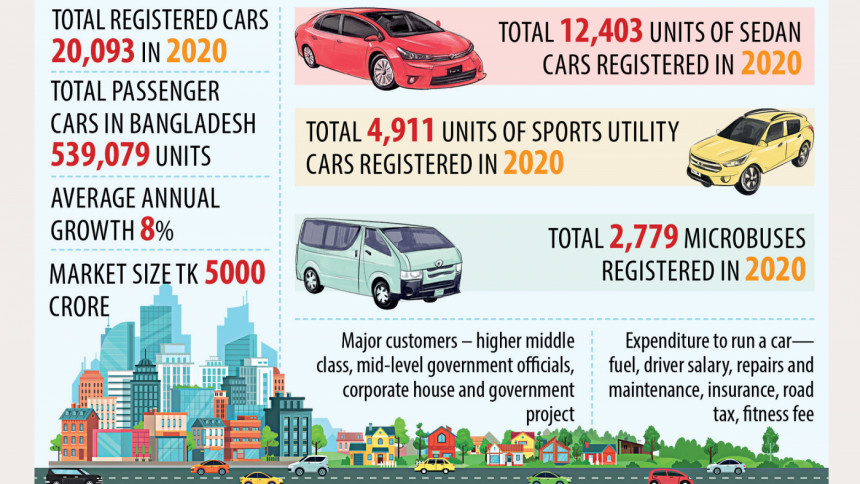 Even though the affluent middle-class in Bangladesh is growing rapidly and increasing its purchasing power, the demand for passenger cars are still low compared to India and Thailand. 
According to a LightCastle study, the size of the country's automobile industry, in particular the passenger vehicle segment, remains modest compared to other Asian peers with only 2.5 cars per 1,000 population.
The market has grown multifold over the years and has become an industry worth USD 1 billion.
However, the industry experts believe that the market size of passenger cars is not bigger than Tk 5000 crore.
According to the Bangladesh Road Transport Authority (BRTA), only 20,093 passenger vehicles were registered in 2020, covering a mere 5.3 percent of the automobile industry volume.
Passenger vehicles include sedans or private cars, sport utility vehicles (SUVs) or jeep, and microbus or multi-purpose vehicles (MPVs). Within the passenger vehicle segment, sedans (also referred to as private cars) accounted for almost 55 percent of vehicles, with 12,403 units registered in 2020.
The remainder of the passenger vehicles segment was captured by SUVs and microbuses with 4,911 units and 2,779 units respectively.
These numbers have also changed over the last few years, where SUVs and MPVs have mostly recorded a gradual increase in demand, while the registration of sedans have at times been stagnant or even decreased.
The automobile market in Bangladesh has seen significant growth in the last decade, especially between 2015 and 2017. At the peak of its trajectory, BRTA had reported 32,942 registered passenger vehicles in 2017 that has since been in decline. Between 2018 and 2020, the number of registered passenger vehicles has declined by almost 39 percent.
Moreover, the automobile industry is still heavily import dependent.
Currently, Pragoti locally assembles cars made by Japan's Mitsubishi Motors while PHP Motors, a sister concern of the PHP Family based in Chattogram, assembles cars designed by Malaysia's Proton Holdings Berhad.
Besides, Indian automotive giants Tata Motors and Mahindra & Mahindra recently showed interest in setting up similar partnerships with local manufacturers to grab a bigger slice of the growing Bangladesh automobile market.
At present, about 60 to 65 vehicles are sold across the country each day.
When the market had just started to take off in 2012, the daily figure was 29, indicating a 117 percent increase in the last eight years according to Bangladesh Reconditioned Vehicles Importers and Dealers Association (BARVIDA).
In 2019, car sales amounted to Tk 5,000 crore, which was more or less the same the year before.
Bangladesh's thriving automobile sector has grown 8 percent on average annually since 2012, according to industry insiders.
According to the Automobile Industry Development Policy 2021, the local automobile industry has been considered a potentially major industrial sector for the last two decades as it has registered impressive annual compound growth and contributes greatly to the national economy.
Bangladesh will cut its over-reliance on imported vehicles, switch to electric modes of transportation and become a regional hub for automobile manufacturing by 2030 as the government unveiled the country's first-ever policy to develop the sector. 
The policy promises to offer tax and export incentives to encourage entrepreneurs to establish automobile plants in the country.
Opportunities for four-wheeler
The market is growing annually at a rate of 8 percent with an increasing purchasing capacity of the growing middle class of the country. The middle class are the main customers for passenger cars.
As per the policy, investors will get the opportunity to import capital machinery and equipment to make cars at zero duty.
Besides, commercial vehicle manufacturers will get duty-free access for the import of auto parts for four years.
Investors will get concessional loans to market locally manufactured commercial vehicles, according to the policy issued by the industry's ministry on Tuesday.
A 15 percent cash incentive will be given for the exports of locally assembled or CKD (completely knocked down) cars.
The local automobile industry is nearing critical mass thanks to its ability to adopt new technologies and increased efficiency in human resource management.
"Bangladesh's automobile industry could even become a part of the global supply chain in the future," the policy states.
Growing demand for cars and motorcycles is a result of the rise in purchasing power among the general public, it added.
The policy aims to provide a clear roadmap on how to take the country's evolving automotive ecosystem forward.
On the other hand, the policy discourages the import of completely built-up units of used vehicles as locally assembled cars are more affordable than the imported ones.
The government will attract both local and foreign investment, the policy said. The authorities will set standards for locally manufactured vehicles in keeping with global benchmarks, and help local manufacturers to enter new markets.
"Progressive leasing policy will be pursued to help locally-made automobiles expand their markets," said the policy.
Abdul Matlub Ahmad, chairman of Nitol-Niloy Group, said the policy would help Bangladesh become an automobile manufacturing nation.
"Customers will benefit as they will get vehicles at affordable prices," he said.
Thanks to the policy, local manufacturers will be able to sell a sedan car within Tk 10 lakh as customers would not have to pay import duties, according to the entrepreneur.
The government will draw up a reconditioned car management guideline to support the firms involved in running reconditioned car businesses and local manufacturers. 
An automobile scrapping policy will also be formulated. The government will impose anti-dumping taxes to prevent dumping and unfair trade practices.
A one-time 100 percent duty and tax waiver will be extended for the imports of machinery to set up CKD factories.
The total tax incidence will be 25 to 35 percent for CKD level manufacturers for imports of parts. It will not be more than 10 percent if parts are sourced locally, the policy mentioned.
Factories will be entitled to a 1 percent tax rebate if they spend 1 percent of their annual income on research and development.
The policy will look to transform a majority of the vehicles, particularly passenger cars, buses, trucks and three-wheelers, into electric vehicles (EVs) by 2030.
A 10-year tax holiday will be provided to EV assemblers or manufacturers.
In order to ensure higher production of EVs and keep the emission levels to a minimum level, the government will offer financial incentives, waiver of road tax and reduced registration fee for a certain period.
Challenges of automobile sector in Bangladesh
According to the market players, the market size of passenger cars is still infant.
Mannan Khan, chairman of Bangladesh Auto Industries Ltd (BAIL), said, "In our country, the lower-middle and middle class dream of buying vehicles but they cannot afford it as the prices are excessive."'
Industry insiders said the government imposed the duty on import of car in early nineties when only the rich would buy cars for their own use or commercial purposes.
However, after 30 years, the economy of the country has changed a lot –so now the car has become necessary for the urban-middle and higher-middle class.
Due to high tax, the price of a car is very costly in Bangladesh, and for this reason, the market for four wheelers is yet to boom like India and Thailand.
According to car importers, when a car is imported at USD 5,000 from Japan, the retail price becomes around Tk 22 lakh in Bangladesh due to high tax.
The middle-class citizen cannot afford a car of his own due to the high price of car. And the market size will not increase without reducing tax on local manufacture.