'Managing ramp connections is pivotal to mitigate traffic congestion'
In conversation with Dr. Adil Mohammed Khan, Professor at Department of Urban and Regional Planning, Jahangirnagar University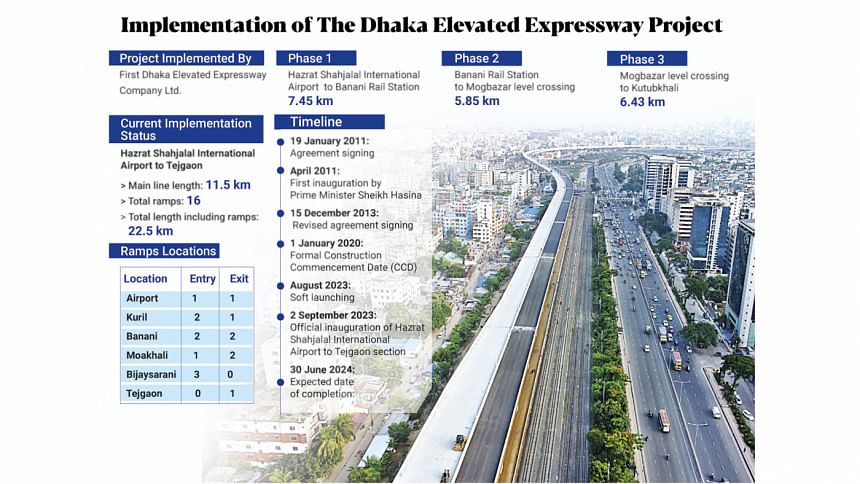 The Daily Star (TDS):How will the introduction of the elevated expressway impact the urban living experience in Dhaka?
Adil Mohammed Khan (ADM): The Dhaka elevated expressway was primarily constructed to provide a route for larger vehicles to circumvent the city. However, there is also contemplation about its potential utilization within the city. Its integration within Dhaka could prove beneficial, as it enables faster travel for car owners. Nevertheless, it poses limitations for motorcycles and CNG vehicles, affecting the middle-class segment. Essentially, it adds a new layer to the existing road infrastructure, with vehicles using ramps to access or exit the expressway. Consequently, this could lead to increased congestion on the road beneath the expressway, impacting the middle-class population who may not have access to it.
The expressway's coverage is limited to specific parts of Dhaka and isn't primarily designed to alleviate traffic congestion within the city. It may not see extensive use for short trips. Instead, its role as a bypass helps alleviate the burden of large vehicles on city roads, aligning with its primary objective. It's possible that its integration within the city was considered to make toll collection feasible. This approach would allow vehicles traveling within Dhaka to use the expressway, albeit incurring toll charges. However, its construction over Dhaka's existing rail network has introduced substantial complexities. For instance, plans for establishing a commuter rail on this network faced significant hurdles.
TDS: How does this elevated expressway influence Dhaka's socio-economic landscape?
ADM: The introduction of the elevated expressway is unlikely to stimulate the emergence of major new businesses within Dhaka. However, the construction of ramps for this expressway could potentially create opportunities for small roadside businesses in proximity. Nevertheless, these changes are not expected to have a significant impact on the city's overall economy.
Nonetheless, the use of this elevated expressway is anticipated to result in time savings for commuters. Reduced travel times could benefit existing businesses by potentially increasing their profits, as less time spent on transportation can translate into higher productivity. Furthermore, as a bypass road, the expressway has the potential to efficiently redirect vehicles from northern Bangladesh, allowing them to bypass Dhaka and reach their destinations more swiftly. This reduction in transportation time could have a positive ripple effect on the country's overall economy.
However, concerns arise for ordinary middle-class individuals who heavily rely on public bus services. The extent to which these individuals will benefit from time savings remains uncertain, particularly if public buses do not utilize the expressway. Consider a scenario where a bus travels from Jatrabari to Tejgaon using the expressway. In this case, passengers may not have the opportunity to disembark at intermediate points along the route, as the expressway currently lacks provisions for passenger stops. Therefore, it remains unclear whether local buses will adopt this route or continue their existing operations.
TDS: Will the accessibility of the Dhaka Elevated Expressway (DEE) be equitable for individuals across various income levels, considering the varied tolls for different vehicle types?
ADM: The utilization of toll-based expressways can present a barrier, as not everyone is inclined to pay each time they use the road. Typically, toll roads are preferred for emergency situations, while most people favor toll-free roads or flyovers. Additionally, toll charges have the potential to elevate bus fares, which could burden the middle class. It's crucial to acknowledge that our country's income levels are significantly lower than those of developed nations that employ toll systems.
Prioritizing the enhancement of roads beneath flyovers and expressways should have taken precedence, rather than focusing solely on expressway construction. While large-scale projects like expressways and metros have their merits, greater investment in regular roads would benefit the general populace. The current expressway project, with its toll system, may inadvertently exclude many individuals, raising concerns about fairness. If the government had heavily invested in road improvements, fairness would not have been a contentious issue. The introduction of franchise bus services could offer a solution. The government should undertake both substantial projects and simpler initiatives that directly assist the common people.
TDS: Are all the ongoing projects in Dhaka, such as the Dhaka Elevated Expressway, the Metrorail, and the flyovers, effectively coordinated to alleviate traffic congestion and enhance urban development, or are these projects being pursued independently without sufficient consideration for their synergy?
ADM: In Bangladesh, a prominent challenge across various project types is the lack of effective coordination, and this issue extends to transportation projects. The government often initiates multiple projects through different agencies, resulting in a lack of harmony and inadequate monitoring or supervision.
Coordination, particularly in the realms of planning and implementation, is conspicuously absent in Dhaka's transportation efforts. Effective coordination is essential for both project execution and alignment with land use. Economic hubs typically emerge around these projects, underlining the importance of coordination with land authorities. The deficiency in coordination, as exemplified by the elevated expressway project, can restrict the potential impact of other projects.
Presently, uncertainty looms over the circular railway in Dhaka due to conflicting projects, such as the elevated expressway being constructed on railway land. Furthermore, the lack of coordination in feasibility studies results in wasted resources. Insufficient communication, as seen in the case of the metro and subway projects, detrimentally affects Dhaka's livability.
Moreover, the Transport Coordination Authority's role appears weak, leading to conflicts with mayors and project stakeholders. Even the expressway project itself appears to suffer from inadequate communication with local mayors.
Ultimately, the full impact of these projects will only be realized upon their completion. Managing ramp connections is pivotal to mitigate traffic congestion. Striking a balance between large-scale projects and pragmatic solutions should be a central focus.
The interview was taken by Md Fozlay Rabby Ansary