Kawla to Farmgate in 9 minutes
Dhaka Elevated Expressway fulfilling commuters' dreams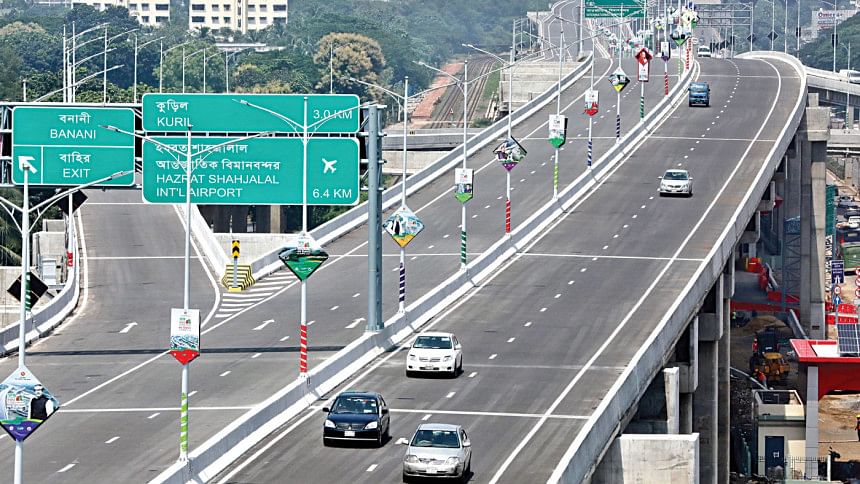 The song "Top of the World" by The Carpenters was the only way for me to describe my euphoria upon reaching my work place in Kazi Nazrul Islam Avenue at Farmgate in just under 35 minutes.
I experienced an almost child-like cheerfulness when I took the Dhaka Elevated Expressway from Kawla point and landed at an exit on Indira Road in just under 9 minutes, leaving behind the chaotic traffic below.
I did not have to wait at my regular six to seven deadly traffic signals en route to work through the Mymensingh road. On top of that, I completely bypassed the airport crossing traffic because of the two new Bus Rapid Transit overpasses.
Thus, in 20 minutes or so, I was in Farmgate from Uttara. For me, this was as good as dying and going to heaven.
For the last 18 years or so, I have been commuting to work from the suburbs of Uttara, pushing through insane traffic jams day in and day out. On many nightmarish occasions, it took me two and a half hours to reach Farmgate, Karwan Bazar, or the Sonargaon crossing.
I will talk about one chaotic night, when I reached home at 4:00am after leaving a social event in Dhanmondi around midnight. Such delays also occur when we face VIP movements or any political event.
I am not exaggerating my traffic anxiety one bit -- Uttara truly was a forsaken place.
I actually schemed so many detours -- through Beribandh, Bashundhara and Badda crossing into Hatirjheel, Banani via Gulshan on to Hatijheel, and more.
But now, all this traffic-related road angst comes to a befitting end, and for just Tk 80, thanks to the Expressway.
It is true that when you land in Farmgate, the jam is just as pronounced as ever, but one signal can easily be managed compared to facing signals throughout the entire commute.
Many Dhakaites are arguing on the pros and cons of this route, and the toll fare seems a little high for some. But for those living in Uttara, Gazipur, and beyond, this is nothing short of a godsend.
I will be spending Tk 4,800 extra on tolls monthly, but I will be able to escape all of the usual signal traffic below. I will also be able to save fuel.
The fine calculations that all the drivers and commuters are doing now should keep in mind that not all gains are monetary.
With the Expressway, we don't have to deal with ill-behaving motorbikes and minibuses, whimsical jaywalkers, or wait at signals for 15 to 20 minutes.
From the health aspect, we have to spend less time cooped up in cars, meaning our backs will live to fight another day, and our minds will be much less drained from dealing with arduous gridlocks.
From the social aspect, you no longer have to mark calendars for days when it's best to venture to the rest of Dhaka city, like Dhanmondi, or New Market. Now, you can go when the mood takes you. Plus, it also opens up Uttara to more people.
With the Metro Rail and now the Expressway, the connectivity within Dhaka and its outskirts has become so much more trouble-free.
So, coming from someone who had to commute from Uttara to Farmgate the "old fashioned way" for around 18 years – all hail the Elevated Expressway!