Caring for premature Bangladeshi and Rohingya babies alike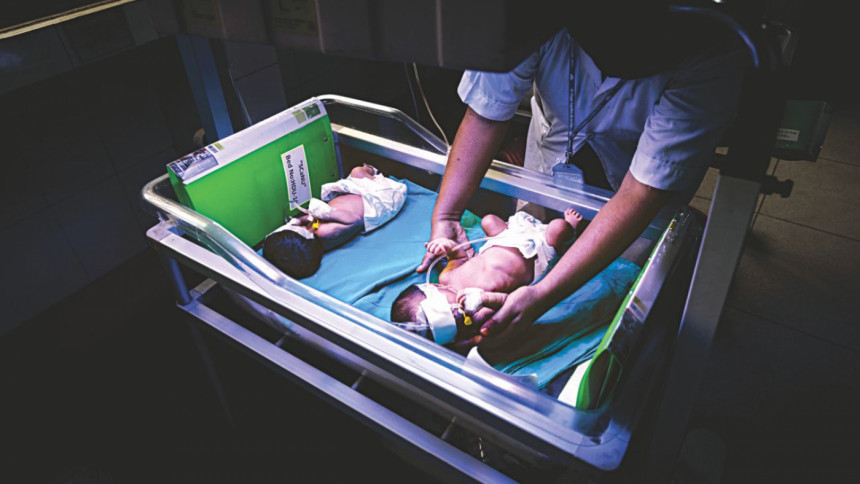 Cox's Bazar town: The twins lie sleeping side by side, their tiny limbs splayed outwards on the floral cloth that lines their incubator tray. Plastic tubes attached to their noses link them to a phial of their mother's milk. The labels above their heads record their mother's name – Somaya – and their weight when they were born just three days ago: 2 kilograms for the girl; her brother, just 1.77 kilograms.
What the labels don't record is that the twins' mother is a Rohingya, a refugee from among the hundreds of thousands who fled into Bangladesh in the last months of 2017.
"There's nothing unusual about that," explains Dr Mohammed Zaman, who supervises the Cox's Bazar District Hospital Special Care Newborn Unit. "Currently we are caring for five Rohingya babies, sometimes there are more."
The unit, which receives support from UNICEF and a number of other donors, has 24 cots equipped with a radiant warmer. But such is the demand that most of the cots contain two babies, despite the risk of cross- infection. (UNICEF is in the process of expanding the unit up to 40 beds).
"The mothers tend to be very young, especially the ones from the refugee camp," says Dr Zaman. The youngest he has dealt with was just 14.
UNICEF has a long history of collaboration with local health authorities not just in Cox's Bazar but across Bangladesh. Besides supporting neonatal care services, the partnership extends to health worker training and health management systems.
"The neonatal unit here in Cox's Bazar has treated around 1,700 newborns so far this year." says UNICEF Health Officer Helen Chakma. "The referrals come from host communities and Rohingya camps alike, so there's benefit to both."