Bangabandhu Sheikh Mujib Shilpa Nagar
The beginning of a new chapter in industrialisation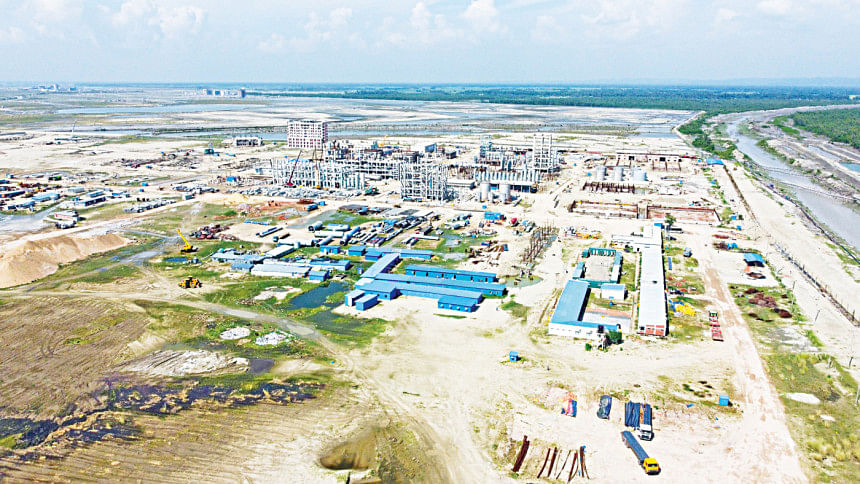 The coast of Mirsharai, an upazila in the southeast division of Chattogram, wakes up in the morning to the sounds of under-construction factories, and machines of several newly-built plants on a vast part of the region.
On the bank of the Bay of Bengal, small fishermen waking up at dawn to prepare for fishing in Sandeep island -- the Bay of Bengal channel -- was a common scene for decades before this low-lying area was developed to establish the country's biggest economic zone.
Before developing this land, the coastal bank, which was partly filled by vegetation and farmland, saw tidal water coming twice a day, and cattle grazing around.
Now, this huge area, covered by electric lines and inter-connected roads within, awaits a surge in industrial activities.
This is the Bangabandhu Sheikh Mujib Shilpa Nagar (BSMSN), which will be one of the biggest industrial enclaves in South and Southeast Asia once the 33,000 acres of the planned zone are ready.
The BSMSN is one of the 97 economic zones that the Bangladesh Economic Zones Authority (Beza) has approved so far to encourage industrialisation in a planned and organised manner and facilitate rapid economic development in the country.
Today, Prime Minister Sheikh Hasina is expected to inaugurate the commercial operation of four factories in the BSMSN, and lay the foundation stone of nine others in the industrial enclave.
Also, she will inaugurate 30 factories in other economic zones apart from inaugurating seven infrastructure and other facilities.
In total, 50 industries and various infrastructure of the economic zones will be opened today, marking the golden jubilee of Bangladesh independence.
The 43 factories have so far invested $1.57 billion in different public and private economic zones, according to Beza.