Bangabandhu's assassination: The enemy within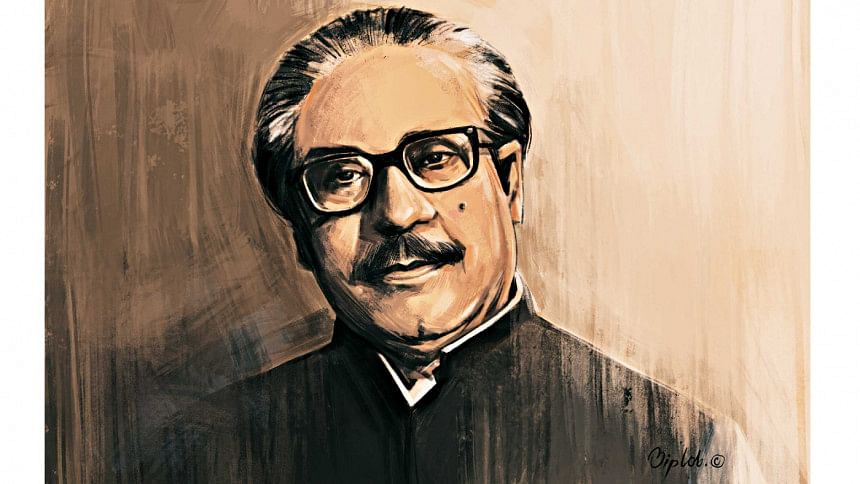 On August 15 this year, the nation will observe the 47th death anniversary of the Father of the Nation Bangabandhu Sheikh Mujibur Rahman. On this day in 1975, a group of assassins, namely Col Abdur Rashid, Col Farook Rahman, Lt Col Shahriar Rashid Khan, Lt Col Mohiuddin Ahmed, Major Sharif-ul-Haque Dalim, Major Bazlul Huda, Major Noor, Lancer Mohiuddin and others, murdered the father of the nation and his entire family at their residence in Dhanmondi.
Khondakar Mostaq Ahmad was the main man behind the conspiracy to assassinate Bangabandhu, who was survived by only two of his daughters, the current Prime Minister Sheikh Hasina and her younger sister Sheikh Rehana, as they were out of the country at the time.
The brutal murder was premeditated and executed with an exceptional degree of professionalism. Over the centuries, political murders have occurred in various countries but what is unique about this case is that not only was the principle architect of an independent Bangladesh murdered, but his entire family was virtually wiped out.
What is more shocking is the fact that behind the scenes, civilian collaborators involved in the mayhem were people close to Bangabandhu, some of whom he considered as family. A few of the killers were friends of Sheikh Kamal and regularly visited Bangabandhu's residence. Some were even fed by his wife, Begum Sheikh Fazilatunnesa Mujib. The killers not only participated in this gruesome murder but even years later showed no remorse for what they did and even today a section of opposition politicians speak like the killers, issuing threats that are obviously directed towards the Prime Minister and publicly declaring that the arms of 1975 should become active again.
The killing of August 15 did not take place out of personal vendetta. It was an attempt to undo what Bangladesh stood for in 1971 -- secularism and democracy. Throughout his entire political life that began in the pre-partition days, Mujib dreamt of a country free from exploitation and poverty, a secular country where people of East Bengal could protect themselves from all sorts of oppression from the upper-class gentry and rulers.
In 23 years of a united Pakistan, Mujib spent approximately thirteen years in prison, fighting for the cause of East Bengal. He faced the death sentence on two different occasions, once in 1969 when Pakistan's military junta under Ayub Khan accused him of a conspiracy to separate East Bengal from Pakistan and lodged the so called Agartala Conspiracy Case. He was again accused on the same count in 1971, during the height of our Liberation War. Treason always carries the death sentence and it was a foregone conclusion that Mujib would be found guilty as he was tried in military tribunals.
Nearly four-and-a-half decades later, it is now clear that those who were directly or indirectly involved with the killing never believed in the ideology of Bangladesh or Bangabandhu. Some of them may have been directly or indirectly engaged in the Liberation War but for them, Bangladesh meant another Pakistan, a nation based on dogmatic religious faith and belief, where secularists and people of other beliefs would be relegated to second class status.
Luckily, history was not on their side and today, even with the country facing multidimensional challenges, the general people still believe in the philosophy of an independent Bangladesh as dreamt by Bangabandhu throughout his life.
However, it must also be acknowledged that in the post-1975 era, at least a couple of generations were born and brought up who believe that the independence of Bangladesh began after 1975. This happened as the killers in post-1975 designed an education system that taught young generations concocted history that even omitted the fact that the Pakistani military were the occupation forces of Bangladesh and they along with their local cohorts, the Jamaat-e-Islami and other religion-based parties, were involved in genocide, rape and arson.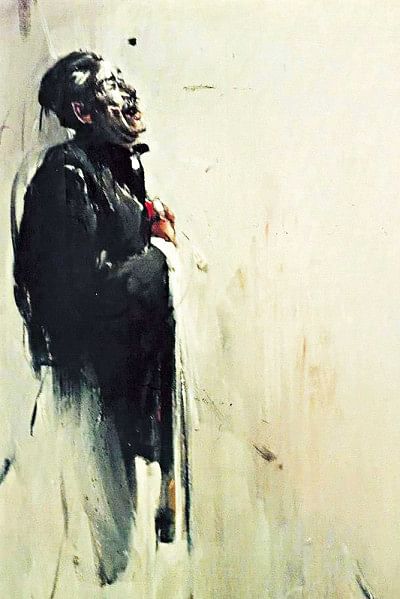 The conspiracy to undo an independent Bangladesh actually began during the height of the Liberation War in 1971, when a long-time political companion of Bangabandhu, Khondakar Mostaq Ahmad, a cabinet member of the government in exile, hatched the conspiracy to backstab the war effort.
At the time, Mostak was in charge of the Ministry of Foreign Affairs, which is an important post. In September 1971, he sent a small team led by an elected Awami League member from Cumilla, Zahirul Qaiyum, and Foreign Secretary Mahbubul Alam Chashi, a Pakistan trained civil bureaucrat, to the American Consul General Griffin stationed in Calcutta (Kolkata) with the message that they are ready to call off the armed struggle against Pakistan if the US can put pressure on Yahiya Khan to release Bangabandhu.
They even hinted that a confederation with Pakistan may be possible (Henry Kissinger, White House Years). But it did not work out as planned. Most of the military personnel who were directly involved in the killing on that fateful night joined the Mujibnagar government towards the end of the war, presumably assigned by Pakistan's infamous military intelligence agency ISI with some special agenda, primarily to annihilate Mujib.
It must be noted that on December 16, 1974, the then Chairman of the Bangladesh Communist Party (M-L) Comrade Abdul Haque wrote to Pakistan President Zulfiqar Ali Bhutto, addressing him as "My Dear President", requesting him to assist in unseating Sheikh Mujibur Rahman by providing money, wireless equipment and arms.
Bhutto assigned one Abdul Malek, a close confidant of Bhutto, and Maulana Ali Kausar Niazi of the PPP to help Haque with what he desired. Both travelled to different countries to create anti-Mujib sentiments among the Arab rulers (Stanley Wolpert, Zulfi Bhutto of Pakistan). Haque as a politician was also known to Bangabandhu. These ultra-left leaning parties never supported the cause of an independent Bangladesh and termed our Liberation War as a fight between two stray dogs.
Once Bangladesh emerged as an independent nation on December 16, 1971, Bangabandhu was released from Pakistani jail under international pressure. He returned to the land of his dream on January 10, 1972 and on January 12 he formed a new cabinet, the first one in independent Bangladesh. Although Mostak found a berth in the cabinet, he was not given the portfolio of foreign minister. Instead, Abdus Samad Azad became the first foreign minister of the new country. Mostak was not happy. He continued with his conspiratorial moves and got on board the mid ranking military officers. Mahbubul Alam Chashi, another conspirator, was posted as the DG of BARD in Cumilla and soon it became a den for the conspirators.
From published reports it is now known that the conspirators also had contact with Phillip Cherry, the station chief of the CIA in the US Embassy in Dhaka in 1975. They even contacted the Deputy Chief of Army Staff Ziaur Rahman and informed him about the move. Zia, it is known, told them that as a senior officer he cannot directly get involved with the plan but will give his support for the conspirators.
Incidentally, the post of deputy chief in the army was created by Bangabandhu for Zia as he could not be posted as the army chief. It is a matter of coincidence that Zia's service was placed under the foreign ministry a few months before the killing of Bangabandhu for posting as an ambassador either in East Germany or Belgium. But he managed to have the decision reversed by meeting Bangabandhu through some influential Awami League leaders (Three Army Coups and Some Untold Tales, by Lt Col (Retd) MA Hamid). Zia pledged his loyalty to Bangabandhu and said he wants to retire from his service as a professional soldier. On a number of occasions, Bangabandhu was informed about the conspiracy in detail by the Indian intelligence agency RAW, but he never believed any Bengali would conspire against him, terming them as his sons.
After the killing of Bangabandhu, the conspirators appointed Mostaq as president. Soon, Zia replaced General Shafiullah as army chief and finally on April 2, 1977, he seized presidency by forcing the then President Justice Sayem to resign at gun point.
Before Mostaq was ousted, Zia made him proclaim a presidential ordinance indemnifying the killers of Bangabandhu and his family from being tried in any court of law in Bangladesh. This ordinance was later made a part of the Constitution by Zia after 1979, notoriously known as the "Indemnity Act".
It was repealed only after Sheikh Hasina formed her first government in 1996. On the day the Act was repealed, BNP abstained from attending the parliament in session. Zia also went a bit farther and promoted all the killers of Bangabandhu and posted them as diplomats in foreign missions.
The most deplorable act in the post Bangabandhu killing era was amending the 1972 Constitution, removing one of the fundamental principles of the Constitution, namely secularism, and allowing all constitutionally banned religion-based parties to resume their politics. Some of these political parties like Jamaat-e- Islam were active cohorts of the occupation forces of the Pakistan army in 1971. Things did not stop here. Unofficially, even mentioning the name of Bangabandhu was prohibited. In 1979, when Awami League decided to contest a sham election during Zia's regime, they were asked not to mention the name of Bangabandhu in their election manifesto or in any document.
It has been 47 years since the Father of the Nation was assassinated. The Awami League was out of state power for about 28 years, including two years of the post-9/11 government. Currently, Sheikh Hasina is heading the government for a third term in succession. She is desperately trying to realize the dreams of her father but at times it seems like an uphill task as many of the people who work with her may not be committed to the ideals of Bangabandhu. However, one thing she did was repeal the Indemnity Act in parliament and tried the killers of August 15, 1975. When Begum Zia became prime minster in 2001, she stalled the trial of the killers but in the end, justice prevailed and when Sheikh Hasina formed her government for the second time in 2009, the trials of the killers of 1975 were completed.
Long live the memories of Bangabandhu, his family members and all those who fell to the assassin's bullet on the fateful night of August 15, 1975. Joy Bangla. Joy Bangabandhu.
The writer is a former chairman of the University Grants Commission of Bangladesh.