A torchbearer for freestyle footballers in Bangladesh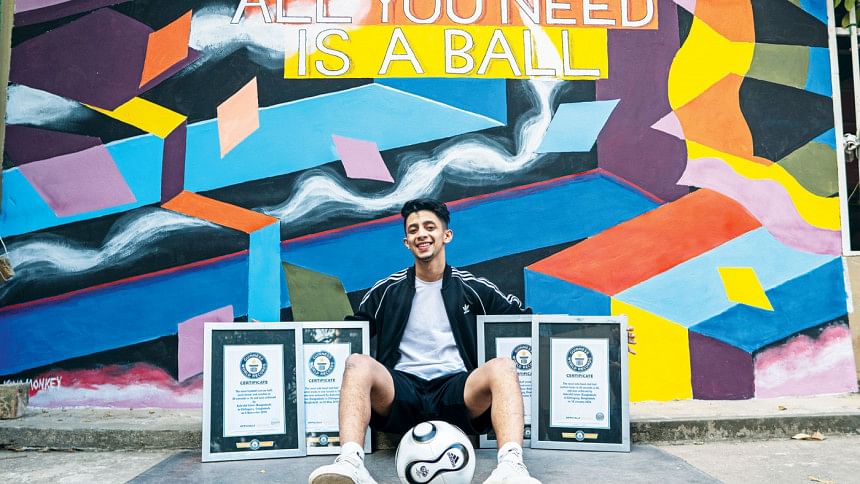 Freestyle football is the art of self-expression through creatively juggling a football using any parts of the body, from the elbows to the hands. Ashraful Islam Jhohan, a self-taught freestyle footballer from Chattogram, had four Guinness World Records to his name since 2018, including most side-head stall ball control tricks under one minute, most neck throw and catches in under 30 seconds and under one minute, and most around the moon ball control tricks in one minute.
"Even though two of my Guinness World Records have been broken, I am on my way to break them again," shared Jhohan, who is a BBA student at Independent University, Bangladesh.
In 2012, Jhohan did not qualify for the Airtel Rising Star programme, which was an opportunity to train at Manchester United Soccer Academy. However, he turned the tables around. "I was not selected for my light weight at first, but there was a Wild Card Entry, for which the organisers asked us to upload one video showcasing our football skills. That is where my football tricks came to use," Jhohan said.
Jhohan won the title of most stylish footballer for his fascinating freestyle skills at an interschool tournament in 2015.
"Many do not know that freestyle football is a separate sport. Rather, people try to persuade freestylers to play traditional football. Brands need to start sponsoring freestyle football for it to flourish in Bangladesh," added Jhohan. "When I started out, I trained on my rooftop to the point where my mother had to hide my footballs to get me to rest, but I hid an extra football in my room. It all comes down to hard work and practice, and I love what I do."
Moreover, Jhohan enjoys cinematography, and has modelled for numerous well-known brands.
The author is a marketing student from North South University. Write to her at [email protected].